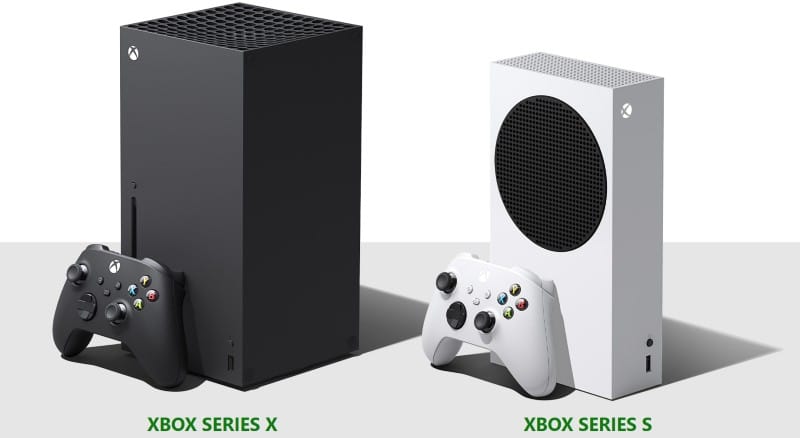 Microsoft's Xbox is one of the main choices among gamers to play games. Due to many other powerful and feature-rich video gaming consoles like Playstation and Nintendo, gamers always seem to be confused about which one to choose. But, this time with the announcement of Xbox Series X and Series S, Microsoft increased the gamers' confusion.
When everybody was waiting for the big battle between Sony's PS5 and Xbox Series X, Microsoft revealed its own competitors; Xbox Series X and its little brother Xbox Series S. One strong and powerful, the other slim and sexy. One expensive and the other a little cheaper.
Xbox Series X Vs Xbox Series S; What's the Difference
In terms of price, size, power, and performance, Xbox Series X and Series S have many differences but a few similarities. Let's now focus on the main differences between Xbox Series X and Xbox Series S.
The very first thing we used to check about any gadget or product we're going to buy is the price. In terms of price, Xbox Series X is costlier than Series S. As said earlier, Xbox Series X seems to be the bigger brother of the Xbox Series S.
From November 2020, Xbox Series X will be available at a heavy price ₹ 49,990 whereas the Xbox Series S will be priced at ₹ 34,990 in the Indian market. But, price is not the only thing to consider. There're many other important features and specifications that differ Xbox Series X from Series S.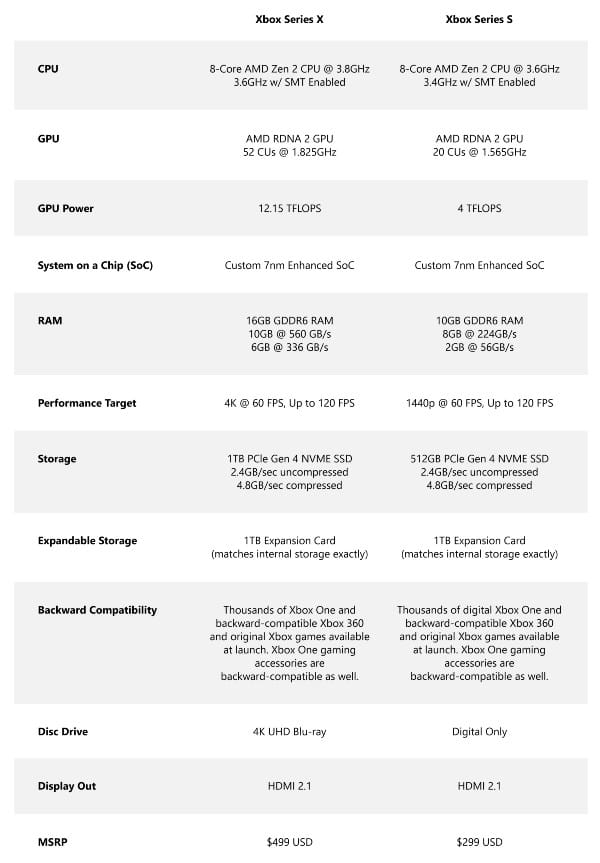 This is the specification chart provided by Microsoft. You can check all the technical detail in the chart. Let's discuss about the main differences between these two consoles.
The Xbox Series X supports 4K resolution for gameplay whereas the Series S supports only 144p resolution. The screen resolution directly affects the visual quality of the gameplay.
When it comes to the storage space, Series X comes with 1TB SSD storage with 16GB RAM and on the other hand, Xbox Series S comes with 512GB SSD Storage along with 10GB RAM. The storage of Series S is just the half of Xbox Series X.
Another big difference between these two video game consoles is Disc Drive. The Xbox Series X comes with an optical drive that supports up to Ultra HD Blu-ray discs and also the digital distribution of games. But, Xbox Series S is only a digital console with no optical disc. This means it can't play Blu-ray discs or the physical edition of games. You'll have to download the soft copy of the games from the Internet to play in Xbox Series S.
The Similarities Between Xbox Series X & Series S
It's easy to find the differences between Xbox Series X and Series S with the help of specifications but both video game consoles have some similarities too. Both video gaming consoles come with similar expendable storage size. You can extend the internal memory by adding 1TB of an expansion card in Xbox Series X as well as Series S.
Not only the expansion card but the CPU and GPU in both video game consoles are the same. However, the performance of Series X is more powerful than Series S. For the Display Out, both video game consoles use HDMI 2.1 ports.
Which Xbox You're Going to Buy?
The Xbox Series X and Series S are going to launch in November 2020. I'm sure after reading this article, you can understand the differences and similarities between these two consoles. It should now be easy for you to decide which game console you should buy.
As noted, Xbox Series X is coming with powerful performance but a hefty price whereas the Xbox Series S contains ordinary features with comparatively less price.
In simple words, I can say that for a casual gaming experience, Xbox Series S is a good and sufficient choice but if you're a professional gamer and never ever compromise with the quality and performance, then Series X is for you.
Now, it's up to you which Xbox you're going to buy. If you want to share your thoughts and let us know about your favorite video game console, use the comments section below to spread your words.