Are you confused about selecting a birthday, anniversary, or any other occasion gift for your friend? So, if your friend is tech-savvy, then you must read this article.
I compiled the 10 best technological gift ideas for your tech-savvy friend or girlfriend. So, read out this article carefully for the best gift ideas for tech-savvy guys.
1. Watches
A watch is an evergreen gift for your tech-savvy friend or girlfriend but the watch you're going to provide him/her as a gift must be rocking and branded.
There are many popular watch brands such as Fastrack, Casio, Titan, Timex, and more. Here, two watches for the girl and man. So, select on the basis of a friend's gift or a girlfriend's gift.
Fastrack Neon (Men) & Beach (Women) Analog Watch
I liked these watches as a gift for your friend because it looks very nice and another major factor in selecting it the price. It is available on Flipkart for just Rs 970.
MUST CHECK: Top 10 Most Expensive Watches in the World
2. Smartphone
On seeing a smartphone as a gift to your friend or girlfriend you will directly think that smartphones are costly and not a thing to give as a gift. So, let me tell you that if you're thinking to give a gift to a tech-savvy friend then the smartphone will be the best one and even you don't need to worry about the cost because there are so many companies launching the cheapest Android smartphones with great features.
For example, if you want to give an Android smartphone gift to your friend but are worried about cost, let me tell you about a recently launched smartphone named POCO C55 that comes under the price of 10,000 INR.
3. Handheld Game Consoles
If your friend is fond of playing games, then a handheld video game console will be the right and exciting gift for your friend. There are various handheld video game consoles available in the market.
In case you want the cheapest handheld video game console, then the Nintendo 2DS and other products of this company may suit your requirement.
ALSO SEE: Some Best Handheld Video Game Consoles
4. WD TV Live
If your friend is really tech-savvy, he/she will definitely like this amazing technological gift. In fact, the WD TV Live player is used to make your non-smart television into a smart TV.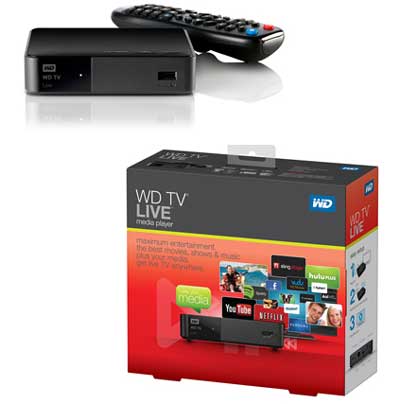 Yes guys, after connecting it to your Television, you can surf the Internet on your TV, play YouTube videos anytime on the web, and do many smarter tasks.
5. Camera
As we know that two types of cameras are widely popular among us: Digital and Point and Shoot cameras. In digital cameras, a range of DSLR cameras becoming popular even though they are very costly. However, Point and shoot cameras and also performing well and are available in the market at a cheap cost.
So, a camera will also be a great gift for your tech-savvy friend. But, before purchasing any camera, just read out this article about the advantages and disadvantages of DSLR and Point and Shoot cameras.
6. Beauty Gadgets
You would be understood by the name that to whom these gadgets are to be gifted. If you're going to your girlfriend's party, then these beauty gadgets will definitely be proven adorable.
There are many beauty gadgets in the market such as Panasonic Nanoe Hair Dryer and CACI Facial Toning etc. Here's the list of the 5 best beauty gadgets for your girlfriend.
7. Bluetooth Speakers
We all love to listen to music while performing some tasks such as bathing, cooking, etc, so if your friend loves to listen to music a lot, then this gift of a Bluetooth speaker will be best for him because nowadays many astonishing Bluetooth speakers coming in the market.
I've also written an article on Bluetooth Speakers in which I've listed 5 Bluetooth speakers with astonishing looks. Read out this article too, you'll definitely like it.
8. Smartpen
If your friend is still a student and loves to use amazing gadgets for his study, then this gadget will be the best gift for him. Actually, Smartpen is specially built to be used on digital pages. There is a small camera fixed just near the tip of the pen.
Whenever you write anything on the digital page with this smartpen the camera records it and displays it further whenever you want.
MUST SEE: 5 Best and Useful Gadgets for College Students
9. Smartwatch
Smartwatch is also a trending gadget in the market and every youngster wants to use it. So, for your tech-savvy friend or girlfriend, this gadget is the best and most unique gift item.
Various companies are launching smartwatches in the market such as the Pebble smartwatch, Samsung Galaxy Smartwatch, etc. I hope your friend will like this gift.
10. WAT Lamp
WAT lamp is an amazing gadget that uses water as its fuel. Isn't it interesting to sound? This is an eco-friendly gadget. Its mechanism is not so strange. It works on a simple electrochemical reaction.
So, your tech-savvy friends will definitely like this gadget too. Feel free to give this WAT Lap to your friend as a gift for his birthday or for another occasion.
That's all, I hope these 10 technological gift ideas will be best for your tech-savvy friend. If you think that any gift idea I've left in this list, then feel free to mention that in the comment box.