We always love to give beautiful surprises to our loved ones and birthday is one of the best occasions to offer pleasant surprises and express love. But, it's not that easy to make someone's birthday special by just providing gifts, instead, you need to think of something out of the box.
Let's suppose you sing a personalized happy birthday song for your loved one with his/her name at the birthday party. Not a good singer? Not a problem, you can easily get a personalized birthday song with a name and play it at the birthday party as a surprise. Isn't it great?
It's a very impressive and beautiful way to wish your loved one a happy birthday and make the day special for him/her. And fortunately, there're some really cool online places that let you create personalized birthday songs with names to make birthdays special.
One of the best and my favorite places to create personalized birthday songs with names is BirthdaySongsWithNames.com, which lets you create personalized happy birthday songs with names in Hindi as well as English. In addition to offering personalized birthday songs, BirthdaySongsWithNames provides many other impressive services and birthday surprise ideas that will melt the heart of your birthday person.
BirthdaySongsWithNames: Create Personalized Birthday Songs & Dialers With Names
So, let's know about the outstanding services provided by BirthdaySongsWithNames.com and then I'll tell you how you can get your personalized birthday song with the name of your birthday person.
#1. Personalized Birthday Songs With Name
This is what I already mentioned but one of the main services offered by BirthdaySongsWithNames.com. It has 5 Hindi and English birthday songs that are already customized for over 7000 names. All you need to choose the name and song.
Not only the names, but it also features various relations to put at the place of name if you're wishing happy birthday to any of your relatives such as Jiju, Chachu, etc.
#2. Personalized Birthday Videos
BirthdaySongsWithNames.com also lets you create a personalized happy birthday video to send to your loved one on his/her birthday.
Creating a happy birthday video for your birthday person is very easy. All you need to create a personalized song first and then put images and text in its own video maker.
#3. Happy Birthday Dialer
Birthday Dialer is one of the most innovative features launched recently in 2018 which helps you send your personalized birthday song as a phone call to the birthday person. Wonderful, right?
As you'll buy a personalized song and order it for dialer, a call will be made to the birthday person from your name wishing him/her a very happy birthday in the most innovative way.
If the call is not received by the birthday person, BirthdaySongsWithNames.com will try it 3 times at an interval of 15 minutes and the notification would be sent to you via SMS.
MUST READ: 10 Best Gift Ideas For Your Tech-Savvy Friend
How to Create a Personalized Birthday Song, Video, or Dialer From
BirthdaySongsWithNames.Com?
It's very easy to create a personalized happy birthday song, video, or dialer from BirthdaySongsWithNames.com. Let me guide you step-by-step.
First of all, visit the website and choose the first alphabet of the name of the birthday person from the homepage or you can directly search for the name through the search bar. In case you're creating for any of your relatives, choose the Relation category.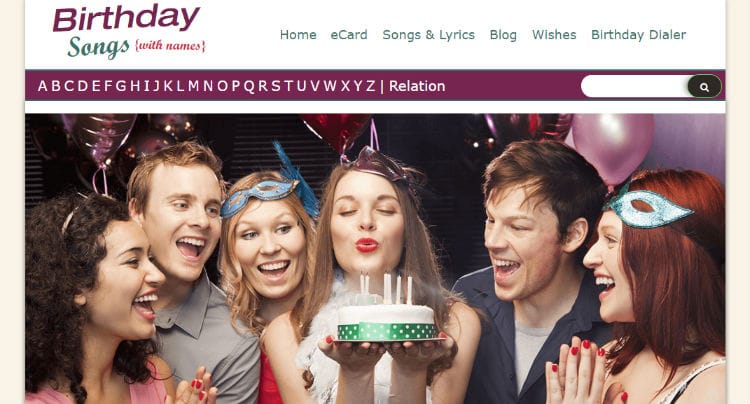 As soon as you'll click on the name you're looking for, you'll be moved on to the song's preview page. Here you will see 5 songs already customized for the name you've chosen. Just listen to each song and buy the one you like the most.
On this same page, you'll see the option to create a video eCard as well as a Phone Call Wish (Birthday Dialer). So, it all ends up on the payment.
The price for getting a personalized birthday song with name starts from Rs. 85 whereas the price for personalized birthday video start from Rs. 200 INR and phone call wish charge starts from Rs. 100.
So, all you need to do is choose a song among these 5 songs personalized for the name you've already chosen and make payment to download it on your computer or phone.
Isn't it a Great Birthday Surprise For Your Loved One?
I think a birthday person is not looking for an ordinary gift that most people give as a formality in birthday parties, instead of giving a surprise like dedicating a personalized birthday song, birthday dialer, or sharing the personalized birthday video makes the moment unforgettable.
So, it's a great birthday surprise for your loved one, I think. And even in terms of pricing, some online services like BirthdaySongsWithNames.Com are making it to be one of the most affordable birthday surprises ever.
If you find this post helpful and interesting, do share it on your social media profiles to let your friends and family members know about this new innovative birthday surprise.