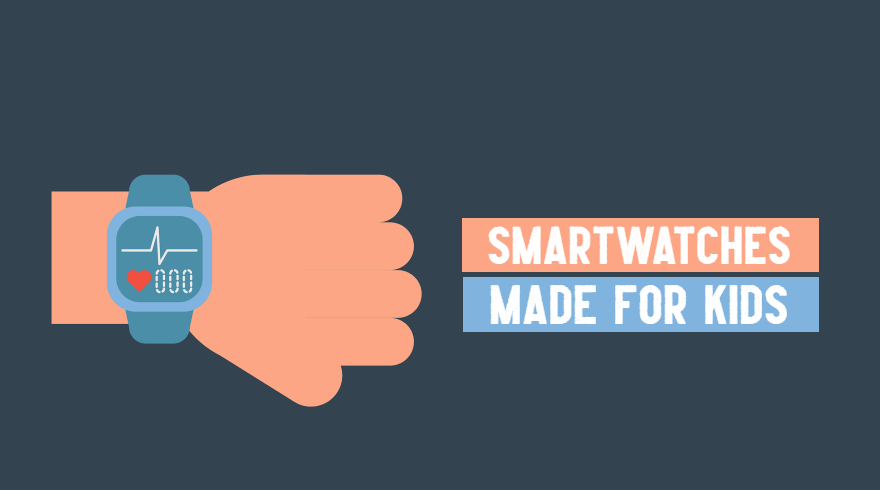 The constantly evolving technology is not only catering to the needs of adults but also of children. Kids in today's time are smart! They know how to operate a tablet or a smartphone. Smartwatches have entered into the fun world of kids with some amazing watches.
The kids' smartwatches are specially designed, keeping in mind the young age group and their needs. They come with fantastic features and some parental controls. If you are looking to surprise your child with a smartwatch, then take a look at some of the best kids smartwatches below in this article.
1. Noise Champ 2 Smartwatch
The Noise Champ 2 Smartwatch is an excellent watch that comes in funky colors (Black, Pink, Red, and Frozen Blue) and has a colorful user interface. It comes with great features like an extensive Health Tracker with an assessment score, and a Scheduler that has reminders for the child to brush their teeth, wash hands, drink water, etc. You need to download the NoiseFir Sync app on your smartphone to link the smartwatch and access the data.
Its TFT LCD is 1.4 inches and offers fifteen sports modes. It comes with built-in games and multiple modes like Exam Mode, Do Not Disturb Mode, School Mode, etc. The battery life of this smartwatch is 7 days. It is waterproof and lets your child go for adventures.
The cost of the Noise Champ2 Smartwatch is Rs. 2,499 and you can buy it here.
2. VTech Kidizoom Smartwatch
The VTech Kidizoom Smartwatch is an ideal gift for your child. It will keep him/her amused for hours. It offers exciting features for kids like a camera, alarm clock, video recorder, calendar, etc. Its built-in motion sensor tracks the child's activities. It comes in attractive colors like Pink, Purple, and Blue. It is splashproof and ideal for everyday use. The gaming experience is creative, with games like Monster Catch.
Its exciting feature is that the kids can customize the images they click from the smartwatch camera and use it as the watch face. It has a good battery life and you can even connect it to your smartphone, both via Bluetooth and USB.
The cost of the VTech Kidizoom Smartwatch falls in the range of Rs. 8,000 to Rs. 10,000. Click here to buy.
3. Turet Kids Smartwatch
The Turet Smartwatch is one of the best smartwatches for kids as it comes with a Protective Panic Button. If the child is in some emergency, then simply clicking the SOS button will let the parents or people in the emergency contacts know about it. Its in-built GPS tracker offers real-time, live tracking as well.
This watch also works as a phone and allows two-way calling. Its camera security feature allows the parents to fetch a photo from the Turret-embedded camera and see the surroundings of the kid.
Another mind-blowing security feature is Geo-Fence In/Out Feature. It acts like an e-fence around school, home, coaching class, playground, etc. It gives notifications to the parent when the child enters or leaves that area.
It comes in stylish colors like shades of Black, shades of Blue, and shades of Pink. It is water-resistant and compatible with iOS and Android devices. The battery life is approximately 24 hours and is rechargeable.
Click here to buy this well-designed smartwatch at Rs. 5500.
4. Spiky Kids Smartwatch
If you are looking for a very budget-friendly smartwatch for your kids then Spiky Kids Smartwatch is the one for you. It offers many features like an in-built camera, two-way calling, games, video call, torch, SIM, etc. Its Geo-fencing feature lets the parent know if a child leaves or enters the designated area set by the parent, like school, home, playground, coaching class, etc.
The SOS emergency help feature informs the parents in case of an emergency. It offers a good battery backup that is rechargeable and has an intelligent power-saving feature.
It costs Rs.1,899 and you can buy it here.
5. Sekyo S1 Smartwatch for Kids
The Sekyo S1 Smartwatch is a very modern and stylish watch for kids. You can connect it with the SEKYO app on your smartphone and very conveniently and privately locate your child. It has some smart features like a camera, voice calling, Geo-fencing, remote voice monitoring, etc.
Its touchscreen is very simple to operate by the child. It allows group chat and multiple group chat features as well. The parents can secretly control the camera and make sure the child is safe. It comes in Blue and Pink colors and costs Rs. 2,579.
Click here to buy.
6. PTron Force X12N Smartwatch
The PTron Force smartwatch is one of the best kids' smartwatches to give your child. It offers very exciting features like Fitness Trackers, 5 in-built games, SpO2 Oxygen levels, real-time Heart Rate monitor, Sleep monitor, Steps count, Calories burnt, Sedentary Alert, Stopwatch, Alarm, and 8 Sports modes.
Its touch is fully bright with a TFT LCD. The battery is powerful and can work for up to five days. You can download the pTron Fit+ App and connect it to the watch. It comes in four colors – Black, Black & Gold, Blue, and Pink.
This smartwatch comes at a very affordable price, i.e. Rs.1,699 and you can click here to buy it.
7. bOAt Xtend Smartwatch
The bOAt Xtend smartwatch is one of the stylish smartwatches for kids. Its in-built Alexa Voice Assistant helps to answer questions, set reminders, etc. on your command. The screen user interface is very pleasing and smooth.
You can set the watch face with customizable options every day.
It also comes with a stress monitor, heart rate monitor, and SpO2 levels. It is resistant to dust, water, and sweat. Thus, ideal for kids who want to have a perfect fitness companion and also make a style statement amongst friends.
It comes in various colors – Sandy Cream, Red, Charcoal Black, Deep Blue, Invincible Red, Knight Black, and Olive Green. It is decently priced at Rs. 1,799.
Click here to buy.
8. Maptronicz GPS Kids Smartwatch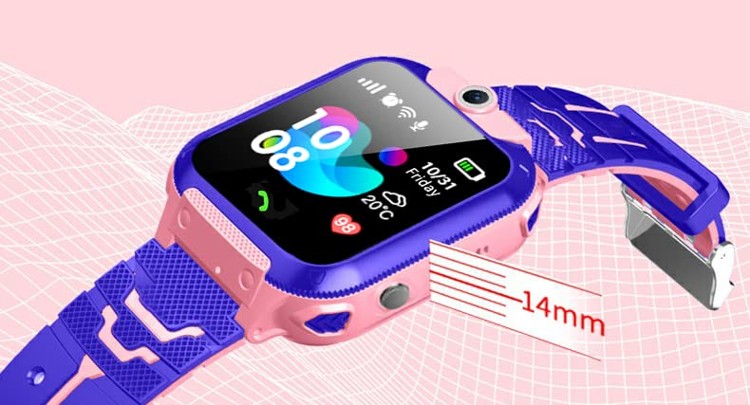 The Maptronicz GPS Tracker kids smartwatch is a good watch for kids and lovely with a GPS tracking feature, emergency SOS button, Safety Fence, Camera, Two-way calling feature, etc.
It is waterproof (built with precision waterproof technology) and ideal for kids and very lightweight. Its battery is very efficient and offers a long standby time. The children can also enjoy playing in-built games in this cool smartwatch. It comes in Black and Blue colors.
This smartwatch costs Rs. 2,199. Click here to buy.
9. Fastrack Reflex Play Smartwatch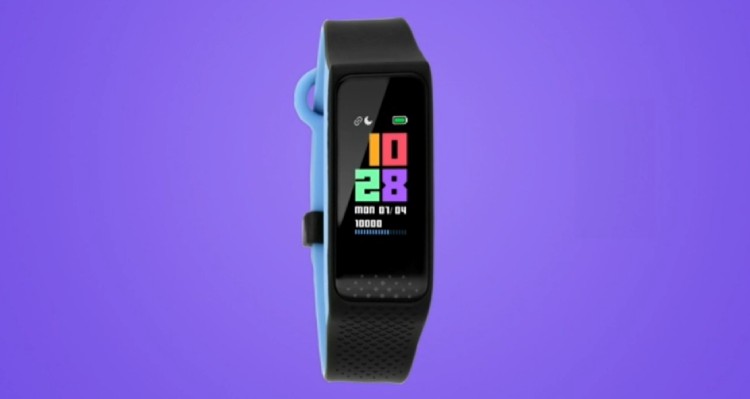 Fastrack has come with a cool and stylish for kids – the Reflex Play Smartwatch. It has a full-touch color display, and 20 unique and funky band faces. It comes with features like Phone Finder, Music Control, Heart Rate Monitor, more than 10 Sports modes, a Camera, Idle Alert, Music Control, etc.
It is waterproof and has a battery life of up to 10 days. You can connect this smartwatch to your smartphone with the Fastrack Reflex World App. It can be the best smartwatch gift for your child. It costs Rs. 2,995.
Click here to buy.
10. Accutime Avengers Interactive Smartwatch
The Marvel Avengers Kids Smartwatch is an ideal gift for an Avenger fan. It offers amazing child-friendly features. It is perfect for little kids as it does not support WiFi, calling, or texting. It does come with a selfie camera, video player, photo album, voice recorder, alarm clock, calculator, games, and very exciting changeable watch faces.
It has a long rechargeable battery. It is a multi-colored, trendy, and fashionable watch. It is designed specifically to keep in mind the child's safety and exposure.
It costs Rs. 5,703. Click here to buy.
Conclusion
The above kids' smartwatches are some of the best in the market, in terms of cost, features, and safety. They do much more than just show the time. These are the perfect solutions for anxious parents, as now they can stay informed about their kids' whereabouts. Whereas, the kid feels independent and confident wearing these cool and funky smartwatches.