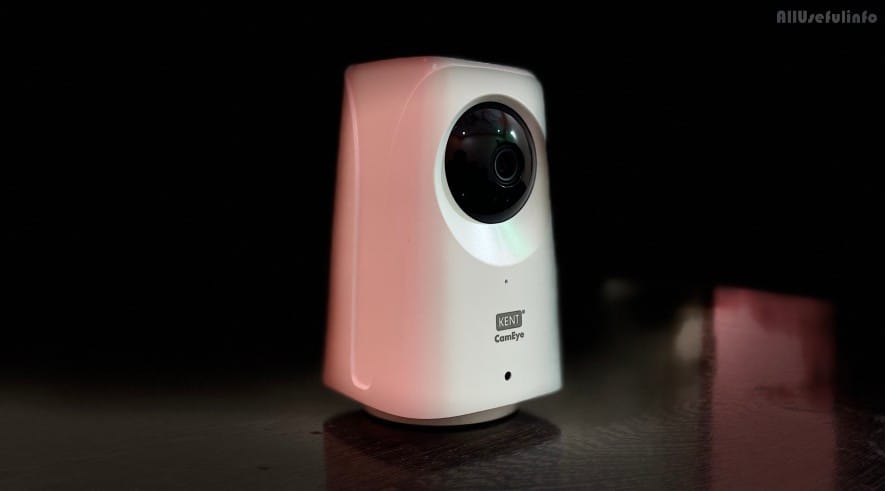 Home security cameras are the need of time. Whether it's about the security of your home, shop, office premises, cash register, or you want to keep an eye on your old parents, kids with maids/ babysitters, or pets while you are away, home security cameras are proving to be revolutionary.
Among hundreds of home security cameras available in the market that are claiming to be the best in the industry, KENT Cam Technologies has come up with a "Made In India" security camera named KENT CamEye HomeCam 360. With many unique, useful, and powerful features, the KENT CamEye HomeCam 360 camera is winning the hearts of all its Indian users.
In this review of the KENT CamEye HomeCam 360 camera, I will tell you why this home security camera is winning hearts and what features make this home security camera unique from others. Along with features, the price and technical specifications will also be discussed.
But, before all, let's know about the brand behind this camera.
The Product from the House of KENT RO Systems
Kent is not a new name in the field of healthcare products. Founded in 1999, Kent RO Systems is one of the popular Indian multinational companies manufacturing healthcare products. It's widely known for manufacturing RO water purifiers.
Kent Cam Technologies is a division of Kent RO Systems. It is working on some cutting-edge technology products like CarCam and HomeCam camera systems. The KENT CamEye HomeCam 360 is its newest offering.
KENT CamEye HomeCam 360 Home Security Camera Features
The Kent HomeCam 360 is a next-gen Wi-Fi camera for 360º protection of your home or business. The features like motion tracking, human detection, intruder alarm, event-based cloud recording, 2-way calling via Alexa, etc. are making KENT HomeCam 360 security camera unique among others in the market.
Let's discuss all the features of the KENT CamEye HomeCam 360 home security camera in detail:
1. 360º Rotation Capability
There are very few home security cameras available in the Indian market that support 360º panoramic rotation ability. The Kent HomeCam 360 camera, as its name suggests, covers the entire room with its 360º horizontal rotation as well as 65º vertical tilt capability.
With its 360º panoramic view support, you can get complete security coverage of your home. The camera can be easily rotated or tilted using KENT CamEye mobile application that will be installed on your smartphone.
2. Alexa Enabled 2-Way Calling
Kent claims its home security camera to be India's only security camera that supports 2-way calling via Alexa Echo Show Devices. You can talk to your kids and family with the help of the 2-way calling functionality of the Kent CamEye HomeCam 360 camera.
3. Tamper-Proof Video Recording
The Kent CamEye HomeCam 360 camera supports tamper-proof cloud recording. It means it will record your video clips and upload them to the cloud and even if the camera gets stolen or damaged, your recordings will still be safe on the cloud. It also records continuously (24×7) in the memory card and supports up to 128 GB MicroSD Card.
4. Crystal Clear Night Vision
The camera records crystal clear video even at the night with IR depth up to 9.15 meters (30 feet). Kent CamEye HomeCam 360 uses invisible IR LEDs of 940 nm that prevent producing a visible glow, and hence the presence of the camera can't be detected by any intruder.
5. Instant Smart Alerts
This is one of the very useful features of Kent's home security camera. It will send you smart video alerts of 12s whenever any motion, human, or loud noise is detected. Even when someone tries to obstruct the camera view, the Kent HomeCam 360 camera will send an alert.
The best part of this feature is that it sends alerts even when the app is closed or running in the background.
6. Motion Detection and Tracking
Motion detection is one of the advanced features of the Kent CamEye HomeCam 360 camera. It allows you to set an activity zone and if any activity is detected in the defined activity zone, then only it raises alerts.
Along with motion detection, it comes with intelligent motion tracking capability. It never lets you miss a moment as the camera rotates automatically to follow any moving person or pet in the room.
7. Human Detection
Its human detection feature intelligently differentiates between humans, pets, and other moving objects such as curtains. When the motion detection is turned on and additionally human detection is also turned on, then it notifies you only when a human is detected, and this helps filter out the unnecessary disturbance due to all kinds of motions. This can be useful when you step out of your home and you want to be notified only when an intruder gets detected inside your home.
Generally, motion detection is a common feature that can be found in many home security cameras in the market, but human detection technology is rare and can be seen in very few brands.
8. Automatic Privacy Mode
The Kent CamEye HomeCam 360 camera is smarter than you think. To protect your privacy, it automatically disables recording and streaming when you are at home, based on your phone's geo-location.
You can also set the camera to disable recording and live streaming at your pre-set time intervals.
9. Intruder Alarm
With the help of motion detection and human detection technologies, the camera can raise a loud alarm on sensing the movement of any human. This intruder alarm works automatically. But you can also trigger it manually when needed.
10. Mount Anywhere
You can mount the Kent CamEye HomeCam 360 camera anywhere in your home. You can simply put it on the surface or mount it on a wall or ceiling. This is possible with the optional mounting kit that you can purchase separately.
The Specifications of KENT CamEye HomeCam 360 Camera
The above mentioned are the features supported by Kent CamEye HomeCam 360 camera. Now, it's time to know about its technical specifications. Check them out below:
2MP Camera
Full HD (1080p) Video Quality
15 fps Video Encoding
Up to 128 GB MicroSD Card
Up to 30 Feet Night Vision
6 Infrared LEDs
360º Horizontal Camera Rotation
65º Vertical Camera Rotation
2.4 GHz Wi-Fi Connectivity
5 V – 2 A Power Input
273 g Weight
How to Buy?
You can buy the KENT HomeCam 360 WiFi home security camera from any popular online shopping website including Amazon, TataCliq, and Flipkart. The MRP of this security camera is 4,990 INR whereas you can currently get it at a discounted price of only 2,999 INR from Amazon, 2,949 INR from Flipkart, and 2,939 INR from TataCliq.
Along with the Kent HomeCam 360 security camera, you may also buy the Kent HomeCam 360 mount kit separately which will help you easily install the camera on the wall or ceiling.
How to Set up KENT CamEye HomeCam 360 Camera?
In order to set up your newly purchased KENT CamEye HomeCam 360 camera, you will first need to download the Kent CamEye app from the Google Play Store for Android and Apple App Store for iPhone or other iOS devices.
Being a new user, you will have to Sign Up with your name or email address in the app. You can even directly sign in with your existing Google or Facebook account.
Once you are successfully signed in to the application, you should first place the microSD card in the card slot available at the bottom of the camera to save the video recordings. There will be a click sound when the SD card will be placed successfully.
Now, it's time to power on the camera and scan the QR code at the back of the camera using the Kent CamEye application. To scan the QR code, you will need to open the app, tap the "Add your first camera" button and then choose HomeCam. It will open the QR code scanner. Now, simply scan the QR code available at the back of the camera.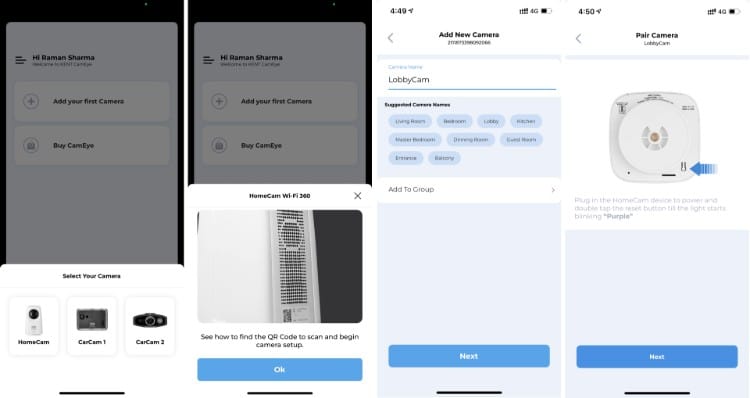 Once you will successfully scan the QR code, it will ask you to give a name to your new camera. After entering a name for your camera, the app will ask you to select a Wi-Fi network. Now after connecting the app to a WiFi network, it will give you a QR code to scan from your Kent HomeCam 360 camera so that your camera can also take the WiFi credentials to connect with the network.
After connecting to the Wi-Fi network, it might take a few seconds to update the firmware and complete the setup. That's all about setting up Kent's home security camera. It's that simple.
The Difficulties I Faced With KENT CamEye HomeCam 360
However, the camera comes with outstanding features and quality at an affordable price range. But, still, at the time of installation, I sometimes faced some issues and encountered some of its drawbacks.
As this is a WiFi camera, one of the first things you need to do is connect the camera to your WiFi network. It took a little time to connect with the WiFi as there is a two-way process of scanning the QR code. As mentioned in the process above, I had to scan the QR code from its app to connect it to WiFi, and once connected, I again had to scan the QR code from the KENT CamEye camera that took a lot of time because many times it refused to get the QR code.
Well, once I finally completed the two-way QR scanning process and connected the CamEye camera to my smartphone, the big problem comes here. Due to any reason at any instance, if the camera disconnects from the WiFi, you will have to repeat the same process. In my case, I installed it on my roof wall and I had to uninstall it from the wall to complete the setup again to connect it to WiFi again. That really hurt.
Final Thoughts
The final thoughts for this home security camera are positive due to its features and the unmatchable price in the market. Whether it's about the clarity of video recording, clear night vision, Alexa-enabled 2-way calling, tamper-free cloud recording, etc., all these features of the Kent CamEye HomeCam 360 home security camera are highly needed but largely absent in the majority of products in the market.
At the same time, the human detection technology in this camera is also winning hearts. As said already, motion detection can be found in many home security cameras available in the market but human detection technology is very rare.
It is the only home security camera available in India with Alexa-enabled 2-way calling and the only made-in-India security camera with that many features. And apart from all, the brand behind this camera is not new. KENT is already a well-established brand and launched this new home security camera under its division Kent Cam Technologies.
So, overall, it will be a good deal to buy this WiFi CCTV home camera with so many rare features at an unbeatable price in the market. The only problem I faced with the camera is during the setup as described above. What do you think? Let me know your thoughts in the comments.