A barcode is a machine-readable visual form of information. Barcodes are used to store different kinds of information into a small visual code which is readable by a barcode scanner to retrieve that information.
QR (Quick Response) code is just an updated form of a barcode. QR codes are almost similar to barcodes with just a small difference. Barcodes are one-dimensional (horizontal) whereas QR codes are two-dimensional (horizontal and vertical) and that's why QR codes can contain more information as compared to barcodes.
Well, this is not the topic of today's article. I'm in fact going to tell you how to scan any barcode or QR  code on your phone easily. So, if you are willing to scan a QR code or barcode but not sure how to do that, this article is gonna help you.
How to Scan a QR Code / Barcode on Your Phone?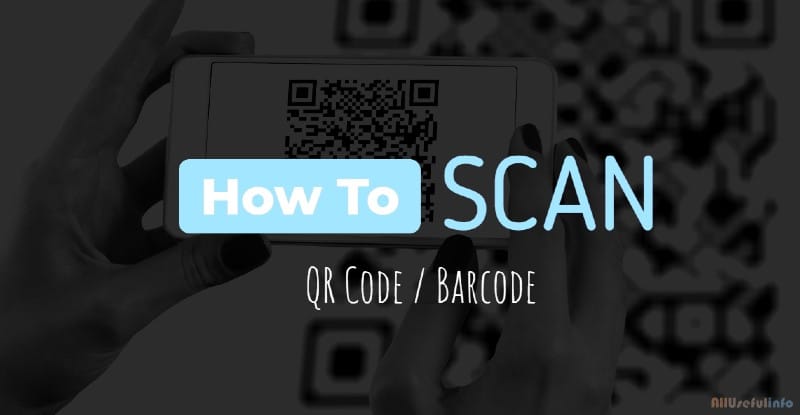 QR Codes and barcodes are being used for different purposes such as for making payments, storing a URL of a webpage, product information, and many more. Even WhatsApp also started providing QR Codes so that anyone can easily open a chat with you by just scanning the QR Code.
Just like WhatsApp, different apps provide QR codes as well as scanners to scan such QR codes. For example, PhonePe, GooglePe, and other payment apps provide QR codes and scanners to scan the codes for making payments.
Well, in this article, I am going to share some of the best Android QR code or barcode scanner apps that work pretty well for scanning any kind of QR code or barcode. Let's check them out below:
This is a QR and Barcode scanner Android app by Gamma Play that lets you scan any kind of QR code or barcode easily. As soon as you open the app, it will automatically allow you to scan the QR or barcode without needing to press any buttons or taking photos.
This app scans almost all kinds of QR codes or barcodes including text, URL, product information, contact, location, email, and many other formats. Once the code is scanned and decoded, the user can take appropriate action.
This QR Code & Barcode scanner works very fast so you can even use it in the shops to compare prices of different products and save money. All you need to install the app, open it, and start scanning.
This is another free QR code and barcode scanner Android app that works pretty well. The application is developed by a leading app development company InShot Inc. I personally trust InShot Inc. because I have been using many of its other Android applications for different purposes and I must say that all of their apps work great.
While searching for a QR Code and Barcode scanner app in the Google Play Store, I found this app by InShot and impressed after using it. This free QR code and Barcode scanner app supports all kinds of QR codes and barcodes such as contacts, products, URL, location, and many more.
Just like the first-mentioned QR code scanner app, it also automatically recognize and scan the code as long as you open the app. You don't even need to press any button or adjust the zoom. Just point it to the QR code or barcode and it will automatically recognize its format and show you the results after scanning.
This QR code reader allows you to scan almost all kinds of QR codes and barcodes including URL, text, contacts, phone number, SMS, email, location, etc. The speed of decoding the QR Code and barcodes is very fast. All you need to point your camera (in the app) to the code and it will scan it in seconds.
You can save your QR code scan history to see it later. Along with scanning the QR codes and barcodes, this QR Code Reader by BACHA Soft also allows you to generate QR Codes for different purposes and share them with friends.
This is another lightning-fast QR code scanner app that lets you easily scan any QR code or barcode on your phone. It also supports all kinds of QR code and barcode formats. Along with the QR codes for products, URL, WiFi, contacts, email, and location, it lets you scan the coupon codes in the shops to get discounts.
As soon as you will open this app on your phone, it will automatically recognize, scan, and decode the QR code or barcode. If the code is a bit far away from the camera, it will automatically zoom in to easily scan and decode.
All the scan history will be saved so that you can access it later anytime you want. The app also allows you to turn on a flashlight if you're scanning a code in the dark.
This is also a high rated QR code and barcode reader that lets you scan any kind of QR code and barcode and performs the relevant actions. For different kinds of QR codes and barcodes, it automatically performs the relevant actions like opening URLs, connecting to WiFi, finding product information, and more.
Its security features help to protect from opening malicious links by scanning the QR codes. Another great benefit of using this QR code and barcode scanner app is that it doesn't even ask for different permissions to start using the app.
Inside the app, you can easily turn on the flashlight to scan QR codes in the dark. For the QR codes and barcodes that are a bit far from your place, you can use pinch-to-zoom to scan them without going near.
You can use any of the above-listed apps to scan QR codes and barcodes on your Android phone. In case you're finding a solution for your iPhone or a phone with any other operating system, you can search for a QR code scanner app in the app store and install it on your smartphone.