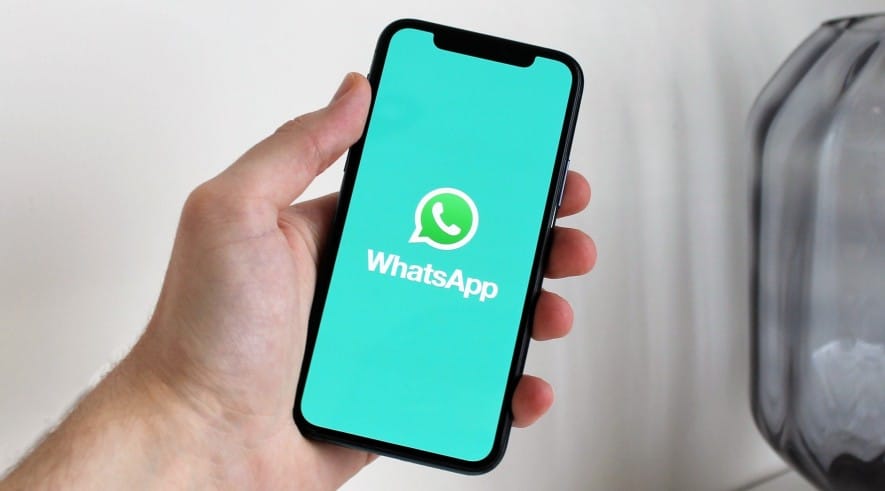 WhatsApp payment is the hottest topic of the year. People are admiring the WhatsApp payments service very much. It has facilitated a very easy method of transferring payments in India. WhatsApp is a widely used social media application across the world. However, WhatsApp has been much in the air due to the update in its privacy policy. But people are warmly welcoming the payments feature on WhatsApp. WhatsApp has collaborated with the national payment corporation of India (NPCI) using UPI.
People are keen to explore the payment transfer feature of WhatsApp and that's why I am here with this article to guide you on how to send payments through WhatsApp.
What's Unique about Payments Transfer via WhatsApp?
You must be wondering that there are a number of platforms for transferring payments, so what's new with WhatsApp? The one-tap transfers ease the process. Once you set up your bank account, you can instantly send the payments.
One of the most important features that I admire is its efficient working even in the low network coverage area. WhatsApp has also eased the process of setting up bank accounts. So our parents can also set up their accounts on their own without much hassle.
Prerequisites to Send Payment in India with WhatsApp
Before initiating the process of payment transfers, it is important to know the prerequisites of the process. It is important to have the same number registered with the bank account that you are using as your WhatsApp number. In simple words, your registered phone number in the bank account and WhatsApp number must be the same.
Secondly, you must have UPI associated with the same number. However, if you don't have UPI, you can create it via WhatsApp meanwhile in between the process.
How to Send and Receive Payments Money via WhatsApp?
Now, let us dive straight into the guide to how to send payments in India with WhatsApp.
Step 1.  Open the chatbox of the person you want to send the payments to and click on the 'pin' adjacent to 'type a message box'. There you will see different options like Document, Camera, Gallery, Audio, Payment, Location, and Contact. Click on the 'Payment' option.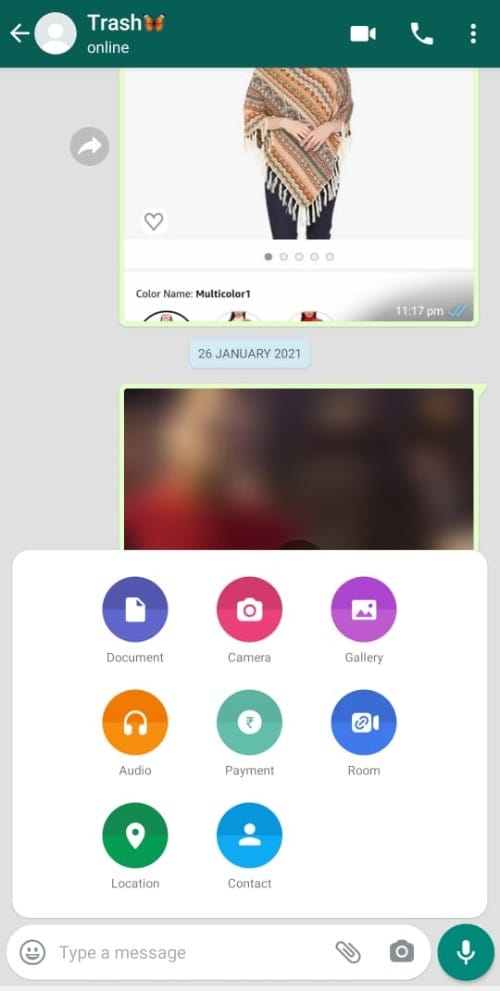 Step 2.  Clicking the payment option will take you to the 'Add your bank account' page. There it will get you the list of different banks. You need to select your bank there.
Step 3.  Once you have selected your bank, it will ask you to verify your phone number by clicking on 'verify via SMS'.
Step 4.  After auto verifying, it will show the linked bank account, you need to tap on that account to proceed further.
Step 5.  It will take you to the 'bank account linked' page showing you 'Setup complete' written there.
Step 6.  Next, it will ask permission to send and receive money securely with UPI. You need to tap on the 'Accept and continue' to proceed further.
Step 7.  If you already have a UPI account then you can proceed further, if not, you need to make a UPI account first. After successfully making the UPI account you can go to the next step.
Step 8.  You need to enter the amount you want to send.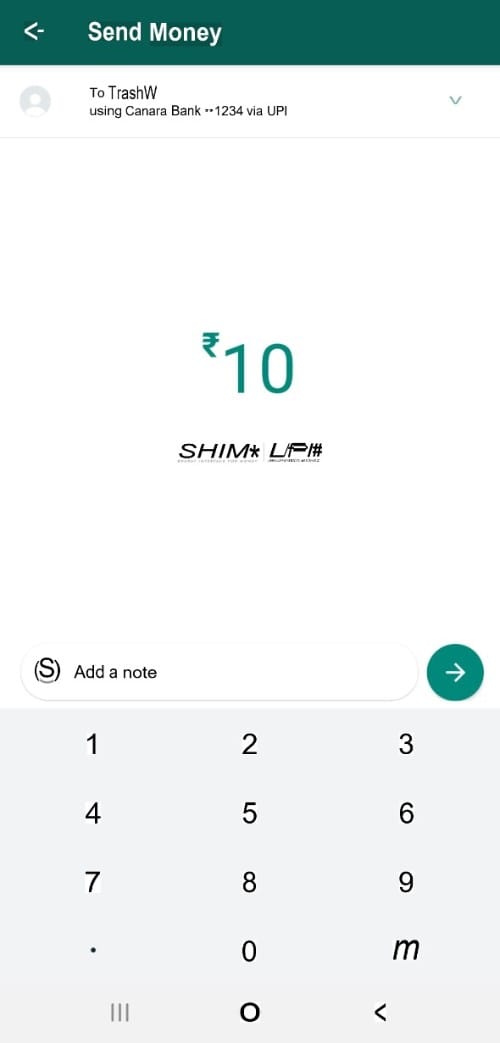 Step 9.  It will now ask you to enter your UPI pin code to successfully complete the transaction.
Step 10. That's all about sending payments via WhatsApp in India. You can see all your transactions directly in the chat section.
You need to set up a payment account for receiving as well as sending the payments via WhatsApp. However, if you are worried that your money will be stuck if the receiver has not set up the payment account. Then you should know that if the receiver (person to whom you are sending the money) has not set up the payment account then WhatsApp will show you the "notify" page saying the receiver needs a payment account. But on the same page, you will see another option 'send to another UPI ID'. WhatsApp has this unique feature to enable users to send money even if the receiver does not have to set up a payment account.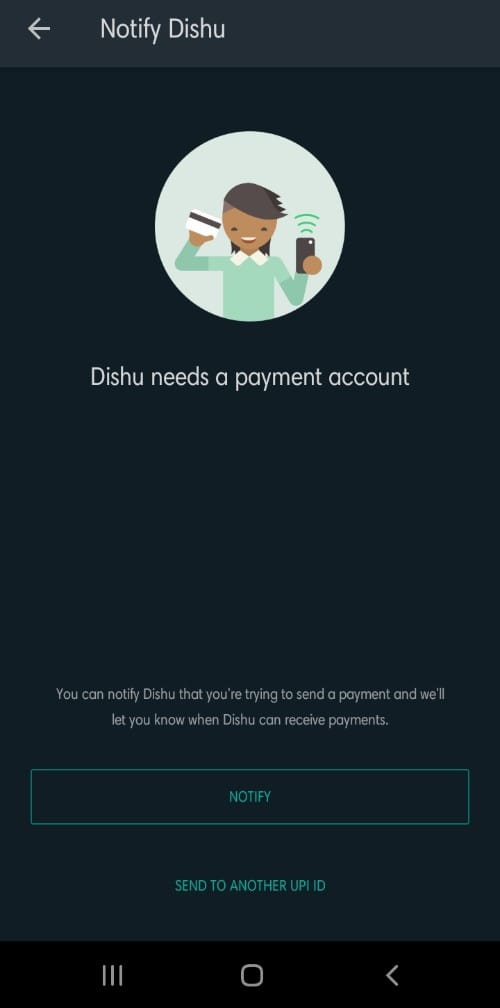 You can send payment through WhatsApp if the receiver has not set up the payment account but have a UPI ID. You can send directly by entering UPI ID after clicking 'send to another UPI ID' on the 'notify' page. In simple words, here it works like Google Pay or any other UPI payments app.
If anyone has sent you a payment via WhatsApp, you will directly receive the payment in your bank and can see the payment transactions status in your chatbox.
These steps are only required for the first-time transaction. The next time, you need to open the person's chat box and click payment. Then just enter the amount and UPI pin to successfully send the payments.
I hope you are now well-equipped with the process of sending payments in India with WhatsApp.