Still, transferring files using Bluetooth? It's too slow, right? So, why you're not looking for something new for faster file transfer between two Android devices. Here I'm going to provide the 6 best file sharing Android apps to make your file transfer up to 50 times faster. Sounds good? So, what are you waiting for? Just have a look at these Android apps for fast file transfer.
Best Android Apps For Fast File Transfer
Here are 6 best Android apps to make your file transfer faster than ever before. Just look at the following to know about these apps: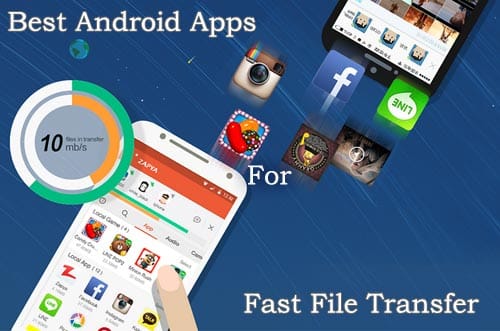 EasyShare is the best Android app for fast file transfer. It is one of the best applications for sharing all kinds of documents on your mobile phone very fast without any internet connection.
It lets you transfer apps, videos, music, and pictures of Android smartphones. It transfers files with a lightning-fast speed up to 40Mbps.
Moreover, it's completely ad-free and you won't even need to pay a cent for network charges. There is no SIM card, 2G/3G, WiFi network required, in fact, devices can wirelessly connect directly and share files more quickly than before.
SuperBeam is the easiest and fastest way to share large files between Android devices using WiFi direct. Devices can be paired using QR codes (with the included QR code scanner), NFC, or manual sharing key (PRO).
SuperBeam Switches to hotspot mode automatically for devices that don't support WiFi direct. Also, it can use the existing WiFi network connection between devices in case of WiFi direct failure. This is a great thing that makes it different from others.
So, if your phone doesn't have Bluetooth or large files taking too much time via Bluetooth, the SuperBeam Android app can be a neediest app for you.
Fast File Transfer is another Android app to make your file transfer faster than ever before. With this app, you can transfer files offline very fast between multiple platforms.
It usually takes 4 minutes of time for transferring the file to 1 GB. So, you can imagine the file-sharing speed of this Android app.
One of the most important features of this app I liked the most is that it lets you transfer multiple files at once by combining in a ZIP format. It will take very little time to transfer very larger files.
InShare is a file-sharing Android app from InShot Inc. that makes the file transfer up to 50 times faster as compared to the speed of Bluetooth. It transfers files and apps with a lightning speed of up to 40Mbps.
It is an extremely fast file sharing app for Android as well as other platforms like iOS, JioPhone, Mac, and Windows. It will let you send your party videos and extra-large files in seconds and even without needing your internet connection.
It is another wonderful file sharing Android app that lets you transfer your Android files with ultimately fast speed. It allows you to share photos, apps, and more across devices without network charges or WiFi connection.
This file-sharing Android app lets you share everything with other devices such as pictures, videos, music files, documents, contacts, and even apps in a much simple and smarter way.
This app also lets you transfer large files and videos in just a few seconds. The higher speed of this app goes up t0 30 Mbps which is very great as compared to many ordinary file transfer apps.
Zapya is a very fast Android app for cross-platform file transfer & sharing. It enables cross-platform sharing for Android, iOS devices, WP & PC.
Zapya can transfer photos, music, video, and other file types from one device to other devices without a mobile network nor WiFi connection. Your files will be transferred directly from device to device at 128 times Bluetooth speed (as guaranteed by Zapya)!
Further Reading:
That's all friends! These all are the best and free Android apps for fast file transfer. Still, I mostly consider the two of them – SuperBeam and Zapya. I will be happy if you share your experience with these apps. Or let me know if you find any other faster file sharing app for Android.