We all have records that we need to keep track of in various digital formats. In today's technology-focused world, there are so many ways to collect and store records, data, and more. We have a wide variety of gadgets and devices with which to capture and view that data.
We also want to protect that information. Some of the important digital information that we are always trying to keep track of and protect include things like sentimental photos, online bank statements, business files, and more. One important step in this overall file protection process is the ability to transfer files safely and easily between your phone and computer.
Why You Should Transfer Files From Your Phone
Nowadays, our smartphones are sophisticated enough to hold practically our entire lives. However, it is always important to be able to back up those important files that live on our phones to our computers as well.
As humans, we tend to make mistakes more often than we would like to admit. We might accidentally drop our phone in a toilet or down a flight of stairs, and if we haven't backed up those files on our phone, that might be the end of a lot of important information that can't be duplicated.
Read on to learn about ways to transfer files from your phone to your computer and what might be the easiest way for you.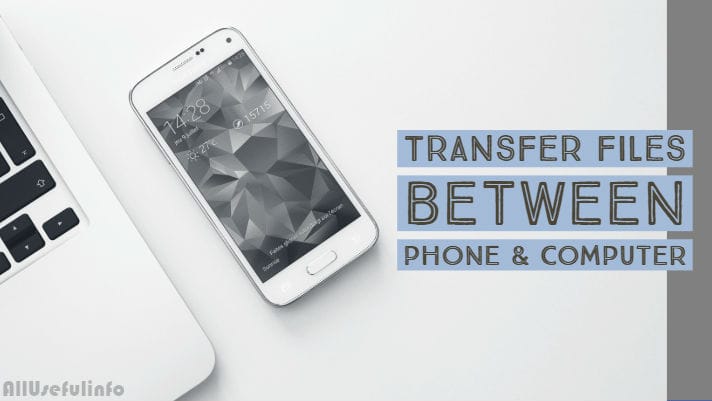 #1. Using Special Bluetooth Software
Recently, special software has been developed that allows the user to transfer files from their phone to their computer efficiently and without much hassle. One software that might be worth exploring is Zapya.
This particular software requires no internet usage and no cords to transfer files. Instead, it operates by utilizing Bluetooth technology to transfer files successfully.
It works with a variety of operating systems, platforms, and devices. Many people like using the Zapya software because it gives them the ability to transfer files without interference from outside input.
#2. Transfer Files Using Cloud Storage
Another popular way to transfer files between your phone and your computer is by utilizing cloud storage. This is a method of computer data storage in which data is stored in different logical pools. It can operate across different online servers and usually has a central hosting company that controls it.
One popular example of a type of cloud storage is the iCloud for IOS and Apple devices. You can backup files from your iPhone if you have storage on the iCloud and then access those same files from the iCloud account on your other devices, such as your desktop or laptop.
Another similar cloud system is Google Drive, in which you can upload photos directly to the drive and download and access them elsewhere, and even share them with others. Cloud storage is a popular option for people that need a lot of storage space, such as a business, or for those that want to clear up some space on their devices. You're able to pay for the amount of space that you need.
#3. USB is Still The Best Solution
If you would rather not use special transfer software or cloud storage, you can always transfer files using a USB device. This is one of the classic ways to transfer data and one of the most straightforward.
All smartphones come with special cords that insert one end into the phone and the other end has a USB. You simply insert the USB end into a port on your computer and you will be able to form a link that allows you to transfer files between your phone and computer.
READ ALSO: 3 Ways to Transfer Files Between Android and iOS
Although, all the three above mentioned methods are great to transfer files between phone and computer but transfer using USB will be faster enough. Well, let us know via comments that which method you're going to use to transfer your files between phone and computer?