A few days ago I've written the must apply security tips for Dropbox to save your files from falling into wrong hands. Once again, today on having great concern about the Dropbox security, I'm providing a list of 6 great and easy to use cloud encryption solutions (tools) to secure your Dropbox data with the high-security standards.
Some of the following Dropbox applications are freemium so if you just need to encrypt your files and folders, you can use them absolutely free, and additional features can be extended on demand (on hiring paid plan).
Dropbox Tools for Encrypting Files and Folders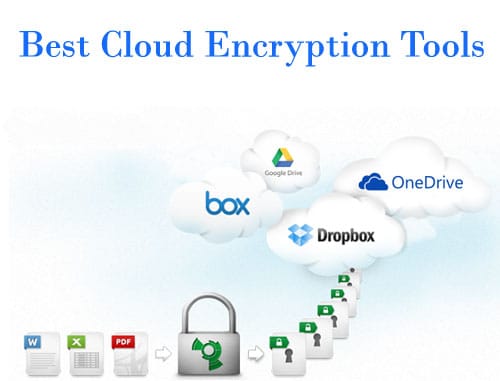 Boxcryptor is an easy-to-use encryption software optimized for different cloud storage services such as Dropbox, Google Drive, Microsoft OneDrive, etc. Not only this, it supports all the clouds that use the WebDAV standard (such as Cubby, Strato HiDrive, and ownCloud).
To protect your files, Boxcryptor uses the AES-256 and RSA encryption algorithms. It's widely popular and has variety of features. The additional features can be unlocked by hiring its paid plan.
It provides files based on the fly encryption and secure and easy collaboration. Moreover, it is cross-platform encryption tool that supports all major platforms like Windows, Mac OS X, iOS, Android.
SafeMonk is specially designed for Dropbox. It is a tapproof solution for encrypting sensitive data in Dropbox.
It's very easy to use because as soon as you download this Dropbox encryption tool, a folder appears in your Dropbox account, and anything you put in that folder remains encrypted.
You can easily and fearlessly share your encrypted files with others within the Dropbox interface that users know and love to use.
It obeys for two type of plans – individual and business. The individual plan is absolutely free forever whereas the business plan will cost you $79/user/year as there are many other features extended as compared to the individual plan.
Sookasa is also a freemium tool to encrypt your Dropbox files and folders. Once you download Sookasa, it creates a folder in your Dropbox. Any file you place in the Sookasa folder is automatically encrypted and protected just like as SafeMonk. Dropbox synchronizes the Sookasa folder across all your devices.
This Dropbox encryption tool enables you to control access to your encrypted files on the cloud and on mobile devices and enable or revoke access permissions in real-time.
It also offers the secure collaboration as you can use the native Dropbox sharing to share encrypted folders and files with your colleagues and remain compliant.
The best thing of Sookasa encryption tool is that it audits every access to your encrypted files, even after they've been downloaded to devices or shared externally.
4. CryptSync
CryptSync is an open source cloud encryption tool for small groups. After you download CryptSync in your computer or mobile device, it creates two folders – one contains encrypted files and other for original files.
It will be very useful if you're using SkyDrive, GDrive or Dropbox cloud storage service.
The most lovable thing of this tool is that the it performs synchronization in both ways – a change in one folder gets synchronized to the other folder. If a file is added or modified in the unencrypted folder, it gets encrypted. And other – if a file is added or modified in the encrypted folder, it gets decrypted to the other folder.
5. nCrypted Cloud
nCrypted Cloud is a freemium and the best Dropbox encryption tool for individuals as well as big enterprises. It easily eliminates the hassle of sharing with Servers, USB, Fax, FTP, & SharePoint.
It protects and lets you share your files in seconds from your existing cloud provider on any device (with your team, contractors, clients, & vendors).
This encryption tool not only encripts your Dropbox files and folders but also offers the powerful sharing features such as share without file size limitations, access controls, password protection, watermarking, and share expiration.
Just like as Sooksa and some other cloud encryption tools, it also offers a real-time audit trail of all data activity, as well as read-receipt notifications every time your data is accessed or modified.
6. Viivo
[
Update:
It's now shutdown]
As same as above listed tools to encrypt your Dropbox files and folders, it also gives security or encrypts the files and folders before you sync with Dropbox or any other could storage system.
It has client software for different devices such as Windows, MAC, Android and iOS.
With Viivo could encryption tool, you can have a control over your files synced on cloud. Moreover, as it also a freemium service, you can use its free version for a little purpose, if you need more, you can go for premium plan that you can also try free of cost for 14 days.
Also Read: Best Dropbox Alternatives
Conclusion
While writing this article, I'm really surprised to know that many popular cloud encryption tools such as Cloudfrogger and Truecrypt are discontinued over the past few months or years. Nonetheless, I've made a very pure list of great and reliable security tools to encrypt your Dropbox files and folders.
I'm sure you will find all the above-mentioned tools such amazing that you will confuse about selecting the best one. But, don't worry, anyone you select for you will be a great choice, honestly!
I will keep updating this list on finding any new or worth listing Dropbox files and folders encryption tool for you. If you wanna share any tool for the same, the comment box is waiting for you guys. 🙂