A few days ago I've written the must apply security tips for Dropbox to save your files from falling into wrong hands. Once again, today on having great concern about Dropbox security, I'm providing a list of 6 great and easy to use cloud encryption solutions (tools) to secure your Dropbox data with high-security standards.
Some of the following Dropbox applications are freemium so if you just need to encrypt your files and folders, you can use them absolutely free, and additional features can be extended on demand (on hiring paid plan).
Dropbox Tools for Encrypting Files and Folders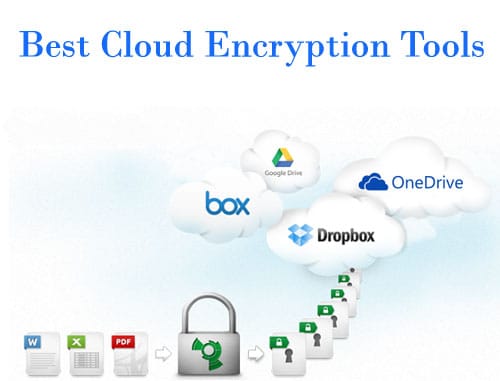 Boxcryptor is an easy-to-use encryption software optimized for different cloud storage services such as Dropbox, Google Drive, Microsoft OneDrive, etc. Not only this, it supports all the clouds that use the WebDAV standard (such as Cubby, Strato HiDrive, and ownCloud).
To protect your files, Boxcryptor uses the AES-256 and RSA encryption algorithms. It's widely popular and has a variety of features. The additional features can be unlocked by hiring its paid plan.
It provides files based on the fly encryption and secure and easy collaboration. Moreover, it is a cross-platform encryption tool that supports all major platforms like Windows, Mac OS X, iOS, Android.
SafeMonk is specially designed for Dropbox. It is a tap proof solution for encrypting sensitive data in Dropbox.
It's very easy to use because as soon as you download this Dropbox encryption tool, a folder appears in your Dropbox account, and anything you put in that folder remains encrypted.
You can easily and fearlessly share your encrypted files with others within the Dropbox interface that users know and love to use.
It obeys two types of plans – individual and business. The individual plan is absolutely free forever whereas the business plan will cost you $79/user/year as there are many other features extended as compared to the individual plan.
Sookasa is also a freemium tool to encrypt your Dropbox files and folders. Once you download Sookasa, it creates a folder in your Dropbox. Any file you place in the Sookasa folder is automatically encrypted and protected just like as SafeMonk. Dropbox synchronizes the Sookasa folder across all your devices.
This Dropbox encryption tool enables you to control access to your encrypted files on the cloud and on mobile devices and enable or revoke access permissions in real-time.
It also offers secure collaboration as you can use the native Dropbox sharing to share encrypted folders and files with your colleagues and remain compliant.
The best thing about the Sookasa encryption tool is that it audits every access to your encrypted files, even after they've been downloaded to devices or shared externally.
Cryptomator is an absolutely free open-source cloud encryption tool for small groups. After you download Cryptomator on your computer or mobile device, you will be assigned a password for a folder within your cloud which is called a vault.
You can simply put anything you want in your password-protected vault. It will be very useful if you're using Dropbox, Google Drive, etc.
AxCrypt is a freemium and the best Dropbox encryption tool for individuals as well as big enterprises. It easily eliminates the hassle of sharing with Servers, USB, Fax, FTP, & SharePoint.
It protects and lets you share your files in seconds from your existing cloud provider on any device (with your team, contractors, clients, & vendors) in just a single click.
This encryption tool not only encrypts your Dropbox files and folders but also offers powerful sharing features. If you want to go with some advanced features, you can use the Premium or Business plan. Both of the plans come with 1 month free trial period.
VeraCrypt is open-source free software available for online cloud encryption. It is a fork of a discontinued cloud encryption software TrueCrypt.
The VeraCrypt software is available for different operating systems including Windows, macOS, and Linux.
Now you would be wondering how the open-source VeraCrypt works. With the help of a pre-boot authentication, it creates a virtual encrypted disk within a file or encrypts a partition or the whole storage device.
Also Read: Best Dropbox Alternatives
Conclusion
While writing this article, I'm really surprised to know that many popular cloud encryption tools such as Cloudfrogger and Truecrypt are discontinued over the past few months or years. Nonetheless, I've made a very pure list of great and reliable security tools to encrypt your Dropbox files and folders.
I'm sure you will find all the above-mentioned tools such amazing that you will confuse about selecting the best one. But, don't worry, anyone you select for you will be a great choice, honestly!
I will keep updating this list on finding any new or worth listing Dropbox files and folders encryption tool for you. If you wanna share any tool for the same, the comment box is waiting for you guys. 🙂