Dropbox is one of the world's popular cloud storage service where people confidentially store their personal data so that it can be accessed from anywhere. On the other hand, security problems are everywhere and even you've a password protected account, hackers can still have chance to gain access inside.
Other than hackers, remember if you've shared something with your friend or somebody else by linking his/her device to your account but didn't removed it. It means that person has the full access to see all your data.
So, there are many things that you should take care of.
Through this article, I'm going to aware you about 5 very powerful security tips to keep your Dropbox account extremely safe in all possible ways. By applying or considering these tips, neither hackers nor anybody can access your account even if they know your password.
Tip #1: Enable 2-Step Verification
As of Google and Twitter, Dropbox also has 2-step verification facility. You can enable 2-step verification in your Dropbox account very easily in just a few clicks. After enabling the 2-step verification, you will be needed your password and the verification code sent on your registered mobile whenever you will sign in to Dropbox website or link a new device.
So, with the help of this 2-step verification, nobody can access your Dropbox account even when knowing your account password.
To enable 2-step verification, log into your Dropbox account, go to Settings and open Security tab. Here, look for 2-step verification and click on Enable link.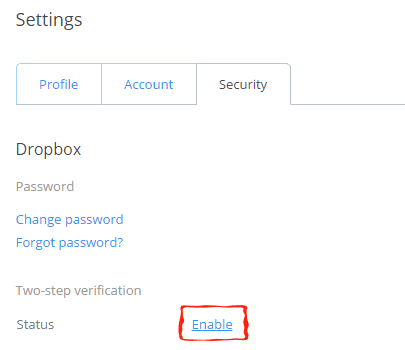 Now, you may be asked your password for security reasons. So, enter your password and select a method for receiving security or verification codes – using text messages or mobile app.
Finally, enter your phone number and verify it. It will also ask you enter a backup mobile number for the case you lost your phone. So, by following the all these steps, 2-step verification will be enabled for your Dropbox account that will work as a powerful safeguard for your account.
READ: 4 Tips to Avoid Hacking and Safe Browsing
Tip #2: Turn on Email Notifications About Account Security
Do you wanna get notifications when a new device linked to your account or a new app connected to your account? I hope you surely wanna get these notifications for security reasons. You can easily enable these notifications in your Dropbox account. For this, open Dropbox account settings and scroll down the page to bottom and make sure that you're checked these terms – A new device is linked to my Dropbox and A new app is connected to my Dropbox. At last, save changes.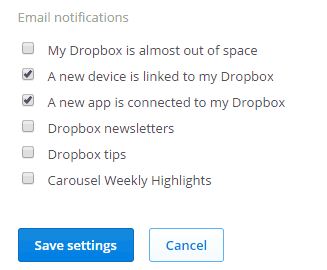 Tip #3: Unlink Devices & Apps You Don't Use
Have you checked out your Dropbox account to ensure that only your device is linked? This is because if any other device that you don't own is linked to your Dropbox account, it means the owner of that device can access your cloud data and can also delete it or misuse it anytime.
So, you should unlink all the devices you don't own or don't use from your Dropbox account for safety. To do so, go to Account Settings and inside Security tab, click on X (delete sign) in front of the individual device to remove it from your account.
Tip #4: Remotely Logout Web Sessions of Your Account
do you know that you can also keep track of that where is your Dropbox account is logged in any browser. So, on finding any web session which is logged into your Dropbox, you can remotely log it out easily.
You can simply logout the unauthorized web sessions just like as unlinking devices. Go to Account Settings, click on Security tab and find the browser sessions. If you find any unauthorized session, just click on X button to remotely logout from your account.

READ ALSO: How to Remotely Logout Your Facebook Account
Tip #5: Enabling Passcode for Dropbox in Your Device
Enabling the Passcode for Dropbox in your device will protect your account from your neighbors, friends or anybody who have authority to hold your phone for hours.
So, if you wanna secure your Dropbox data even from your friends or co-workers, just put a passcode inside and you're free. For this, open Dropbox settings in your smartphone and tick on Passcode lock and then choose a passcode.
FURTHER READING:
Your Safety is in Your Hands!
Your safety is in your hands and I believe that precautions are better than cure. So, you all should apply the above mentioned precautions to keep your Dropbox account secure and safe. Moreover, I also wanna suggest two more things even I know you're smarter than others, that never compromise your account with reused passwords and keep changing your password regularly. Both of these are common but clever ideas. In case if you feel any problem in remembering passwords of multiple accounts, you can either use any password management tool like Lastpass or read this article for creating strong passwords and remember them without any hassle.