There may be various reasons when you wanted to upload files to your Dropbox without logging into your account. So, let me tell you that you can really very easily send files to Dropbox directly through email. Yes, guys, I've tested this method very well, and in fact, I mostly use this method for sending some of the photos and other email attachments directly to my Dropbox.
Many times it may happen that you have received an email with a very important attachment inside and unfortunately you're viewing it on a public computer (cyber cafe) and wanna send that attachment file to Dropbox (due to the fear of missing that email between other upcoming mails) without logging into your Dropbox account (for security reasons). So, all the above-stated problem has a very easy, quick, and absolutely free solution! You can directly send any email attachments to your Dropbox without logging into your Dropbox account. I will tell you how!
Actually, all this can be done by using a very popular and absolutely free Dropbox add-on called "Send to Dropbox". Yea friends, it's very easy to use and absolutely free. The following mentioned steps will help you in all possible ways.
Steps to Send Files to Dropbox Via Email
I've made this guide very simple by providing the screenshots along with the steps. Just look at the following:
Step 1: Firstly, visit Send to Dropbox add-on and all you need to do is just connect this Send to Dropbox add-on with your Dropbox account and only once. So, click on the Sign-in button.

Step 2: Now, sign in with your Dropbox account and click on Allow to allow Send to Dropbox to access your Dropbox account.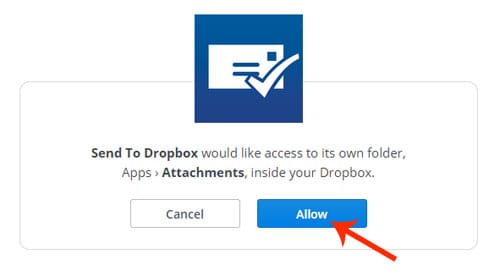 Step 3: As soon as you click on this Allow button, you will see a congratulations box with a unique email address. Just copy this email address and add to your Gmail address book. In fact, any time you wanna send any file to Dropbox, just send it to this email and it's all.
That's all guys! Anytime you need to send any attachment or file to Dropbox, compose a new mail in your Gmail/Yahoo or any other email account, attach the file and send it to the above email address created by SendtoDropbox.Com. Every mail of yours sent to that email address will automatically upload to your Dropbox account even without logging in to it. You can find your emailed files in Dropbox inside the Apps > Attachment folder.
Further Reading:
Stuck anywhere? You can feel free to contact me via comments on having any issues while performing these steps. I will solve your problem immediately.