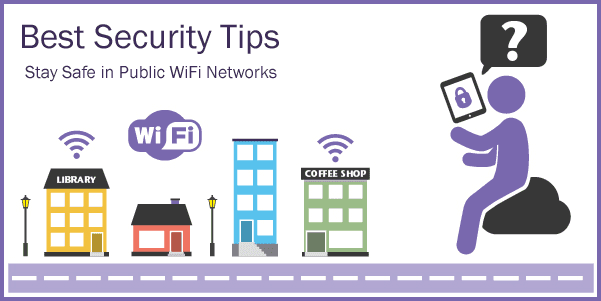 Nowadays, the use of WiFi is becoming popular among youngsters, and most of them also using free/public WiFi. But, you should understand that most public WiFi networks are not that secure as they are not password protected.
Another thing is that it becomes very easier to steal data and passwords on the same network. So, firstly you shouldn't use public WiFi networks that much and if you're using anyhow, you must be careful of some of the following settings and tips to stay safe on public WiFi networks.
Tips for PC Users to Stay Safe on Public WiFi Networks
The following 5 tips and settings are specially for computer users to stay safe on public WiFi networks. So, have a look at them and apply them carefully.
#1. Enable the Firewall
A firewall is a software or hardware that helps prevent hackers and some types of malware from getting to your PC through a network or the Internet. It does this by checking the info that's coming from the Internet or a network and then either blocking it or allowing it to pass through to your PC.
A firewall isn't the same thing as an antivirus or antimalware app. Firewalls help protect against worms and hackers, antivirus apps help protect against viruses, and antimalware apps help protect against malware. You need all three.
So, you need to enable a firewall in your Windows computer in order to keep yourself safe on public WiFi networks. To enable firewall in Windows PC, navigate to Control Panel > System & Security > Windows firewall > Allow Program and Feature.
Read Also: How to Boost WiFi Signal Strength
#2. Keep the sharing off
It's your other duty to turn off the sharing of files, folders, and printers, etc. before start working on a public WiFi network so that nobody can share your information.
If you're using a Windows computer, you can turn off sharing very easily. Just go to Control Panel > Network and Sharing Center. At the upper left side click on Change Advanced Sharing Settings and then turn off the File and Printer Sharing.
#3. Only browse sites with HTTPS
HTTPS consists of communication over Hypertext Transfer Protocol (HTTP) within a connection encrypted by Transport Layer Security or its predecessor, Secure Sockets Layer.
Gmail, Facebook, and many other popular sites already come with this security protocol. It's very necessary to check HTTPS protocol before logging into a website on a public WiFi network.
If there's no HTTPS in a website, you shouldn't log in to that site on a public WiFi network and instantly log out in case you're mistakenly logged in.
#4. Keep WiFi off when in no use
You should keep your WiFi connection off while in no use otherwise, other people on the same public WiFi network can steal your data easily.
If you're using a Windows computer, right-click on the WiFi icon on the taskbar and then off the WiFi.
#5. Never perform sensitive tasks
As I was told above that most public WiFi networks are not password protected and that's why it's highly dangerous to perform any sensitive task over a public WiFi network.
Sensitive in sense; online money transaction, sharing important documents over the internet, etc. So, to stay safe you should never perform sensitive tasks over public WiFi networks.
Things to Remember While Using Public WiFi on Mobile Phone
Not only over the computer but also on a mobile phone it's very dangerous to use free or public WiFi. You should keep the following things in mind while using public WiFi over the mobile phone.
Enable security features. Every smartphone comes with some security features that you must enable while using public WiFi. If you don't know about these features, you should take help from the nearest service center or online help center.
Install Antivirus App. For powerful mobile phone security from viruses and worms, you should have an antivirus app on your smartphone. For Android smartphones, check out this article for the best antivirus programs.
Don't use social & communication apps. If you're using free WiFi in public places, never use communication apps like Messenger, WhatsApp, etc. You should also not login to your social profiles while on a public WiFi network.
Say no to online banking or credit card transactions. As told above that while you're on public WiFi, never perform sensitive tasks such as online banking or credit card transactions.
Keep Bluetooth and WiFi off. If your WiFi and Bluetooth are not in use and you're in the range of public WiFi, keep both of them turned off.
More Articles to Read:
That's all guys. These are some of the most consider security tips to stay safe in public WiFi networks. So, never forget these tips and recommendations while using free or public WiFi.