Gmail is the most popular email service around the world. Nowadays I'm seeing a craze of free Internet surfing and offline browsing among the users of web services such as Gmail, Facebook etc. For your knowledge, let me tell you that Facebook also provides the feature to surf it without Internet connection in your mobile. Same with the Gmail that you can use it offline and check your inbox without Internet connection.
Yes guys, as of many web browsers, Gmail also provides the offline browsing mode or something like that to check your inbox without Internet connection. However, you can enable the Gmail Offline feature directly from your Gmail Account Settings but for this you've to install a Chrome extension named Gmail Offline in your browser.
Don't worry about any queries such as What is Gmail Offline App, How can I install it, What facilities it provide, how it works and etc etc. So, relax guys I will give you the answer of all your questions and going to provide the complete guide with screenshots for how to use Gmail offline without Internet connection.
How to Use Your Gmail Offline
First of all, log in to your Gmail account and look for the Settings (Gear) Icon. Click on it and Select Settings.
Next, in the Settings page, Click on Offline tab and then click on Install Gmail Offline, as shown in the following screenshot.

Note: Gmail Offline Chrome app is built to support offline access of Gmail Inbox and allow users to read mails, search, archive and delete without Internet access.
Now, you'll be redirected to the Gmail Offline page in Chrome web store to install this app in your browser. For this, click on + Free button and confirm the new app by clicking on Add.
You'll automatically be redirected to the chrome://apps page. Here click on Gmail Offline app and make sure that you're connected to Internet this time.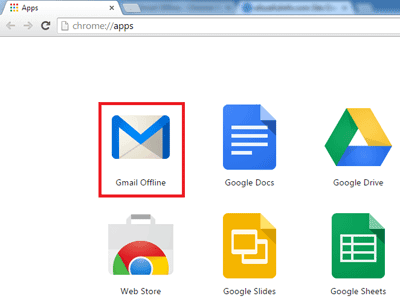 As soon as you click on this app, your offline Gmail inbox will be open in front of you. At first start up, it will synchronize mails be showed you while you're offline.
That's all, anytime when ever you're offline and need to check your Gmail inbox, just launch this app and read your mails. In case of me, I felt it very useful when I was in flight and unable to connect to Internet.
Further Reading:
You might be thinking that how it is possible to read and delete mails without Internet connection, so let me tell you the truth behind Gmail Offline app. Actually, after installation it is necessary to launch this app first time when you're online or connected with Internet so that it can synchronize the messages. Again, anytime when you visit the Google Offline App while you're disconnected to Internet, it will show you the synchronized messages and will queue your requests like delete or archive mail and when will again connect with Internet, it will immediately process your queued requests.