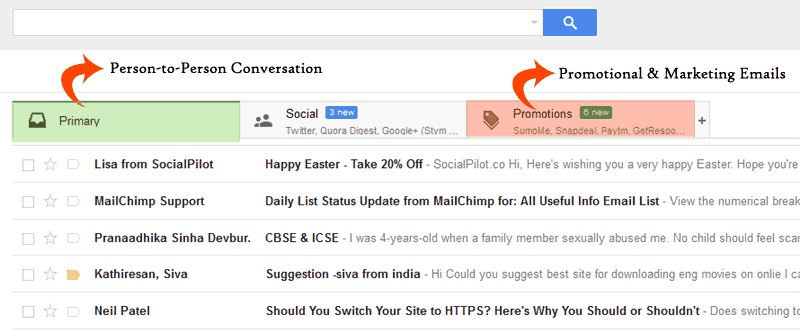 It's honestly very hard to land your emails to subscriber's Primary tab of Gmail instead of Promotions tab. This is one of the biggest problems occurred among email marketers after Google launched its tabbed inbox feature. This new inbox has some different tabs such as Primary, Social, Promotions, Updates etc. All these tabs are programmed to receive only specific emails based on the nature of email. Following are the nature of these different tabs that force them to filter the emails:
Primary: Person-to-person conversations and messages that don't appear in other tabs.
Social: Messages from social networks, media-sharing sites, online dating services, and other social websites.
Promotions: Deals, offers, and other marketing emails.
Updates: Personal, auto-generated updates including confirmations, bills, receipts, bills, and statements.
Forums: Messages from online groups, discussion boards, and mailing lists.
But, many times we see that even after trying to write emails to create person-to-person conversation that don't look like marketing emails with deals & offers, still your email go to Promotions tab on Gmail. Why?
There are actually many reasons behind it. I will cover everything and I'm sure after reading this whole story you'll be able to land your emails to Gmails Primary tab rather than the Promotions tab.
Best Reasons Why Your Emails Don't Hit Gmail's Primary Tab
However, Gmail already applied some filters for its different tabs to filter the emails according to their nature. So, one of the biggest reasons for why your emails hit Promotions tab in Gmail instead of Primary tab is your emails' nature. It means if your emails are promotional and marketing oriented with lots of links or discount coupons, it'll surely land in Promotions tab of Gmail.
But, other than this there are many other reasons that may be the big cause for why your emails are going in Promotions tab instead of Primary tab, such as:
Lots of links inside the mail
Use of spammy keywords like "Make Money Fast", "Free" etc.
Lots of images
Grammatical mistakes
RSS to Email
The complex code behind your emails if you're using pre-designed templates
Not only these, but there are many more reasons for why your emails are not landing in Gmail's Primary tab instead of Promotions tab.
How to Land Your Emails in Gmail's Primary Tab Instead of Promotions Tab
By having in mind these reasons and some of my own experiences, let me share some tips on how to easily land your emails in Gmail's Primary tab instead of Promotions tab.
Mention Reader's Name with Merge Tag Tricks
To land your emails in Gmail's Primary tab instead of Promotions tab you will have to make it look like person-to-person conversation. For this it will be good if you mention the name of your reader in your email.
You can mention your reader's name using merge tag tricks with Mailchimp, Aweber, GetResponse etc. as well as in subject line and in the email text.

There are two main benefits of mentioning reader's name, first is that Gmail filters might think it's a personal email and may keep it in Primary tab and second it will look more interactive so that reader will give it more importance.
Be Sensitive of Links and Pictures Inside Email
Experts say you shouldn't put more than one link inside your email in order to protect it from going in Promotions tab of Gmail but I seen many email markers putting two or more links and still landing in Primary tab.
However, I would suggest you put not more than two links inside your email, and if possible keep only one.
Other than this, you shouldn't include images inside email newsletters because this makes your emails promotional and force them to hit Promotions tab. So, keep your emails simple and just like as person-to-person conversation.
Type Every Email Manually; Turn Off RSS Campaign
I seen many RSS email campaigns land in Promotions tab of Gmail. This is because RSS is automated and Gmail thinks that it's not being sent by a real person and that's why such emails land in Promotions tab.
So, in order to land your emails in Gmail's Primary tab instead of Promotions tab you must type every email manually in such as a manner you're communicating with the reader.
Keep Your Email List Clean & Alive
Many times it happens that most of the subscribers in our email list are not active and don't see the emails. The less open and click rates of email campaigns make emails land in Spam folder of inbox.
So, it's also important to keep your email clean and alive. You should make sure that maximum people from your email list are viewing and responding to your mail.
Almost every email marketing services such as Mailchimp, GetResponse etc. provides facility to check how many subscribers are not opening or clicking on your emails and for how many time, so that you can easily remove them from your email list to keep it clean.
Write as a Friend, Not as an Email Marketer
Always remember if you want your emails land in Gmail's Primary tab,  you should write the email text just like as you're sending it to your friend. It shouldn't look like as a marketing or promotional email.
In fact, you should compile your email in a traditional letter format so that it look very personal and appealing.
Write Email with HTML Editor Without Using Pre-designed Templates
I experimented this myself and really worked amazingly. For a last few months I had been using pre-designed templates to give cool look to my emails without thinking that by including more styles I'm inserting more complex code to to run behind the email.
This extra and unwanted code of pre-designed templates makes the email spammy and mostly such emails land either in spam folder or in Promotions tab of Gmail inbox. So, be careful of this if you need your email to land in Primary tab of Gmail inbox.
I will suggest you to use HTML editor option rather than pre-designed themes or templates to create your email as it looks more personal and real.
Final Words
Finally, I just want to conclude that in order to land your emails in Gmail's Primary tab to your subscribers' inbox you can try the above mentioned tips and I hope you'll succeed.
All you need to remember the nature of different tabs of Gmail and make sure your email's nature matches your targeted tab. So, if you need your emails to land in Primary instead of Promotions tab, you should type every email manually with HTML code option in a way like you're sending to your friend that indicates an simple person-to-person conversation.
Other than this, one more thing I would like to say that you shouldn't compare the Promotions tab of Gmail with Spam folder. I think many people have a wrong mindset that emails land in Gmail's Promotions tab are just wasted but the truth is that every tab of Gmail has it's own importance and that's why the world's biggest tech giant "Google" created the tabbed inbox (by seeing the users interest).
So, I think just make sure your emails are not going in Spam and should not have any issue with Promotions tab. But, yes if you're emails are not actually promotional and still going in Promotions tab, you can try the above provided tips to land them in Gmail's Primary tab instead of its Promotions tab.
More on Email Marketing: