If you're looking for a best email marketing service, then you would definitely heard about GetResponse and MailChimp as both of them are the leader among various email marketing solutions. But, still if you believe in long term relationship, you would definitely looking for a comparison between GetResponse and MailChimp so that you could find a perfect email marketing for long term contract.
So, here I compared GetResponse and MailChimp to help people finding the best email marketing solution for their business. I've made this comparison by many factors having in mind such as pricing, easiness, customer support and many other factors that you may think before choosing a best email marketing service.
Finding a Best Email Marketing: GetResponse OR MailChimp
However, it's very difficult to compare these email marketing services because both of them are the best and recommended by world's leading brands but still as you know that different people have different taste so it is not sure that both of them will comply with your favorite email marketing features.
So, I hope you would be looking for the following features in your favorite email marketing service. So, find out which email marketing is good for you – GetResponse or MailChimp.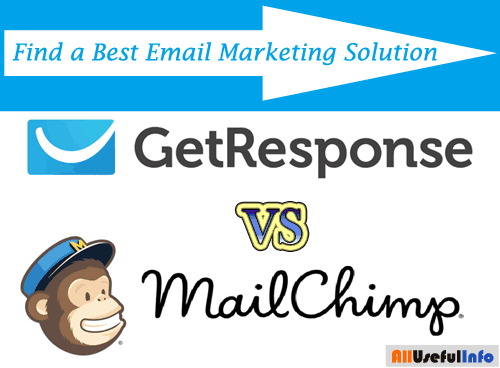 Attractive Sign up Forms
I've used GetResponse email marketing service for months and very impressed with its amazing sign up form builder tool. Yea, it's exactly what I ever looked in every email marketing services.
Of course, MailChimp also lets you create the Sign Up form to be embedded on your site to collect sign ups, but for creating the advanced or attractive sign up forms, you may feel lots of problems with MailChimp if you're not a good programmer.
So, if you believe that good looking sign up forms can collect more sign ups and attract subscribers (and it's true, honestly), then you should go for GetResponse as it contains 500+ predesigned sign up forms that can be embedded to your website very easily and there is no coding required.
Affordable Price
It is the factor that always comes at first while purchasing anything in the world. In case of choosing an email marketing service, it is the must consider factor. I mean, before choosing an email marketing solution for your business, you should compare the prices of many email marketing services to find the cheapest one.
If you're a small business, don't have a large email list and don't wanna spend money for email newsletter, then MailChimp will be a best choice for you to start with. This is because of the lifetime free plan of MailChimp in which you can keep 2000 subscribers and 12000 emails can be sent per month.
However, GetResponse doesn't offer any lifetime free plan but you can try it absolutely free for 30 days even without proving your card information. After the free trial period, you can go for premium in $15 that lets you store less than 1000 email subscribers and unlimited emails can be sent.
MailChimp also contains different premium plans and each premium plan will let you send unlimited emails but for limited subscribers. For example, with MailChimp's $10 plan you can store less than 500 subscribers.
The Fantastic Customer Support
I always love to work with such email marketing company that provides the quick response for all my questions and I like GetResponse in this sequence.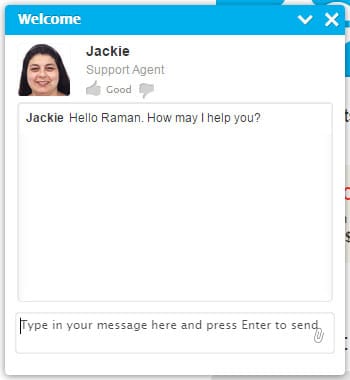 One of the best mediums for getting quick support for any problem is Live Chat Support Option and nowadays most of the companies offer it.
However, both the GetResponse and MailChimp offer the live chat support option but if you're going for a free MailChimp plan, then you may be lack of it. Moreover, as much I noticed the GetResponse support team remains available online mostly for 24×7 but that's not the case with MailChimp.
Free List Building Program by GetResponse
This outstanding facility is available for only GetResponse users. According to GetResponse, you can attract 10,000 new subscribers in just 90 days and that of absolutely free.
So, it can also be a great reason of choosing GetResponse email marketing service except the MailChimp. However, there are different reasons for choosing MailChimp, but as much I know MailChimp doesn't offer any list building program to increase your subscribers.
Further Reading:
The Verdict
As you can see that most of the above listed factors are going in the favor of GetResponse, so I declare GetResponse as a winner of this comparison but it doesn't mean that MailChimp is a bad email marketing service because it gives better results in different areas like advanced analytics, advanced features for managing your RSS-to-Email campaign and more. So, MailChimp is also a good email marketing solution and being used by many professionals around the world.
You know there are some basic needs of everyone who are looking for a best email marketing service as mentioned above like affordable pricing, awesome customer support, attractive sign up forms etc. and when all these features available at single place, then why should I not declare GetResponse the best email marketing service in the world?
Sign Up For GetResponse Today!
Not only this, GetResponse has so many features that you would definitely love such as Landing Page Creators, Smarter Autoresponders, 99% Email Deliverability and many more.
Is there anything else you would like to know about any of these email marketing services? You can feel free to ask me anytime.