Since Google stopped the support for Feedburner users, the demand of newsletter services is increased at the high rate. I too have been using Feedburner for a long time but after feeling that it's almost died I exported my subscribers from Feedburner to MailChimp.
However, the Feedburner is a free option for email subscriptions but due to its died support I recommend you to move out from Feedburner to any other newsletter service. So, I've collected the list of 8 best email newsletter services that provide the forever free plan and affordable premium plans.
Without giving your more time, just have a look on these following free and premium email newsletter services:
Mad Mimi is the easiest way to create, send, share and track email newsletters online. I listed it as a cheapest email newsletter service just because of its free plan that lets you store 2500 contacts and 12500 emails/month to be sent. Its basic premium plan starts from $10 in which you can store 500 subscribers and unlimited emails can be sent per month. For more subscribers and other premium plans, visit the website and see pricing details.
Recommended Posts:
I'm currently using MailChimp email newsletter service to deliver newsletters to my contact list. MailChimp also has a forever free plan by which you can send 12000 emails per month and store 2000 subscribers. But if you think that number of emails to be sent per month is a little amount, so you can go for a premium plan. Every premium plans enable you to send unlimited emails per month. Its cheapest plan obeys for $10 per month for up to 500 email subscribers. It has many more other plans based on number of email subscribers you've in your contact list.
It can be a very affordable and appropriate service for those who have just started making email subscribers and don't have more subscribers. Its cheapest plan starts from $1.49 monthly in which you can send unlimited emails to up to 9 subscribers. View its other plans in the above picture if you're more than 9 contacts in your mailing list. It also provide the annual best value of your plan with some discount.
Aweber is another creative and feature rich option to create and send email newsletters very easily. For your information, it doesn't provide any type of free trial. It's pure premium email newsletter service. Its initial plan starts from $19 per month for up to 500 contacts in your list. However, for first month you can try Aweber in only $1. Other essential feature of Aweber is that they have my favorite support option i.e, live chat. Its every premium plan lets you send unlimited emails every month.
GetResponse is also in the list best email newsletter services around the world. GetResponse has 350,000 happy customers in 182 countries, engaging more than 1 billion subscribers every month. Initial pricing starts from $15 for up to 1,000 email subscribers. You can get the discount on buying the annual package. Don't worry, before start using it as your newsletter service, you can try it free for one month.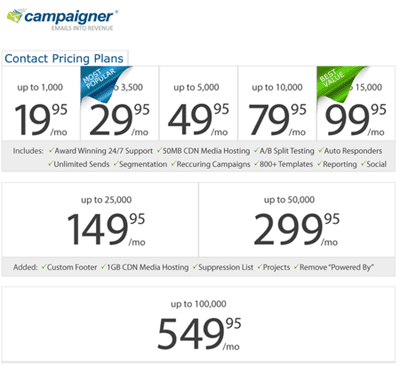 Campaigner is also a feature rich email marketing service. Its pricing starts from $19.95 for up to 1000 email subscribers. Its most popular premium plan enables you to send unlimited emails up to 3,500 subscribers in the cost of $29.95. For more subscribers, there are many other bigger plans available. However, before start using its premium plan, it gives the facility to try 30 days free email and social media marketing.
WOW! It's really fantastic for beginners. If you've up to 500 email subscribers in your mailing list, then you can use Elite Email absolutely free to send unlimited emails to your subscribers. Isn't it shocking and pleasant. But, if you've more than 500 contacts, you'll have to go with a paid plan that starts from $15 to many more high volume plans.
SimplyCast is all in one marketing company that provides many services such as Email marketing, SMS marketing, Fax marketing, voice broadcasting and more. I liked all the plans of SimplyCast for email marketing because all of them are very cheap and feature rich. You can imagine how affordable it is by knowing about the basic plan that offers sending unlimited newsletter to up to 1000 subscribers in just $9. However, there are many other aspects for selecting a best plan, so before selecting a plan, read out the full features provided by the plan.
One other thing I really liked of SimplyCast is its free plan that offers daily unlimited email newsletters to your 2000 contacts. Its forever free plan that you can use lifetime until you've less than 2000 followers. Moreover, you can also try each of its paid plan for 14 days free of cost.
You Should Also Check:
Conclusion
All of these 8 are most popular free and premium email marketing and newsletter services that are being used by millions of users around the world. For beginners (less than 500 contacts), I recommend you use the free plan of Elite Email or SimplyCast's forever free plan for upto 2000 subscribers.
For all the professional businessmen and bloggers who wanna use the premium service due to large number of email subscribers, Aweber or MailChimp will be the best choice for email newsletter to their subscribers.