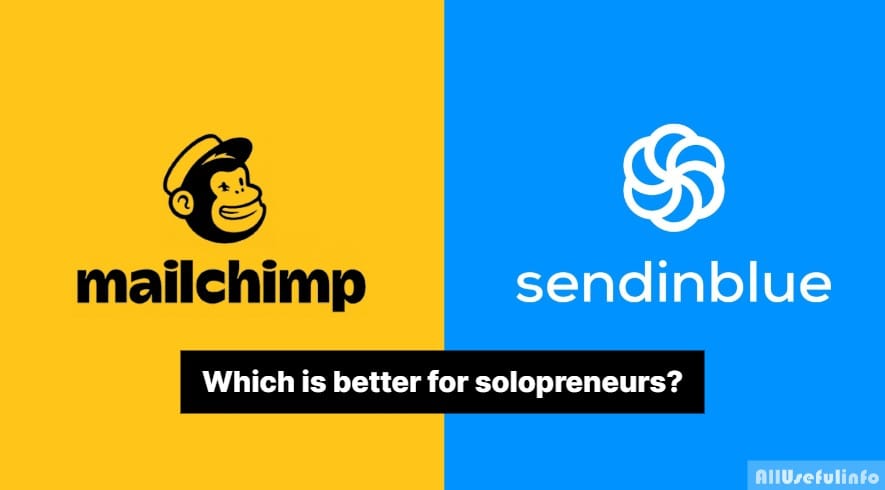 Email Marketing holds a different place when reaching out to your clients. Some applications have made this easy for us, especially for individual business owners or solopreneurs. You can also generate more leads with help of email marketing, whether it is a large, mid-size, or small firm where the workforce is less.
Through email marketing, you can inform your customers about new offers, schemes, discounts, membership programs, and much more, along with establishing a healthy relationship.
However, there are many email marketing services available on the internet, but Mailchimp and Sendinblue are the most popular names which come to our mind at the very beginning. I have personally used both of them and my experience helped me do a better Mailchimp vs Sendinblue comparison.
Let's have a deep insight into this comparison.
Mailchimp Vs Sendinblue: Which One is Better?
Have you ever used any of them? Are you a Solopreneur and confused about which one is perfect for you? In that case, you are at the right place because here in this article; we will spill the secrets about Mailchimp Vs Sendinblue, which will help you to decide which one is perfect for you.
So let's have a glance over Mailchimp and Sendinblue with us.
1. Designs and Templates
Both have easy-to-use templates for emails or landing pages. All you need to do is drag and drop which is too simple that even a non-technical person can do it quickly. Isn't it tremendous and time-saving?
Let's find out which is better Mailchimp or Sendinblue in terms of design and templates.
Sendinblue offers 60+ templates with attractive and appealing designs. These templates are responsible as well.
MailChimp offers 100+ templates that are ready to use, and you can add content as per your need and start sharing with your lists. Below is a screenshot of the templates page of Mailchimp.
2. Email List Management
There is no second opinion that both applications have an unbeatable email list management feature.
Sendinblue provides a limited number of email lists in its free plan. Mailchimp allows the creation of audiences as 1, 3, and 5 for free and unlimited lists in its paid plan.
If we compare Mailchimp vs Sendinblue in terms of email list management, a significant difference here is if you have picked the same contact in two different lists, Sendinblue will count it as single, while in the case of Mailchimp, it will count it as two different contacts.
Sendinblue allows you to send emails to 9000 contacts per month and MailChimp allows 10000 contacts per month.
3. Audience Segment and Tags
Mailchimp and Sendinblue allow you to set tags and segments based on list properties and criteria. Sendinblue allows you to create custom segments and tags, while Mailchimp allows you to create a segment based on list behavior.
So, based on audience segment and tag, if you ask which one is better; Mailchimp or Sendinblue? I would prefer Sendinblue as it allows you to create custom fields like First Purchase, Address, etc.
You get this feature free of cost in Sendinblue while it is paid in Mailchimp.
Here's what the segmentation of contacts looks like in Sendinblue.
4. Email Marketing Automation
Sendinblue Marketing Automation feature is free to use. Automations in Sendinblue are the same as in MailChimp, but here you can use them for free, like welcome emails, etc. If we talk about Email Marketing Automation Workflow in Mailchimp, it gives basic 1-click automation with its free version, and custom workflows are only for paid plans.
Sendinblue allows up to 2000 contacts for email marketing automation for free. This is a benefit of Sendinblue where you don't have to pay any extra penny to use this fantastic service.
Additionally, Sendinblue also allows users to use webpage visit triggers and send automated SMS service for free, which is also paid in MailChimp.
Check out this screenshot of the Automation page in Sendinblue.
5. Landing Pages and Sign-up Forms
Sendinblue and Mailchimp allow you to create and save landing pages and sign-up forms to make communication easier with your contact list. There is no massive difference between them, but Sendinblue also gives an HTML code editor for custom-coded templates, which is not accessible in MailChimp.
As per our analysis of Mailchimp vs Sendinblue, this is an advantage for small firms in which they can utilize or customize existing templates as per their need without taking a paid plan if they are using Sendinblue.
6. CRM Tools
No one can underestimate CRM when it comes to handling a business, whether small or big. Both marketing platforms have a built-in CRM, allowing you to contact your clients directly and communicate with them.
There are variations in both, as we discussed earlier, Mailchimp counts a duplicate contact as two. Mailchimp allows you to connect with 2000 contacts with CRM Tools. Although there is a lack of some useful features also like uploading a file, contact assignment to the sales team, and task creation but it has an amazing option of social profiles (with additional charges) which allow you to create campaigns based on social media.
Which one is better Mailchimp or Sendinblue for connecting to a wide contact list?
Sendinblue has always something extra for users. You can access unlimited contacts where a duplicate contact counts as one which is also helpful in avoiding repeated emails.
Some other useful features in Sendinblue are free transaction mails, you can set tasks and task deadlines, and you can check the number of visits to a webpage by customers. There is a drawback as well that you can not copy-paste contacts directly from the list, you have to upload the entire file which is a bit complicated.
7. Reporting, Analysis, and Insights
Reporting and analysis play a critical role in marketing. Sendinblue offers amazing insight and other features like Google Analytics integration, you can check email opening rate, CTR, number of unsubscriptions (list churn rate), and delivery reports which gives you a complete insight into your growth between specific dates. However, Sendinblue doesn't provide social and eCommerce reports.
Mailchimp allows you to set campaign benchmarks that help to analyze your campaigns' success rate. For example: if you are running an eCommerce store, you can create a lifetime value set for re-engagement with your existing clients to get in touch with your valuable clients.
Apart from that, you will get a smart recommendation, A/B testing, content optimizer, surveys, and social and eCommerce report which is missing in Sendinblue.
8. Pricing: Mailchimp vs Sendinblue
As we can see, both Sendinblue and Mailchimp are available in free and paid versions, but when it comes to free features, Sendinblue somehow offers more than MailChimp.
Mailchimp has 4 plans including a free plan. Its different paid plans include Essentials, Standard, and Premium have different price packages based on different features and the number of contacts.
Whereas its free plan has several features for small firms including Marketing CRM, Creative Assistance, Forms, Landing Pages, Drag and Drop Website Builder, Mailchimp Domain, a Monthly email send limit of 10,000 emails and a maximum daily limit is 2000 emails/day. However, the free plan of Mailchimp lets you keep only 2000 contacts in your email list.
Sendinblue has 4 plans including a free plan. Different plans have different features. The price of each plan depends upon the features included in the plan and the monthly email volume.
Unlike Mailchimp, Sendinblue's free plan allows you to keep unlimited contacts in your email list. But, the drawback is that it lets you send only 300 emails/day. It means even less number of emails can be sent in a month as compared to Mailchimp. Some other features of Sendinblue's free plan include Chat, SMS marketing, templates, mobile-friendly email design, sales CRM, etc.
Conclusion
Here in this article, we have seen Mailchimp Vs Sendinblue, based on various elements and parameters. If you want some interesting features like unlimited contacts for free, then Sendinblue would be an excellent option for you and Solopreneurs.
If you won't mind paying a bit more for some extended features with various templates, MailChimp is for you.
What would you prefer? Tell us in the comment box.