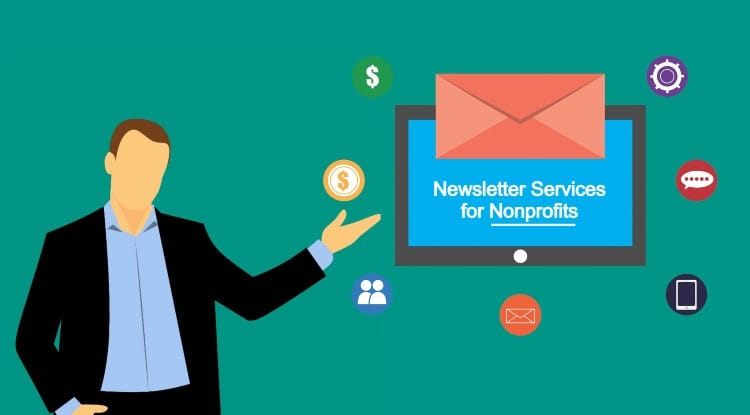 Nowadays, while everybody keeps trying to increase their business and organization to earn more and more money from customers, on the other hand, there are numerous nonprofit organizations that also keep running to help the public without expecting to earn money.
As we all know that any organization or business needs multiple resources to be alive, so email newsletter service is also one of the most essential things and many organizations pay hundreds of dollars every month to send email newsletters to their customers. But it may be a great burden on nonprofit organizations. So, here I'm going to focus on the 10 best email newsletters and marketing services that have special plans for nonprofits.
Previously I've published two more articles about email newsletter services on a different basis such as some have a forever free plan, some of them give the free trial for new users, etc.
Here're the Best Newsletter Services for Nonprofits
Well, if you're running a nonprofit organization and looking for the cheapest email marketing service, let me tell you there are many email newsletter services that have special plans for nonprofit organizations. Check them out below:
GetResponse.com is an awesome newsletter service for beginners, professionals, high-volume enterprises, and nonprofit organizations. I also used GetResponse as my newsletter solution for subscribers of All Useful Info.
GetResponse offers a special plan with a flat 50% off forever only for non-profit organizations. So, whether your goal is to drive membership, increase donations, or raise awareness, I think GetResponse is the right solution for you.
Aweber also has a very special plan for nonprofits and students to deliver email newsletters. To get started, Aweber offers three months of free service to nonprofits' new opening accounts, followed by a 25% discount on invoices from there forward.
Other than nonprofits, Aweber also provides a 20% discount to all current students with a valid .edu or .ac email address.
More than 200,000 nonprofit organizations use MailChimp. MailChimp makes it easy to send mobile-friendly newsletters, integrate with other apps, track results, and all these facilities with a 15% discount.
Despite this, if your organization is at the start-up level and you have more subscribers than 2000 in your contact list, you can use its forever free plan in which you can store up to 2000 subscribers to send email newsletters absolutely free.
Benchmark Email offers a flat 25% off for all registered nonprofit organizations. Once they receive the proper documents of your organization, they will set up your account with the non-profit pricing and send you a confirmation when complete. To ensure your account is set up with the correct discount, don't purchase a paying plan before they confirm your non-profit status.
Other than this, if your organization is all about helping kids or against child labor, you may get a 100% free plan at Benchmark for sending your newsletters. In fact, Benchmark has a special free plan for those nonprofits that help children.
Nonprofits can get 20% off on every plan of Emma. More than 2,000 nonprofits rely on Emma to save time and resources. For an instance, its basic plan starts from $45 monthly but nonprofits can get it at $36 monthly with a 20% discount.
Vertical Response also cares about nonprofit organizations and gives up to 10,000 emails per month to be sent for absolutely free. If you're a higher-volume sender, Vertical Response offers a 15% discount on its monthly plan.
The vertical response is also a forever-free plan in which anybody can store up to 1000 contacts and 4000 emails can be sent per month. In my view, this plan will be suitable for students.
Campaigner may be the perfect or best email marketing service for small nonprofit organizations because it offers 100% free service for nonprofits to send email newsletters for up to 500 email contacts of theirs.
The Campaigner also confirms for your assistance that it's not a free trial offer or for a limited time, but every nonprofit organization can use this free plan forever.
iContact is proud to help many non-profit organizations stay in touch with their supporters through email and social media marketing. iContact provides free accounts to North Carolina–based non-profit organizations for email newsletter and marketing.
iContact also offers a 20% discount to all non-profit organizations outside of North Carolina.
Postalytics is the best direct mail automation platform that helps smart marketers easily create, send, and measure the performance of their direct mail campaigns–without the hassle of manually entering data. The Postalytics platform integrates with your CRM system and mailing list provider to automate some of the most time-consuming parts of managing a campaign, such as adding addresses to a list and generating personalized content.
Selzy is an all-in-one platform for email marketing automation. With its user-friendly drag-and-drop email builder and 100+ free templates, affordable pricing, and 24/7 support, it's a great solution for startups and beginners in email marketing. The interface is so simple that even a newbie can launch their first-ever campaign in under 15 minutes. The best part is that Selzy offers a generous free plan with all the necessary features and a limit of 15,000 emails a month sent to up to 1,000 contacts.
MORE ON EMAIL MARKETING:
Conclusion
As you can see that I've listed the top 10 email newsletters and marketing services for nonprofits, so I think there is nothing more to tell you about selecting the best one for you because I mentioned every essential aspect about them to choose the best and cheapest service for your nonprofit organization. In my view, GetResponse, Aweber, or MailChimp will be a great choices.