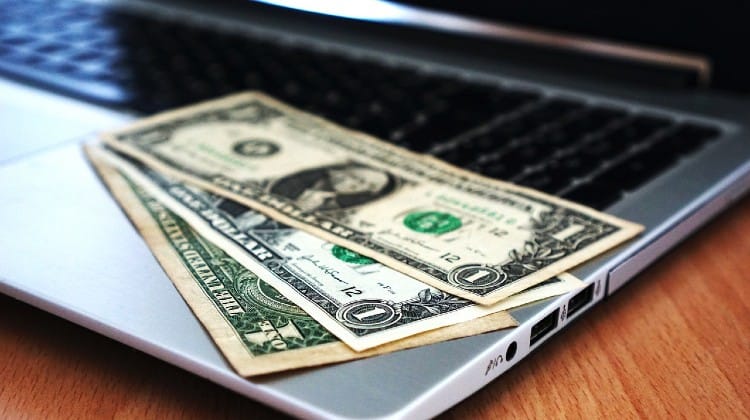 Earning money online has never been easier. There are dozens of websites that offer everything from minor task work to surveys to help you generate extra cash from your mobile device or home computer. Read on to discover five websites that will you help you making money on the internet daily.
1. Fiverr
Fiverr was founded on a simple principle; provide a large marketplace for professionals to offer their services starting at $5. The site exploded soon after its launch and now boasts an enormous user base. With creative professionals, marketing professionals, and much more, you're sure to find a niche to work in that will help you make money every day.
Fiverr operates on "gigs". You'll set up a provider account, and list your "Gigs" on the marketplace. Gigs usually start around $5 (hence the name Fiverr) and can go up to any dollar amount from there. Fiverr is a great platform for up and coming designers to grow an audience and show off their amazing design skills.
As long as you maintain a consistent workflow and always deliver your gigs on time, you'll quickly earn a good reputation (which is based on five stars). Four-star or higher providers usually get the most exposure and customers, so be sure to put customer service first.
Fiverr is a pretty awesome way to put your talent to use generating extra cash. If you've always wanted to get into design or any other creative field, Fiverr may be the platform you've been looking for.
2. Swagbucks
Have you ever gotten an email that offered surveys for money? You probably moved it to your trash or spam folder; after all, survey websites aren't a legitimate way to make extra money, right?
This couldn't be further from the truth. In fact, survey sites like Swagbucks are actually one of the easiest and most legitimate ways to make extra cash on the internet. Swagbucks is the largest of these sites, providing thousands of people with extra income for completing surveys and simple tasks.
Swagbucks' surveys are consumer surveys, so your answers are actually providing valuable information to retailers across the country. By providing feedback, you can help retailers to better serve their customers (and increase their sales).
You can complete several surveys per day, from which you can turn your points into gift cards to major retailers like Amazon, Target, and more. If you've always wanted to give survey sites a shot, start with Swagbucks and you'll learn why it's the largest site of its kind. If you want more information on Swagbucks, read a Swagbucks review on Careful Cents.

3. Udemy
Have you ever thought about being a tutor or instructor? Udemy is an online course website that has thousands of courses on everything from musical instruments to business and marketing classes.
You too can become an instructor by using Udemy as a platform to create and upload your own courses. Whether you're a music teacher looking to make some extra cash, or a marketing expert looking to spread your knowledge, Udemy is the place for you.
Udemy has thousands of "students" that purchase and download courses every day. The best part about uploading a course is you only have to do it once. After that, it becomes passive income you can collect daily.
Udemy has an excellent community and customer support system, so any issues are resolved quickly and efficiently. Courses and providers are rated based on a 5-star rating system, so once you've uploaded your course, you'll learn exactly how much your users are loving the content.
4. MyPoints
MyPoints was founded in 1996 and has operated successfully ever since. The site started as a resource for users looking to earn cash back on purchases and has since grown to include other money-making options like surveys and task work.
You'll earn points for completing task work, which can be turned into prepaid Visa Gift Cards. If you choose to shop with one or more of their multiple retail partners, you can also earn points on purchases which you can turn into cash back.
With mobile apps for both Android and Apple users, you can access MyPoint from pretty much anywhere, meaning you can generate some extra cash at any time of the day. Long lunch break? Try completing some task work on MyPoints and turn that break into a money-generating time slot.
5. Shutterstock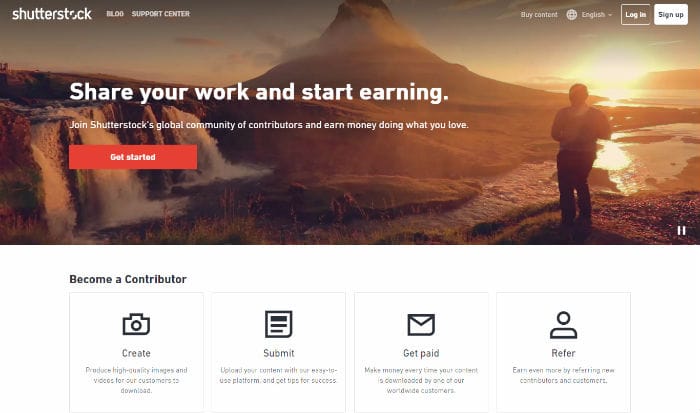 Whether you're a professional photographer with a large portfolio or an amateur with a knack for capturing the right moments, Shutterstock has a great opportunity for you. The site offers a platform for amateurs and professionals alike to publish their photos-and get paid for it!
One of the largest online resources for stock photos, Shutterstock provides an excellent platform for photographers to make extra cash from their shots. Your photos must be owned by you, and not contain any copyrighted material or graphic nudity to be accepted.
Once you've created your portfolio, you can begin uploading photos and you'll receive payment every time your photos are downloaded. It's that easy! Your photos can be downloaded any number of times, and you'll always be paid when a photo is downloaded.
So if you're a photographer looking to add some passive income and exposure to your skills, Shutterstock is the best resource for you. You'll quickly gather a following with the great community the site has to offer.