Are you looking for any easiest way to earn money online? So, your smartphone can help you to do so, really! If you're using an Android phone, here I came with 10 best Android apps to make the real money online by doing some sorts of simple tasks such as watching videos, downloading free apps, taking photos, meeting new people and more.
If you find these tasks interesting and easy for you, just check out these Android apps to start earning money or real cash and rewards (gift cards and redeemables). As you would know that there are hundreds of this kind of apps available on Google Play Store but not the all are real so you should be aware of fake apps and my this list will help you find all the real and best Android apps to make money and rewards online.
All you need to have is Internet enabled Android smartphone. Now, know about the following apps and install in your device to start earning money from anywhere, anytime and on the way.
With this CheckPoints Android app you can earn points for many tasks such as scanning of items while online shopping with CheckPoints, play games or recommend a friend to join CheckPoints. These earned points can be redeemed anytime for rewards like Amazon.com and Walmart gift cards, games, cool gadgets and more.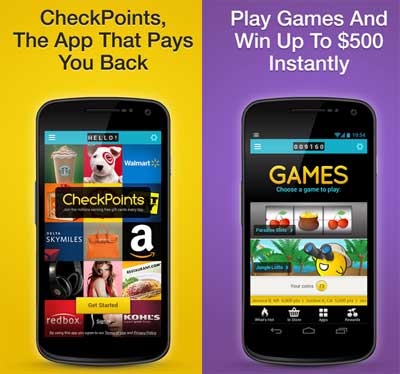 2. Tapporo
Tapporo is an Android app to make real money and rewards by watching videos, downloading free apps and more. With Tapporo you can get Google Play Gift Cards, Amazon Gift Cards, PayPal Cash, Facebook Credits, Minecraft account, Hulu account, Game cards, Mobile accessories, Gadgets and many more.
Field Agent also lets you make money with your Android device by completing small jobs. Jobs are small assignments you can complete at everyday places from your local grocery store to your living room such as collecting information like photos or product information.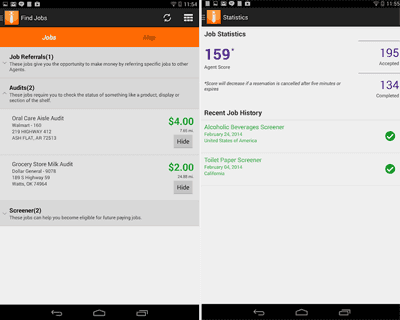 4. Tap Cash Rewards
Tap Cash Rewards is an easy-to-use Android app that will earn you rewards or real cash by downloading great games and apps. To earn credits, you will need to run these apps and games to complete the offer and then after collecting credits, you can anytime redeem them.
AppNana is most popular mobile reward app by which you can earn games and gift card credits that can be redeemed anytime. For every free app or game downloads you will earn Nana points that can be redeemed to get gift cards. As this app got lots of good ratings and reviews Google Play, so I will recommend you to try this app to earn the real rewards easily.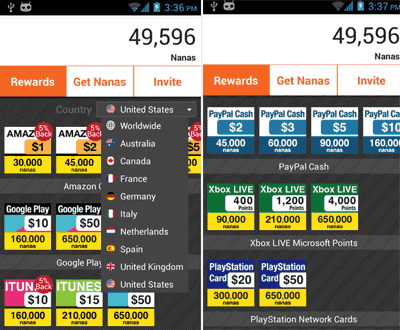 EasyShift pays you cash to shop, eat and explore in your city. You will need to find work (shifts) at nearby stores and shops and there are lots of opportunities to earn. Once your shift is submitted and approved, a payment will be sent via PayPal within 48 hours.
AppTrailers is absolutely free Android app that can earn the real money and rewards for you just by watching the hot trailers of different apps. So, every time you go to install an app in your device, just visit AppTrailers, watch the relevant app preview and even get paid for the same.
CashPirate also lets you earn money and real reward by doing very simple tasks such as Downloading free apps, Trying free games, Inviting friends and get at least 10% of their earnings as bonus, Completing surveys, Free product trials, Watching videos.
Gigwalk is another Android app to make money online by performing some interesting tasks such as taking photos of store displays, testing mobile apps, delivery services, mystery shopping, and much more.
10. PayApps
PayApps offers the most easiest way to make money online with your Android phone. You don't need to do anything, except installing other apps and each app or game you install will pay you money that you can receive via Paypal. It's that simple!
Other Recommended Posts:
That's all friends! These are really the best Android apps to make real money and rewards online every easily by doing some simple and interesting jobs. If I find more money making Android apps with time, I will update this article accordingly. Or let me know if you find any Android app that earns the real cash or reward that I didn't listed here.