Screen sharing lets you show your computer screen to one or more of your contacts. It's perfect for business presentations, showing photos to friends and family, or getting help from your tech-savvy friend.
A few days back I was needed to take help from a PHP developer to make some necessary changes in my WordPress site and he told me to share my desktop screen with him so that he can see how I'm performing steps guided by him. And that time both of us used Skype for sharing screens to get the task done.
But, after completing the task I thought that many people would be needing to share their screens with other team members to get the work done collectively and then I decided to share some free online screen sharing tools for online meetings and web conferencing.
So, the following 7 screen sharing and online meeting tools are free to use and also well suitable for the professionals to get the task done easily with team collaboration.
1. Skype
The very first tool I would like to recommend you is Skype because it's free to use and many professionals around the world use and recommend it.
To share your screen with your friends or team members using Skype, you need to download it in your PC and then complete the installation.
Once you've successfully installed Skype in your computer, start a voice or video call with your friend and during the call, tap or click on the + (plus sign) and select Share screens.
2. Join.me
Join.me is the faster, easier and the most reliable screen sharing and online meeting tool for the worldwide professionals and companies.
Join.me is loved by the world's most innovative companies. It's ranked #1 in customer satisfaction for ease of use, speed, and reliability (NPS rating from Satmetrix 2014).
It comes with free plans: Free, Pro and Enterprise. If you're a beginner and don't need more features, you can go with the free plan and easily download it in your PC. Otherwise for more features, go with the Pro or Enterprise plans.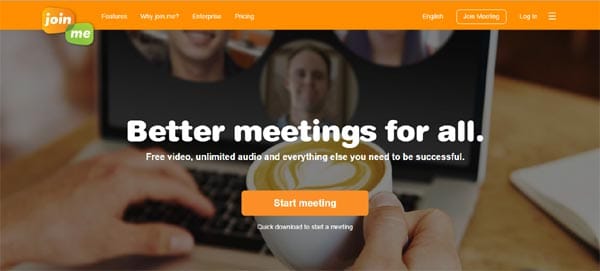 3. ScreenLeap
ScreenLeap is another free online screen sharing tool for professionals. One of the best thing about this tool is that it lets you share screen from any device with a browser (including PCs, tablets, and smartphones) without having to install any software.
One more great thing is that your viewers are even not required to create an account in order to see your screen. It means, just enter the share code and go live. Isn't it a great feature?
Other than its free plan, it also comes with Basic, Pro and a Company plan for more enhanced features. But, if you need it for limited and personal use, the free plan will be best for you.
4. FreeScreenSharing
FreeScreenSharing is another online meeting service designed for screen sharing, web conferencing, product demonstrations, webinars and more. The best thing about it is that it's absolutely free to use, without any premium or business plan.
It is perfect for online presentations, sales presentations, product demos, webinars, training etc. It lets you have a maximum number of 1000 online meeting participants on FreeScreenSharing.
To start using it, just create your account from its website. After creating your account, you will be needed to download Adobe Flash and Java on your computer.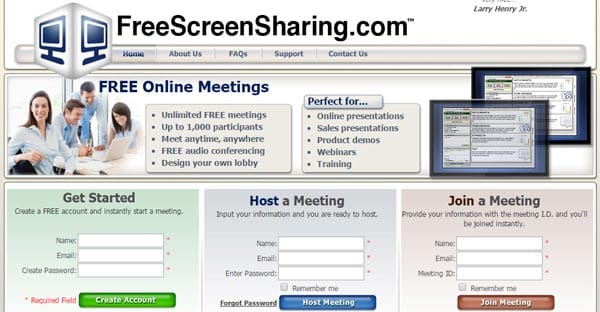 5. TeamViewer
TeamViewer connects you to any PC or server around the world within a few seconds. You can remote control your partner's PC just like as you were sitting right in front of it.
From sales presentations to training sessions and large international meetings with up to 25 participants, you have every option available for you.
It's free to download on Windows, Mac, Linux and Chrome OS for non-commercial use. If you're thinking to download it for commercial use, you just need to pay one-time cost for it without any monthly or yearly recurring fees.
6. Mikogo
Mikogo is the easiest and free screen sharing tool for both commercial and private use. It lets participants join the session without even downloading the software or flash in PC.
If you're planning an online meeting, just create a free account and start immediately. It lets you share any document or application on your screen with up to 3 meeting participants (in free plan) in real-time.
Other than its free plan, it also has a Professional and Enterprise plan with enhanced features. If you want to share your screen with more than 3 participants (as only 3 participants allowed in free plan), you can go with Professional plan which lets you share screen with with up to 25 participants in real time. For even more, you may opt for Enterprise plan.
7. GoToMeeting
GoToMeeting is the easiest tool for online meeting and screen sharing because it lets you share your screen without downloading any software and even without creating any new account.
All you need to visit GoToMeeting's Website and click on Start a Meeting button and then it will let you invite people to your meeting and share the screen.
The only thing that can hurt you is that its free plan lets you add only 3 participants in your meeting. If you more than 3 attendees, you can go for its premium plans, which are of three types: Starter (up to 5 attendees), Pro (up to 25 attendees) and Plus (up to 100 attendees).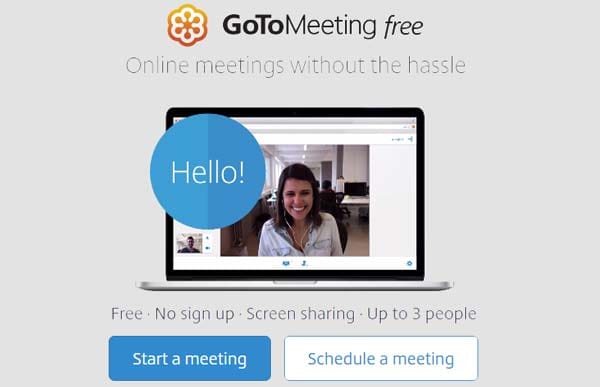 Read Before You Leave:
That's all guys! These 7 are the free and popular online meeting and scree sharing tools in which Skype and TeamViewer are more widely used.
However, it doesn't mean others are not that good, in fact all the above mentioned tools are trusted and perfect for online meetings, web conferencing and screen sharing.