Making money with affiliate marketing is not that easy as compared to Adsense or other CPC ad programs. With Adsense or other CPC advertising programs you can start earning from the first day but it's not the case with affiliate marketing. It's honestly very difficult. So, for all the affiliate marketers who want to start making money from today, I would like to recommend the following WordPress plugins that are specially made for affiliate marketers.
In affiliate marketing, you will need to establish a strong connection between you and your readers so that your readers can easily believe in the products recommended by you. You should have more email subscribers for promoting your affiliate links. So, there are many things that must be considered in affiliate marketing. And I believe the following listed WordPress plugins will make your affiliate marketing more easier and professional.
Must-Have WordPress Plugins For Affiliate Marketers
Now, have a look at the following plugins that are really must-have for every affiliate marketer:
1. GoCodes
GoCodes is an affiliate link cloaking or link redirection plugin to hide your affiliate links. It's a very important WordPress plugin for affiliate marketers. I too use this plugin for redirecting my affiliate links from my original URL to the destination URL.
For example, your affiliate link is www.example.com/affiliate-pro-track-id-2236, which doesn't look that good, so you can redirect it as www.yourdomain.com/recommended/affiliate-pro.
Other than this, there are many other benefits of this plugin such as if you change any affiliate link for any affiliate program, you don't need to change it in all articles, instead just change in GoCodes and it will automatically modify everywhere you added.
Update: Gocodes plugin is no more available in the WordPress plugin repo. Here are some of the best alternatives to Gocodes WordPress plugin.
2. OptinMonster
A bigger list of email subscribers means the higher amount you will earn from affiliate marketing. Why? By sending your affiliate links and products to your email subscribers you can make lots of sales of your affiliate products. So, for effectively increasing your email subscriber's list, every affiliate marketer needs great lead generation software, and which is OptinMonster.
I tested OptinMonster lead generation tool, it's really very effective to increase your email subscribers list and can easily be integrated with mostly all the popular email marketing services like MailChimp, Aweber, GetResponse, Constant Contact, Mad Mimi, HubSpot, and many others.
The cost of its basic plan is $49/yr or $9/month. It has two more plans with extended features – Plus and Pro, but for a start, you should choose its basic plan, and afterward, you can upgrade anytime.
Read Also: OptinMonster's FREE Alternative For Lightbox Popups
3. OIO Publisher
OIO is another great tool for affiliate marketers. Actually, OIO Publisher is a PHP ad management script that lets you sell and server ads on your website with complete control over them.
If you're thinking to start using OIO, you should know that it's not free but the best thing is that its single license covers all your websites. The single license of the OIO publisher will cost you $47 only.
4. Author hReview
This is a great WordPress review plugin for professional affiliate marketers for adding Google's rich snippets to WordPress reviews so that users can have a sense of what the webpage may contain, resulting in higher click-through rates.
This Author hReview tool adds review information such as ratings and descriptions to help users to better identify pages with good content.
As a professional affiliate marketer, you should buy its premium plan which starts from $69. Still, if you're unable to pay for it right now, you can sign up for a free account, but honestly, you're going to miss lots of premium features!
5. Hello Bar
Hello Bar is another faster and very effective way to generate leads and clicks. The Hello Bar is easy to use a horizontal notification bar to drive your existing traffic to any specific page.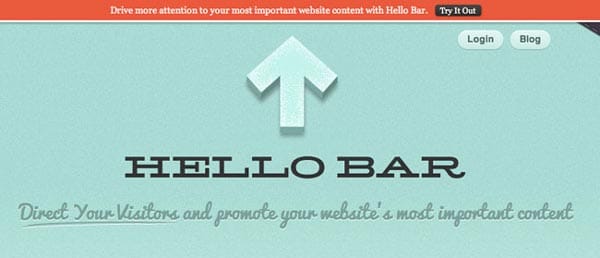 Affiliate marketers can use Hello Bar to drive traffic to affiliate links, increase email subscribers, etc. It can also be used to boost your Facebook fan page likes, shares, etc.
It comes with three different kinds of plans – free, pro, and enterprise! So, initially, you can start with its free plan but if you're a professional affiliate marketer, you should definitely go with any of its premium plans for more premium features. Check out a free Hello Bar alternative for your WordPress blog.
MUST READ FOR YOU:
So, these are 5 very essential WordPress plugins for affiliate marketers. So, if you want to make money using affiliate marketing and thinking to become a professional affiliate marketer, these plugins will make your journey easy.
Let me know if you've any questions or wanna know about any of the plugins I mentioned above!
Other than these plugins, if you're already using any other plugin that is helping you earn more revenue from affiliate marketing, don't forget to share with us via the comment box. 🙂