Link cloakers are nowadays becoming very popular along with the popularity of affiliate marketing. These are basically used to make long affiliate links into a shorter and more branded form.
There are many free affiliate link cloaker plugins available in WordPress plugin repository and GoCodes was one of the best and that's the reason I'm still using it on my WordPress blog. But, sadly it's now no more available in WordPress plugins repo.
But, you shouldn't worry as I'm going to provide you some of its perfect alternatives that will help you cloak your affiliate links easily and interestingly.
Free Alternatives to GoCodes Link Cloaker
The two of the following can be proven the perfect alternatives to GoCodes link cloaker. And the best thing is that both of them are also free of cost:
1. WP Wizard Cloak
WP Wizard Cloak is the free alternative to GoCodes link cloaker plugin. It comes with lots of useful features that you would even miss in GoCodes.
It is very simple cloak affiliate links using WP Wizard Cloak plugin. After installing and activating the plugin, just go to Wizard Cloak > Create Link and cloak the affiliate link very easily.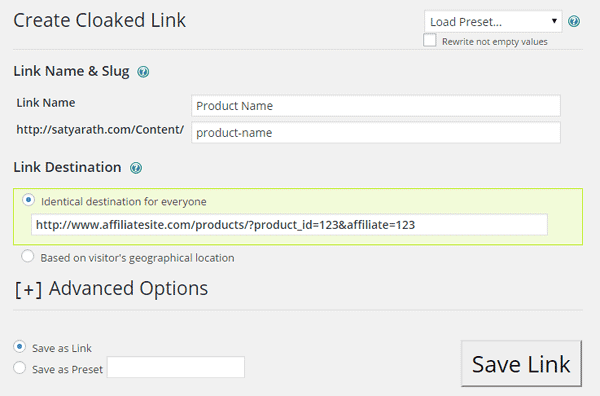 It lets you track the clicks on your cloaked links. Further you can also set that how many days of click data you wanna store and many more features.
2. Easy Affiliate Links
Easy Affiliate Links is another feature rich link cloaker plugin that can also be said the best GoCodes alternative. You can easy add the URL trigger/slug from settings and new links can be cloaked from Add New option of the plugin.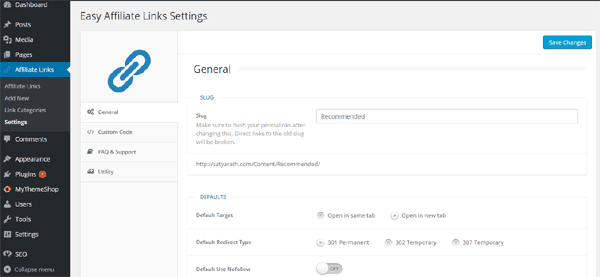 This link cloaker plugin offers many interesting and useful features such as create short-links to cloak affiliate links, assign categories to your links, tracking of monthly or overall clicks and more.
Two Premium GoCodes Alternatives
Along with some free affiliate link cloakers, there are many premium tools also available. And Pretty Link Pro is one of them. Here's some premium alternatives to GoCodes link cloaker plugin:
1. Pretty Link Pro
Pretty Link Pro is a premium WordPress plugin to cloak affiliate links. As it's a paid plugin, comes with too many other important features.
It lets you automate repetitive tasks, optimize your site with testing, see the results of your campaigns immediately and virally spread your links including all your Affiliate Links within minutes! See: FREE alternatives to Pretty Link Pro.
2. ThirstyAffiliates
ThirstyAffiliates WordPress link cloaker plugin comes with too many PRO features that will help you a lot to monetize your WordPress site with affiliate marketing.
It lets you administer your affiliate links, assists you with inserting them into your posts, pages and comments and gives you a central location in WordPress to manage all of your affiliate links.
YOU MUST READ:
Conclusion
Finally, I think that the above plugins will definitely prove the best alternatives to GoCodes link cloaker plugin. So, what if it's not now available, we've still great options to cloak, shorten and beautify our affiliate links.
However, if you're currently using the GoCodes link cloaker plugin, you can keep using it because the whole plugin is already on your server. The only problem is that you won't be able to take tech support or future updates to the plugin or if you mistakenly uninstall the plugin, it might be very difficult to re-install it, as it's not available in WordPress plugins repo.
But, if you're new to affiliate marketing and looking for the perfect GoCodes alternative, I would like to recommend WP Wizard Cloak plugin because it has lots of features like GoCodes and also it's absolutely free to use.
That' all guys. Let me know via comments if you've any problem or questions. I will be happy to answer. 🙂