Affiliate links are often long, messy and hard to remember, but links on the site should be clean and short to gain more clicks. Right? So, Link Cloaking is the solution!
Link Cloaking is the technique used to make long and messy affiliate links into short and clean format so that these links look more branded.
Generally, affiliate links show your username or ID like the following, and makes the whole link lengthy:
https://www.affiliatesite.com/products/?product_id=123&affiliate=123
Link cloaking allows you to shorten these lengthy ugly links into branded URLs like these:
https://www.yoursite.com/go/productname
You can use anything as the URL slug. We use go in our cloaked links on All Useful Info. Some other popular URL slugs are out, refer, recommends, etc.
How to Cloak Affiliate Links
Now, the main question is how to cloak affiliate links. So, let me tell you that affiliate links are cloaked using Link Cloakers.
There are many link cloaker plugins available for WordPress. I along with time listed many of them on this blog.
A few days ago one the best and free link cloaker plugin "GoCodes" was removed from WordPress plugins repository, and that's why I was listed some of its alternatives in This Post.
Some FREE link cloakers are following:
It is the free and easy to use link cloaker WordPress plugin which lets you add URLs and cloak them very easily.
Once you've installed and activated it, just go to Affiliate Link Manager > Add Links to add new affiliate links. Here you need to paste your affiliate link and keyword. It will use the keyword as the URL slug for the cloaked link.

WP Wizard Cloak is another free affiliate link cloaker which comes with many interesting features for cloaking affiliate links.
It is very simple cloak affiliate links using WP Wizard Cloak plugin. After installing and activating the plugin, just go to Wizard Cloak > Create Link and cloak the affiliate link very easily.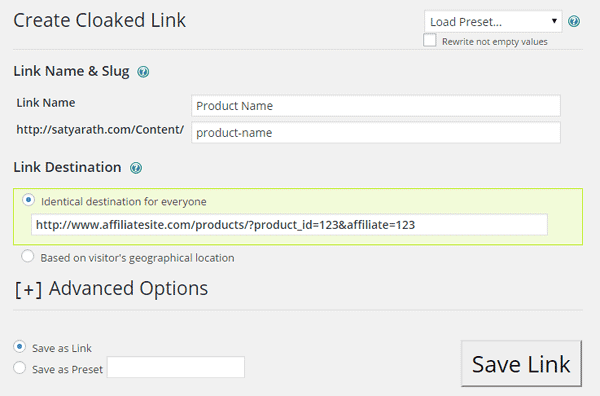 Now, have a look on some premium link cloakers to cloak your affiliate links:
Pretty Link Pro
It's the first name comes in my mind while thinking about the paid affiliate link cloaker plugin for WordPress.
It lets you automate repetitive tasks, optimize your site with testing, see the results of your campaigns immediately and virally spread your links including all your Affiliate Links within minutes! SEE: Pretty Link Pro FREE Alternatives!
ThirstyAffiliates WordPress link cloaker plugin comes with too many PRO features that will help you a lot to monetize your WordPress site with affiliate marketing.
It lets you administer your affiliate links, assists you with inserting them into your posts, pages and comments and gives you a central location in WordPress to manage all of your affiliate links.
That's all about affiliate link cloaking and with the help of these link cloakers, you can easily cloak your affiliate links to make them shorter and branded.