As we all know that Google changed the look of it's Gmail inbox by adding individual tabs to filter messages. It happened with many people that this new feature of Gmail did not apply to every people. So, with this article all of you can enable the Gmail tabbed inbox. In case, if you want to disable this tabbed inbox, you can also do it simply.
So, keep reading this article to learn how to enable and disable new Gmail tabbed inbox. Here is the easy steps required:
First of all, sign in to your Gmail account. Here Click on the Settings (Gear) icon placed at the top right corner of the page and select Configure inbox.
Now, in the new pop-up window, you need to select tabs to enable or disable. It means, Untick all tabs to disable the Tabbed inbox and Tick all the tabs to enable tabbed inbox. Remember that Primary tab will not unticked.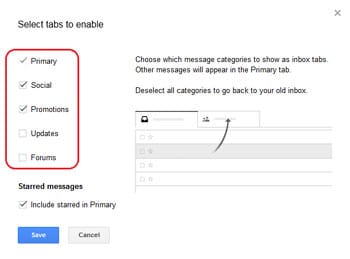 That's all! As in the above image, if you uncheck all the tabs like Social, Promotions etc, all the messages will reach to Primary that is a default tab and the tabbed inbox will be disabled. On other side, if you you tick all the tabs, your selected tabs will be seen in Gmail inbox separately and it means the tabbed inbox is enable.
[su_note note_color="#f9f9f9″ text_color="#000000″ radius="1″]RELATED: Hide or Show Individual Tabs in Gmail's Tabbed Inbox[/su_note]
So, I hope you all have learned the above trick. So, make changes in your Gmail inbox as you want.