Watching videos and movies online has become easier than ever. And there is an abundance of sites that allow you to watch your favorite TV shows and movies. Cartoon is another segment that has mostly been overlooked. And this is exactly where CartoonsOn.net stands out.
This website allows you to watch all your favorite cartoons online in one place in HD quality. Whether it's a cartoon show from your childhood or something that is running in the present, this is one place where you can find all your cartoons.
In this review, I will explore most of the things about CartoonsOn.com that you would like to know.
What is CartoonsOn?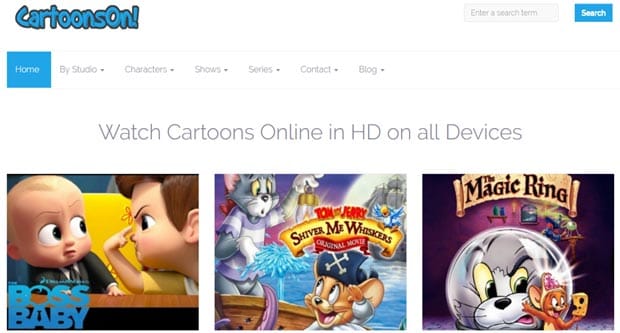 CartoonsOn is an online service that lets you watch your favorite cartoons and animation shows online, on any device including your mobile device. You can watch both old and new shows, choosing by different number of options.
Watch Cartoons by Your Favorite Shows
Everyone have their favorite cartoon shows. At CartoonsOn, you can watch your favorite shows, whether they are in the current run or are from years ago. Some of the most popular shows on the site include:
Tom & Jerry Classic
The Flintstones TV Series
Baby Looney Tunes
The Bugs Bunny Show
Ben 10: Omniverse
Avatar: The Last Airbender
Ed, Edd n Eddy
Courage the Cowardly Dog
You can also watch cartoon movies. All you have to do is search for the right show.
Watch Cartoons by Studio
Another feature that makes CartoonsOn special is that it allows you to watch cartoons and animations from your choice of studios. All the major studios are covered here, including:
Walt Disney
Marvel Comics
Warner Bros.
Pixar
Universal Pictures
Cartoon Network
Hanna-Barbera
DC Comics
Paramount Pictures
All the major shows from all these different studios are provided on this site.
To give you an idea of how back this site has gone in time to cover your favorite shows, it is worth taking a look at the Tom & Jerry Classic shows. CartoonsOn.net offers all the episodes from 1939 to 1967.
Watch Cartoons & Anime for Free
Whether you want to watch the old or new episodes of your favorite cartoon or anime shows, you can find everything here for free. This website doesn't charge you any subscription fee to watch any cartoon show, movie or series.
The website is always updating its collection and the latest episodes and movies are regularly added. So you can keep up-to-date with your favorite shows without missing them.
The number of series covered is however limited to a few. The popular names in this list include the Ice Age, Justice League, DreamWorks Dragons and The Legend of Korra. We expect that the site will be adding even more series to the list.
Watch Cartoons By Characters
If you have a favorite cartoon character, you can simply click on it through CartoonsOn's Cartoon Characters category and access all its shows. Whether it's Bugs Bunny, Tom, and Jerry, Mickey Mouse, Spider-Man or Batman, they are all here.
If you are nostalgic about those old episodes of Spider-Man or Batman, they are all covered on CartoonsOn.
Watch Anytime, Anywhere
Another advantage of choosing CartoonsOn is that you can watch your favorite cartoons or anime on any device at any time. It doesn't matter whether you missed the latest episode of a show. You can simply access this website from any mobile device and watch from anywhere – even when you are traveling.
With this site, anytime is cartoon-time. You will no longer have to wait for the weekends to watch your favorite cartoon shows. They will all be just a click away.
Safe Cartoon Watching
With CartoonsOn, you can easily watch cartoons and animated shows without the need to download them. The videos stream online. Since there is no need to download any file, there is a reduced risk of any potential hazards.
If you are looking for a great place to watch your favorite cartoon shows, CartoonsOn.net is a great place. It is free to use, streams videos, and covers all the major cartoon characters, shows, and studios.
You can watch both old and new cartoons with just a click or tap, on any device including your PC and smartphone.
READ ALSO: Top Websites To Create Cartoons Of Yourself
Do share this article on Facebook, Twitter, and other social media networks to let more people know about this great platform for watching cartoons online.