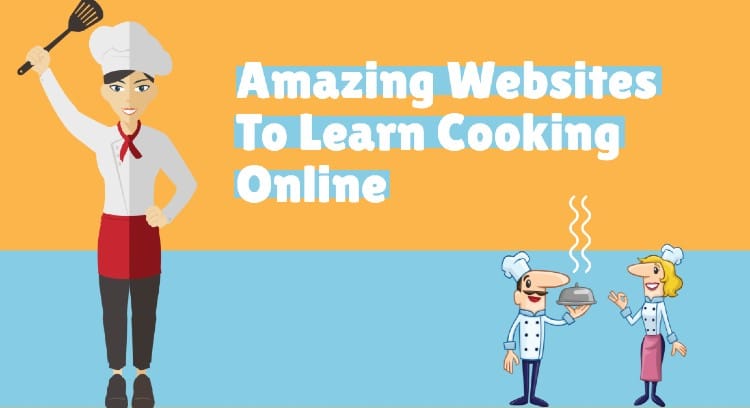 We all eat 3 to 4 times a day, which includes breakfast, lunch, dinner, and snacks in the middle, but to enjoy it we should know the best and easiest way to make it delicious as never eaten before. To help you make different delicious dishes I got a list of 9 awesome websites to learn cooking different foods online.
To be experts in different fields we need certain guidance, tricks, and tips. The same thing happens with cooking too. Therefore, the belonging article contains the roll websites, which deal with innovative ideas, tips, and tricks, and guide you in all possible ways to make your cooking easy and fast like a traditional chef.
On seeing the different phases of cooking, while celebrating different festivals you could certainly be thinking about what to cook on this festival. As you know different festivals come up in a couple of months like Durga Puja, Diwali, Eid, Guru Nanak Jayanti, Christmas, and many more. Therefore, this time let these websites find special recipes for you, to make your festivals more delicious and tasteful.
Epicurious is a collection of the world's classy delicious recipes. The belonging website contains different sections of recipes, which run on the motto of a quick and easy recipe. The section also comprises the famous and best recipes selected from all across the world such as best of the chicken recipe, burger recipe, pie, salmon, salad, and many more.
If you are curious about the recipes, make notes, and reviews, and save the list of the recipes then create your account right now. Also, take more and more advantage of the website's quick-pick recipes.
Smartkitchen.com
Smartkitchen delivers a smart way to learn, how to cook and advance your cooking skills. This entire cooking website is dedicated to beginners, intermediate, and advanced learners. With the site, you can easily gain confidence in the kitchen in the easiest and most comprehensive way.
The best thing about Smart Kitchen's cooking lessons is that everything is organized in a progressive cooking curriculum, moving from the simplest cooking ideas to more complex culinary techniques. Just follow the Smart Kitchen cooking lesson plan like a culinary school online, or just choose which cooking videos to explore from any of the Beginning, Intermediate, or Advanced Levels and live the rest on Smartkitchen.com.
Learn To Cook 101
Learn To Cook 101 is a great recipe site that has a long list of easy recipes for beginners to start with. The site is totally dedicated to help you in learning and get more about cooking.
It contains a wide variety of recipes from various international cookery that you can browse through this site. Here you will get a list of selected delicious recipes from all across the world such as hot crab bake, banana nut bread, apricot pie, and many others.
Enjoy How To Cook
If are you stressed due to the reason that you don't know cooking and are weak enough in it, then it is the right place. Here is Melanie who loves cooking and will definitely make you love it too. This website is full of information to help you learn how to cook and convert your hard cooking moments into enjoyable and delicious cooking moments.
The entire section of the site is dedicated to the saying that everyone can cook.  So never mind if you are bad at cooking, just let the site make it joyful for you.
Now in the list of best websites to learn cooking online "The Reluctant Gourmet" also rises up. It helps you learn all the basics of cooking, boiling, baking, braising, frying, grilling, roasting, sauces, steaming, and many other cooking techniques. The website also lets you browse recipes by meal type including kid-friendly, breakfast, salads, meat, sauce, pasta, seafood, dessert, and many amongst others.
Here you can also get a variety of knowledge related to different ingredients used in perfect cooking recipes such as seafood, seasoning, vegetables, and many more.
The Kitchn is a daily web magazine that is totally devoted to home cooking and kitchen design. This web magazine comes up with daily 20 articles on tips, recipes, kitchen tours, product reviews & design ideas.
The Kitchn is for those who care about the quality of their food, and how it affects their health. It is for the cooks who care about design and want to create a beautiful kitchen. After all, the site believes in a calm, healthy, beautiful home that is a necessary foundation for the happiness and success of the world.
Cooklet
Find your target, get ingredients, take out pans and pots, and cook something new using advice and recipes from other users. At the end add the photo with Cooked food and make this recipe your fave. Cooklet lets you collect your favorite recipes in one place. It's a social platform, where you share your cooking adventures with other foodies.
Through the site, show who you are and what are your favorite recipes and inspire others through this. Maybe someone on the other end of the world will serve your favorite dish at family dinner and admire your cooking skills. So don't wait and start knowing them now with Cooklet.
Do you love to perform experiments with different ingredients?  Then here is a website named Foodpairing, which will add more madness to your experiment and the result of every experiment will always delicious recipes.
To work with Foodpairing, first of all, choose the ingredients available in your kitchen. Then from your selected ingredient, the site generates a list of best-matching foods and drinks. Now take your pairing ideas to your kitchen and start tasting the results. Add taste and choose textures to bring the pairings to the recipe level.
It is very clear from the name of the site that the site contains all sorts of recipes from all across the world. AllRecipes.com is also the best place for beginners to start learning how to cook foods because here you'll get thousands of recipes for cooking different food varieties.
On this website, you can easily get recipes for different kinds of breakfasts, lunches, dinner recipes, snacks, bread recipes, and many more. You can even use its recipe finder to find the recipe for your favorite dish or food.
Further Reading:
So, these are the best websites to learn online – how to cook different foods and dishes and make them more delicious than ever before.