I love tasting different dishes from all corners of the world. If you too love taste different food and love cooking then I have a very interesting article for you in which you will find different tips to increase your taste through several Cooking apps for Android. Yes friends, Today I've come up with different cooking apps through which you can add more taste to your dishes.
Through these apps you can learn how to cook different recipes from all corner of the world that also absolutely free of cost. So, carry on your reading and know about these top free cooking apps for your Android phone and make your healthy food more delicious.
Here are the top 10 cooking apps for your Android phone: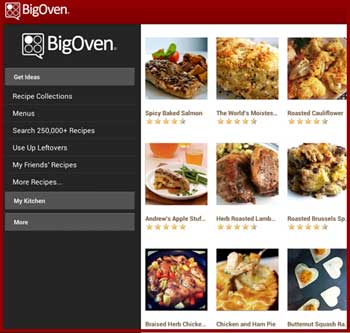 Now cook and taste 250,000+ recipes with the all new app BigOven. With this new app taste different verities of food whenever you want. The best part of this app is that no sign up is needed. With this ultimate app you can add your own recipes and share it with your friends so that everyone can see it. So, run to your kitchen and make your cooking more interesting.
With this ultimate app I greet you to the world of most exciting recipe from all corner of the world. Here you can get different verities of recipe like Chinese, Italian, Spanish, Mexican, American, Indian, continental, Thai and many more. With this app you can add more fun to your cooking and more taste to your food.
3. Home Cooking
Home cooking is a mind blowing app that is full of tips and recipes. The corresponding app fetches a series of episodes to make your cooking more comfortable and easy. Each and every recipe fetches a day covering meals i.e. breakfast, lunch and dinner.  The app delivers only that recipe that belongs to the course. The content of this app has been taken from the 'Gordon Ramsay's Ultimate Home Cooking' a book by famous chef Ramsay.
4. Indian Recipes
Here is an ultimate collection of Indian dishes which include both veg. and non veg. The dishes are so simple that you can make it in a daily routine. The belonging app contains a big collection of South Indian recipes, Indian recipes, Punjabi recipe, Dhaba recipes, egg recipes, traditional recipes, chicken recipes, also recipes and many more.
Are you in a mood to have tasty, crunchy, yummy and healthy dishes?  Then you are on the right place the related article contains different ultimate recipes from across all the Italian countries. With this amazing app you can also get some sorts of Chinese, Italian, Mexican, American, continental and many more. And if you love to cook and want to make people admire you, on tasting your dishes then this would be the friendliest app for you.
6. KnowledgeBook: Cooking
Here comes another app that doesn't contain any recipes but delivers a large collection of tips and tricks to add a perfect taste to your recipes.  It delivers different tricks like what can be substituted for buttermilk, if you don't have vinegar, baking soda in a pinch, how many banana needed to make a cup of slices, how many cup are in a pint and many more tips. And other tips are related to different adjustable high altitude for slow cooker recipes, temperature in Fahrenheit does gas mark 6 on a British stove correspond to and many more.
PetitChef, cooking and recipes is an outstanding app for Android which makes you cook like a chef. Here you can get 100,000+ recipes to add more taste to your food and your life. With this app you can also put your favorite recipes in your cookbook. To get more information related to this app visit the site.
Welcome to the world of recipes with this fantastic app known as Recipe Search Engine. If you are finding for a recipe and cannot get it from other places then you can get it from here. It delivers different facilities which makes the app more admirable like bookmark your favorite recipes, check out your recent search and many more through which you can enjoy cooking.
A Russian recipe delivers a large collection of fast and delicious recipes to make you day and night meals tastier. It contains all sorts of all verities of food like appetizers, main dishes, salads, soups, picnic, Feng Shui, baby food, holiday recipes, meatless recipes, 50 kinds of borscht, fitness and many more which you will definitely love.
Last but not the least this app contains 43 chocolate cake recipes. Wow on hearing this, my mouth is full of water. I eagerly want to taste all of them. Do you also want to taste these 43 chocolate cake recipes then install this app right now and try theme yourself at home? Here you will find different chocolate cake verities like chocolate cup cakes, cream filled chocolate cup cakes, moist chocolate cup cakes, chocolate pudding cakes and many more.
MUST READ: 9 Awesome Websites to Learn Cooking
These apps are really interesting. Generally, these apps are made for women and chefs. Find a best one for you by reading the short descriptions and install on your Android device.