In the age of technology and the internet, from kids to employees everyone is using smartphones. In the case of kids, parents always remain concerned about their activities over the phone. Similarly, if you're a businessman, you might have concerned for your workers if they're doing great or wasting time with smartphones.
In fact, for any reason, if you want to keep an eye on the smartphone of your children, worker, friend, husband, wife, or anybody you're concerned about, the Snoopza cell phone tracker app for Android will help you.

Snoopza lets you spy on phone calls, text messages, WhatsApp and Facebook messages, smartphone cameras, screenshots, photos, and much more.
First of all, let me tell you the outstanding features of the Snoopza smartphone tracker application, and then I will share how to use it or how can you use Snoopza to spy on someone's smartphone.
The Amazing Features Offered by Snoopza Smartphone Tracker
Track & Record Calls. The Snoopza tracks the phone call conversations and exact timings of incoming and outgoing calls on the target phone. It also lets you record the audio of any call.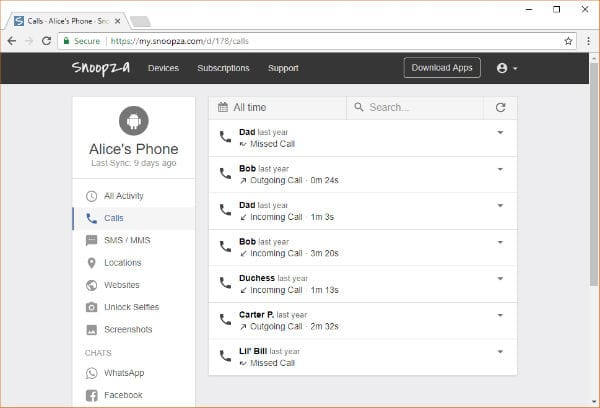 Spy on Text Messages. Spying on the text has never been so easy. This app is a solution for those who want to track, read or basically look at someone's text messages for free from another phone.
Facebook Spy. Snoopza is the best solution for those who want to keep an eye on Facebook messenger of someone or wanna follow someone's activities on social media.
Spy on WhatsApp Messages. Its WhatsApp spy lets you spy on anyone's WhatsApp sent and received messages. It saves the chat conversation history, records calls, and chats, and gives you access to all sent and received audio, video files, and photos.
The Clever GPS Tracker. Snoopza is a GPS tracker too. The app is not only developed to spy on chats, messages, and calls but also for mapping the current location of the target phone.
Track Camera Invisibly. With this app, you can take pictures from the camera of the target phone remotely and invisibly. Be aware that in some countries, such activities are illegal.
These are the few but Snoopza has many other great features such as Viber spy, Snapchat spy, taking screenshots of important information remotely, checking contacts, tracking internet history, and much more.
How to Spy on Someone's Smartphone Using Snoopza?
Now, the biggest question might be arising in your mind how can you spy on someone's smartphone using Snoopza? Let me tell you that the process of spying on someone's smartphone using Snoopza is very easy.
There are just 3 steps involved:
#1.

Sign Up with Snoopza
The very first step is creating your online account on the Snoopza website with your email and password.
#2.

Install Snoopza on Target's Smartphone

The second step is installing Snoopza app on the target's smartphone from your account. Just log into your account on the target's phone and you'll be able to download installation files to the target smartphone.
#3.

Start Spying on the Target Smartphone

Now, it's all done. Just need to log in to your account on your device and track the locations, calls, messages, web history, screenshots, and more of the target smartphone.
Pricing
The Snoopza application comes with two plans: Basic and Standard. The Basic plan is a forever free plan with limited features whereas the Standard is a premium full-feature plan that starts at $9.95/month.
Do You Really Need It?
Faith is the most powerful thing in every relationship. Whether it's a husband-wife relationship or a parents-children relationship, it's important to have faith in your partner and children respectively.
We must admit that using such kind of spy apps prove you're somehow losing faith in your loved one. But, it doesn't mean you shouldn't use such a spy app. You can use it when you really need it.
I mean you can use it to track the activities of your workers to improve your business. The Internet is not full of good stuff only, it's important to keep an eye on your children's smartphones to keep them safe over the internet.
And most importantly, you can also use apps like Snoopza to spy on your partner only and only if you're really losing trust but don't wanna break your relationship by finding the truth.
So, that's all guys! Do share your views on this article and let us know if you're going to use the Snoopza smartphone tracker app and why!