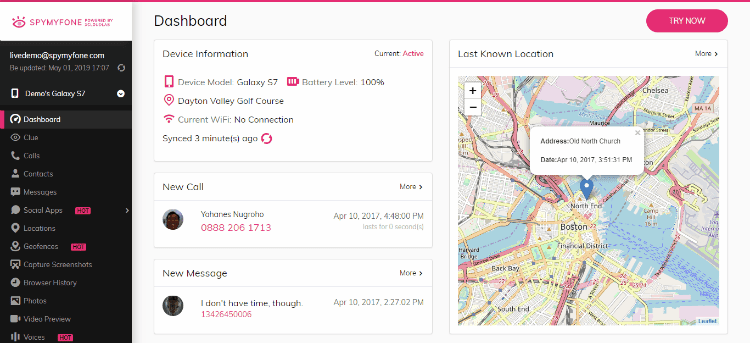 Spying on anybody's smartphone without their permission isn't actually a good thing but being a parent it's your right to take care of your kids in every situation. So, if you are somehow concerned about the activities of your kids over the smartphone, you can always monitor their smartphones using a phone spy app.
There're hundreds of phone spy apps available on the Internet but choosing the best one might be difficult because they access the secret information from the victim's smartphone so it's your duty to choose only the reliable one.
I used to review the best stuff on this blog and already reviewed two of the good phone spy apps earlier; mSpy and Snoopza. Today, in this article I'm going to tell you about a new but powerful phone spy app SpyMyFone which is available for both Android and iOS phones.

The Most Exciting Features of The Most Powerful Phone Spy App
SpyMyFone claims to be the most powerful phone spy app in the market. And the most exciting features of this phone spy app prove it correct. Have a look:
#1. Monitor Phone Calls & Text
Being a parent you would have concerned about the activities of your kids over the phone calls. It's important for you to make sure that your kid isn't in the wrong fellowship. And the best way to do so is by spying on the phone calls.
SpyMyFone app lets you monitor the phone calls as well as text messages on your kids' smartphones. It is a foolproof feature that is always running in the background.
#2. Track Social Media Activities
These days kids are active on social media more than anywhere else. Using the SpyMyFone app, you can track all the social media activities of your kids, family members, or your employees.
You can remotely view all the exchanged messages and even access the attached media files within WhatsApp, Facebook Messenger, Snapchat, WeChat, Skype Chats, Instagram DM, and more.
#3. Real-Time Location Tracking
This feature can be proven as the most important one for parents. With its accurate live location tracking, you can know the exact whereabouts of your kids.
You can not only track the GPS location of the target phone but also view the past connected WiFi networks and hotspots (name, time, duration, type).
#4. Monitor Online & Offline Habits
The SpyMyFone app isn't just about spying on phone calls, instant messages, or location but it also lets you monitor everything your kid does on their smartphone.
For example, you can view their browser history, the emails they have exchanged, what they have searched on the web, their notes, voice memos, reminders, and much more.
#5. Remotely Control Target Device
And, here comes the most exciting feature of this phone spy tool – remote control. You can remotely control your kids' phones using the SpyMyFone tool.
For example, you can set time-based restrictions on the phone to lock it out, monitor the complete list of apps installed in the phone, block apps/games that you feel bad for your kids, capture live screenshots remotely, etc.

How to Spy on Anyone's Smartphone Using SpyMyFone App?
How does the SpyMyFone app work? Thinking it a little difficult? Actually, it's the simplest task ever. The only thing important is you will need physical access to the target phone in order to activate the spy app.
So, first of all, you need to visit the SpyMyFone website and sign up for the service with a genuine email and a password. It has two plans Ultimate Edition and Premium Edition. For full functionality, you should choose the Ultimate Edition.
Once you've signed up for the SpyMyFone service, it's time to install and activate the app on the target phone. Open fonetrace.com to download the apk file on the target device and then install it. Once installed, open it and login with your SpyMyFone account and activate the spy service. It's that simple.
Final Words
Spying on anybody's phone isn't actually good manners but still, if you're a parent or employer at a company, it's your right to have an eye on the smartphones of your kids or employees.
SpyMyFone helps you spy on the smartphones of your kids or family members by secretly installing the app on the target's phone.
I've been reviewed many phone spy apps till now but truly saying this one I myself felt is one of the most powerful and feature-rich phone spy apps of all time.
However, it's not free but if you really need to spy on anybody's phone, I would recommend you to pay for it for better security and features. And, for that, the SpyMyFone is a great choice.