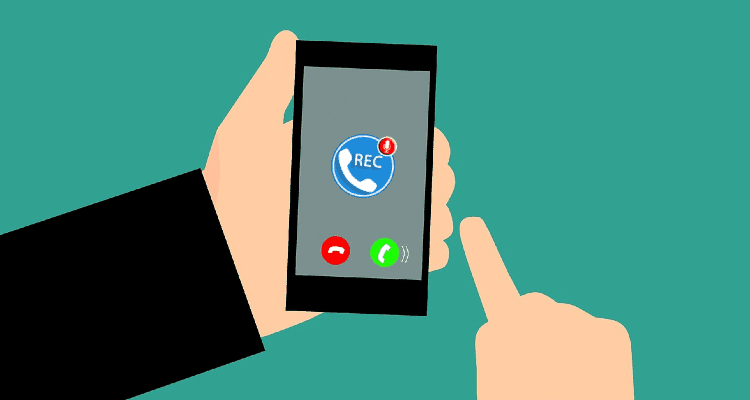 Call recording on smartphones may be very necessary and any time you may need it urgently. For example, have you ever had an important phone call and needed to take a memo? Or you had to memorize a phone number or street address asked in the call? You were in a traffic jam while receiving an important order from a client? Maybe you had to write down a shopping list and forgot something? Or simply wanted to hold on to some sweet memories and tender words from your soul mate?
So, there may be several reasons that can make you feel remorse like I wish I could have a call recording app on my device so that I could playback the recording!
You would know that in various mobile phones, there might be a built-in feature for call recording, mostly in the feature phones (I think). But in the case of smartphones, if this feature is not present, you can use the call recording app. If you're using an Android smartphone, there are plenty of free call-recording Android apps available in the Google Play store.
Google Play has an abundance of thousands of Android apps where different kinds of apps are available such as bad, good, better, and best. I collected the top 10 free call-recording Android apps on the basis of many factors such as public reviews, Google Play rating, number of downloads, etc.
Top 10 Free Call Recording Apps For Android
Have a look at the 10 free call recording apps for your Android smartphone: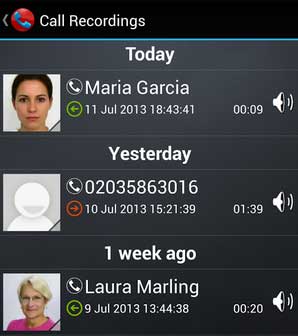 It's the fantastic call recorder Android app that I use in my Samsung Galaxy Grand 2 smartphone. The app automatically records phone calls and saves them into your phone memory. The app also gives options to delete records automatically when they become old or when a record length is not long enough to be saved.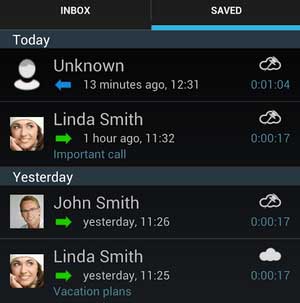 Automatic Call Recorder is another call recording Android app that automatically starts recording phone calls but asks you after ending the call whether you wanna save it or not. Please note that this app does not work on certain handsets and can result in inferior-quality recordings. If you're planning to get its paid version, try out its free version to ensure whether it works on your device or not.
You need to install the app in your Android app and it will start recording phone calls automatically. You can anytime enable or disable call recording according to your need. The best thing about this call recording app is that it allows you to lock out your recorded phone calls so that no one can touch them without your permission.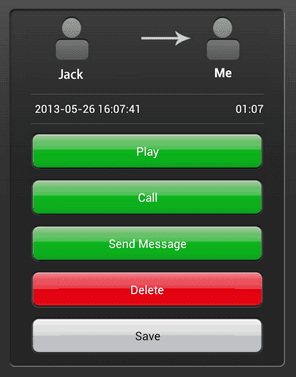 This Call Recorder gives you the easiest way to record all your phone conversations and manage them. You can save your phone call records as MP3s on your SD card. More than 70% of people are satisfied with this app but still, a few people are feeling difficulty recording the voice of both parties unless the speaker is on. So, try it out if it supports your smartphone.
Another Call Recorder is one of the free Android call recorders available on Google play that provides many features such as Grouping recordings by date, Auto delete old recordings, Excluded numbers so that they will not be recorded, and most important password protection of your recordings. Additionally, if you don't want to let any of your important old recordings be auto-deleted, you can make them important and they will not be deleted until you want to delete them.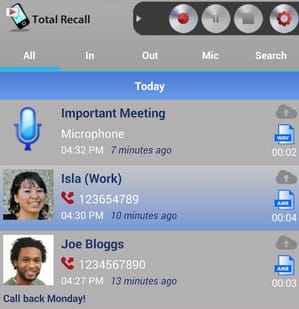 It's a feature-rich, stable and reliable call-recording app for your Android smartphone. Some of its amazing features are an In-Call screen widget, a Flexible record naming tool, Password protection, Supports for 20+ languages, and Recording search. However it's a very flexible app but still for a few smartphones, it may require root access to support such as Motorola X, HTC One X, Nexus 5, Sony Xperia M/V/T, Samsung Galaxy Note 3 running on Android KitKat 4.4.2, etc.
It's another automatic call recorder app for your Android smartphone published by SMSROBOT LTD. The best thing about this app is that you can sync your recordings with the linked dropbox account. According to the publisher, the recording function might not work properly on some devices due to hardware limitations.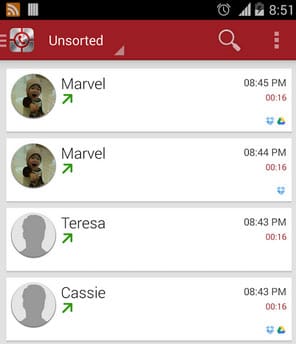 PMC (Record My Call) is also a free call recording app for recording phone calls on your Android smartphone. A notice from the developer of the app is that this call recording app may cause a problem in recording phone calls without a microphone. So, in this condition, you should turn on the loudspeaker during conversation to get a clear voice from the other side.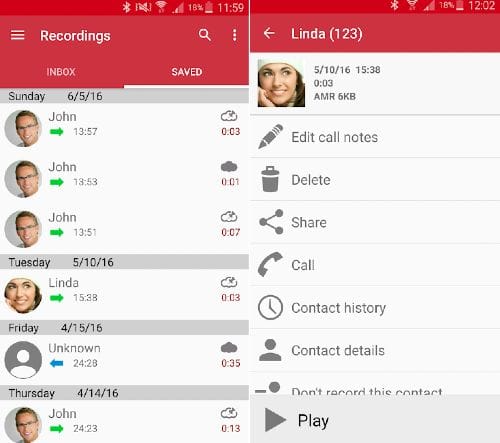 You need to install this Android app on your smartphone and it will start recording your calls automatically. You can however set which calls to be recorded and which to be ignored.
This call recorder lets you record any phone call you want and choose which calls you want to save. It not only lets you record phone calls but also WhatsApp calls, Hangouts, Facebook calls, IMO calls, and more.
Conclusion
So, these are the top 10 free call recording apps for your Android smartphone. I can't say which one will work on your device perfectly because of the different hardware limitations of the different smartphones.
I, once upon a time, used Galaxy Call Recorder on my Android smartphone and it worked very nicely and recorded the clear voice of both sides. I hope the above list will help you find the best call recorder app for your Android smartphone.