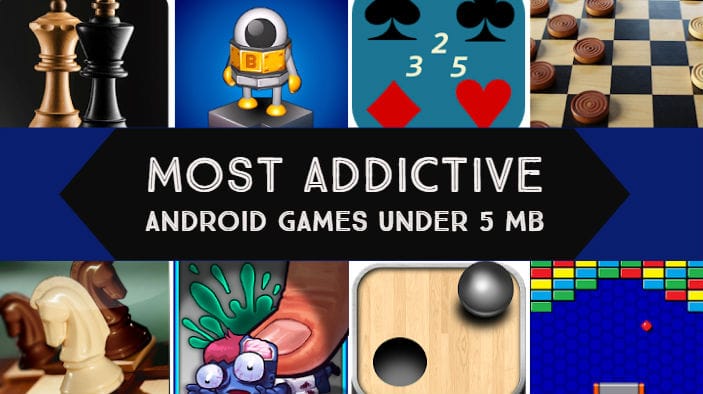 For the last few months, I've been meeting with people who're crazy for PUBG (PlayerUnknown's Battlegrounds). It's an online multiplayer game available for Android as well as iOS devices. It seems to be the most addictive game on the planet, but the only problem with this game is its size. It's over 1GB in size and that's the reason most game lovers ignore installing it on their phone.
But, if you give a deep look into Google Play Store, you'll find thousands of games that are entertaining, addictive as well as lightweight. And, truly speaking, some of them are so addictive that you'll never even think about installing any heavy game on your phone.
So, to make it easy for you to find such lightweight and addictive Android games, I've collected the top 10 Android games under 5MB in this article. The specialty of these following games is that all of them are less than 5 MB in size and very addictive.
Top 10 Most Lightweight Android Games Below 5 MB in Size
I've seen many people searching for very lightweight games and apps for their smartphones, and that's the main reason why I created this post.
For those who're looking for the most addictive Android games under 5 MB, this article is the final destination. Now, just have a look at the following Android games, each one is less than 5 MB in size.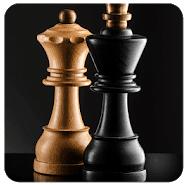 Chess is one of the oldest strategy two-player games in the world. You can now play it on your Android phone with this Chess application available on Google Play Store.
The size of this app is just around 2.5 MB which might be different for different devices but for sure is less than 5 MB for all Android devices.
For those who don't know how to play Chess, it might be boring but becomes very addictive along with time once you start playing it. And not only it's addictive but also helps in improving tactics, strategy, and visual memory of players.
It's another most addictive Android game available on the Play Store in less than 5 MB download size. In this game, you will need to help a tiny robot to get out of the puzzling mechanical dioramas.
A tiny robot is stuck in a mechanical diorama and searching for the exit gate to get out of the house. Be the controller of the robot and help him to reach the exit button to get out of that puzzling mechanical diorama.
There're many levels in form of those mechanical dioramas that you need to cross one by one. It's so addictive and entertaining that you won't stop yourself from helping the beautiful tiny robot to reach the destination.
This is a card game for those who love to play card games without compromising their phone's memory because it's just 2.16 MB in size.
Teen Do Paanch is generally a strategic trick-based card game in which 3 players play the game with a deck of 30 playing cards. This game is widely popular in India and Nepal.
You can play this game in many rounds and in each round, a total of 10 hands can be made. Dealer has to make 2 hands. The next person (who chooses the trump) makes 5 and the next player makes 3 hands. And if you make less than the required number of hands, other players will get a chance to exchange cards with you.
Checkers is a strategy two-player game like Chess but different in terms of moves and rules of playing. This Checkers Android game is very addictive, even more than Chess because it's much more simple to understand as compared to Chess.
The download size of this game is just 2.9 MB so it's going to consume very little space of your phone's memory. Along with being the most lightweight game on the Play Store, it has very realistic graphics, great sound effects, and six themes (white, dark, light, gold, art, and black) for a much better gaming experience.
The game supports 10 different rules of Checkers that can be changed in settings according to your comfort of playing. And, contains ten different levels of difficulty to keep increasing the excitement of winning the game.
Well, I already mentioned a chess game above in this post but some features of this Chess Live game add more features and so the fun.
In fact, it supports online gameplay so you can test your skills against your online friend from all over the world. Sounds great?
The download size of this game is just 3.4 MB which makes it one of the most lightweight games on the Google Play Store.
There're hundreds of zombie killing games available on the Google Play Store but not all of them are lightweight and entertaining. This Zombie Smasher Android game is just 4.2 MB in size and becomes very addictive once you start playing it.
There're many numbers of zombies running across the screen and it's up to you to smash them with the tap of your finger. It's very easy to play, just need to tap on zombies to kill them.
You need to kill as many zombies as possible to build more scores and earn the stars. Along with time, you'll get some power-ups that help to kill the zombies.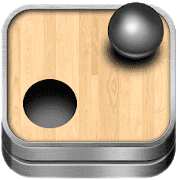 I've been playing this game for the last two days and now it's very difficult for me to stop playing it. I feel addicted to complete every new level of the game.
Teeter Pro is a maze labyrinth game where you control a steel ball by tilting the wooden labyrinth. All you have to do is put the ball in the right hole.
With just 4.3 MB of download size, it becomes one of the very lightweight addictive games on the play store. For such reasons, it's very popular among users with over 10 million downloads.
This Android game will remind you of a popular retro game from your past that usually comes with various feature phones in which a ball travels across the screen to break the bricks in as little time as possible.
The objective of this 3.6 MB sized Brick Breaker Arcade Android game is to break all the colored bricks without letting the ball touch the bottom of the screen with the help of a movable paddle that bounces the ball upward each time the ball touches it.
The power-up pills make this game even more interesting. Each time when a power-up pill comes down, you're required to collect it through the paddle to boost the power of the ball.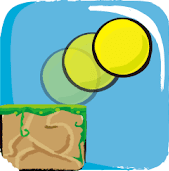 Bouncy Ball is another very addictive and lightweight game on the Google Play Store with over 10 million downloads till now. The download size of this game is just 4.8 MB that might be different for different devices.
In this game, there's a ball that will bounce upon your taps to eat the stars. Your goal is to eat as many stars as possible by bouncing the ball without letting it fall down.
Different exciting levels and worlds make the game more interesting and so addictive. The game is also featured as one of the top puzzle and brain games on the play store.
This is one of the best brainstorming Android games that can be a great place to spend some time for your kids, learners, and students. And as long as you're concerned about the space in your phone, it's as lightweight as just 3.9 MB in size.
There're three difficulty levels in this game; Easy, Normal, and Hard to play the different games or challenges that are helpful to boost your logic, memory, math, and focus.
Not only this but every day you will have a new challenge to conquer as the daily workout of your brain. You can also keep track of your performance in the form of scores and achievements.
A classic card game that is suitable for kids, students, adults, and seniors, Spades is offered in a digital format via their mobile-friendly official website.
In the game of Spades, played with a standard deck of cards by four players in teams of two, the objective is to accurately predict the number of tricks your team will take in each round. Players must strategize their card play to win tricks while avoiding certain penalty cards, aiming to be the first team to reach a predetermined score to claim victory. The online version can be played in single-player mode.
Hearts has proved over the years to be an entertaining and mentally stimulating game. The game requires strategy and a bit of luck to truly master.
In Hearts, each player is dealt a hand and aims to avoid taking certain cards, specifically hearts and the Queen of Spades, which carry penalty points. Players must strategically play cards during each trick, following suit if possible, and the player with the lowest score at the end of the game wins.
Which One You Will Love To Try?
All of the above-mentioned Android games are extremely addictive as I've played them all and fell in love with each of them. Alongside, another reason for keeping them in your phone is that all of them are below 5 MB in size, so they will keep very little space in the phone with the most entertainment.
As there're many kinds of games listed above such as mind games like Chess, card game, arcade game, etc. so, which one you'll love to try out first?
However, I liked all of them but among these 10 games, the 3 of them I can say are so addictive that you won't be able to stop yourself from playing them. They are Mekorama, Zombie Smasher, and Teeter Pro.