If you afraid of mathematics, then no need to worry because now you can sharpen your brain and learn mathematics in a funful way with my today's collection of different variety of apps based on maths learning. The apps that I have listed in my article come with enormous challenges, which make mathematics more interesting, addictive and also motivate you and your kids toward maths.
Among the list of the 10 must have Android apps for maths students I have also brought such apps that has roll up with palm full of mathematical tricks and formulas to help you out in solving complex mathematical problems with lots of fun and make you addicted of it.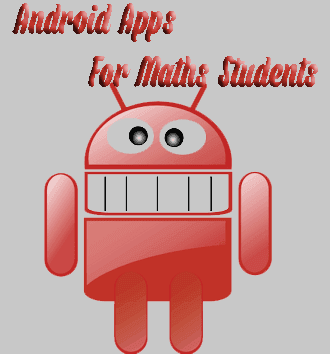 As we all know that constant brain training is essential for both kids mind development and for keeping brain active for adults. These apps are essential for every age group and profession. Through these listed apps for maths students, you can train yourself each day and observe your progress by unlocking subsequent achievement.
List: Android Apps For Maths Students
Now, have a look on this list of 10 best and must have Android apps for maths students to strong your mathematics in a very funny way:
1. Math Maniac
Math Maniac is a free maths app for not only students but also different aged group people. It is a creative maths game that keeps you entertaining and increases you mathematical skill level.
Math Mania comes up with a simple goal. According to the goal, you will get 10 seconds. In these 10 seconds, you have to combine numbers to equal the number in the left bottom corner.
Where there is math there is a trick. So here is a very awesome free app and trust me, with this app, you are going to kill different mathematical problems in a very simple and fast way. The most lovable thing related to the app is that it even works offline.
Math tricks has risen up with different tricks for addition, subtraction, multiplication table, division, multiply two digit number by 11, square numbers ending in 5, multiply by 5, multiply by 9 and lot more.
Math Expert app runs with a motto which says" Tell me what you know, and I will check which calculations are possible." From this motto, it is very clear that here you are going to get the solution of most of your numerical problems.
This free app provides a wide range of collection of formulas to solve mathematics and physics problems. This app is going to help both teachers and students in solving the numbers of problems.
4. Math Helper Lite – Algebra
Math Helper lite is one of the best free application in the list of the apps for maths students and in the market as well, which solves mathematical problems and shows step-by-step processes. It is easy to use and find out your queries. In the app, you just have to enter your problem and get the answer, detailed solution and a theory reference.
The app provides mathematical problems for Algebra 1-2, Calculus including integral, derivative, anti-derivatives, vector, matrices, limits, equation, shapes, number etc for school, secondary, college and university students and everyone who wants to learn it.
5. Math Ref
If you are going to sit for a competitive examination of science and engineering then this is the best app that I will recommend for you. Here you can dig up over 1,400 formulas, figures, and examples to help you with math, physics, chemistry and more. You will love to know that the app that was awarded in 2011 and 2012.
This app includes algebra, geometry, trigonometry, linear algebra, series & sequences, derivatives, integration, table of Integrals, vector calculus, differential equations, discrete, probability and statistics, physics, chemistry, algorithms and more at the worth of Rs 53.98 only.
This is one of the best educational free app among the list of the apps for the maths students and is a type of fantastic application for professional brain trainer. King of Math just strengthens your mental abilities, improve your ability to stay concentrated over long periods and sharpen your perception skills in every possible ways.
Here you can also search different categories such as math games, quick calculation exercises, brainiac, math for kids, brain workout, brain fitness, games for children, math tricks, math for kids, math reference, calculation games, free puzzles, kids games, smart games and many others as you desire.
7. Vedic Maths
Vedic means ancient. In addition, the Vedic Maths app deals with the formulas that describe the way through which the mind naturally works and are therefore a great help in directing the student to the appropriate method of solution.
This app is free and is definitely going to speed up your calculation as fast as possible. The app claims that if you are beginner to learn vedic maths then take a note and pen, and follow all the steps provided here. Within few days, you can yourself feel the difference.
8. Brain Math Game
With this free app you can easily test how well your brain is processing numbers and can also compare yourself to Albert Einstein. You can even beat the Einstein result, if you will perform well in the game.
First, you will see several bubbles with numbers inside, you have to quickly add them. After several seconds, the numbers will be hidden, and 4 bubbles with possible sums appear at the bottom of the screen. If you select the correct one, you will go to the next level, with more bubbles. If you make a mistake, next time the numbers of bubbles will be decreased by one. You will get 3 attempts after that your result will be compared with Einstein expectations.
9. Math Monkey
Math Monkey is an outstanding free game app that let you test your maths skill and the speed you are able to solve it. This game has specially been developed for the kids of different age group.
The game carries three games mode and displays online scoreboard, which you can share with your friends and relative on social networking sites. The game can also be stored in SD too.  Kids are definitely going to love this game because of its attractive graphics.
10. Math Solver
With this app, you can solve complex Math problems and plot multiple functions with accuracy and speed. It is a free app and is very helpful for high school students and teacher.
Math Solver is a full featured scientific calculator that helps you to solve basic calculations related to calculus, basic algebra, polynomial , solve equation and system of linear equations, roots, trigonometry,  derivative, indefinite and definite integration, limits and many more.
Further Reading:
Wrap up
Among the above listed must have apps for math student, most of them are free and few of them can be purchased. The details related to the cost of the apps are already mentioned in the paragraphs. So now install the app you need and liked the most and start enjoying math from today!