If you are afraid of mathematics, then no need to worry because now you can sharpen your brain and learn mathematics in a fun way with my today's collection of different varieties of apps based on maths learning. In today's world, there are apps whether you are looking for a tutor online, learning a language, or online essay writer. The apps that I have listed in my article come with enormous challenges, which make mathematics more interesting, and addictive and also motivate you and your kids toward maths.
Among the list of the 10 must-have Android apps for maths students, I have also brought such apps that have roll-up with a palm-full of mathematical tricks and formulas to help you out in solving complex mathematical problems with lots of fun and make you addicted to it.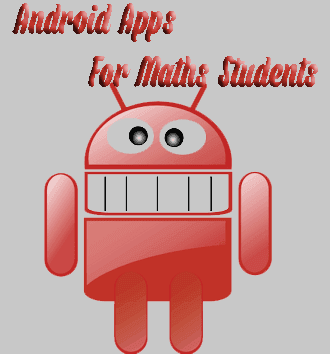 As we all know that constant brain training is essential for both kids mind development and for keeping the brain active for adults. These apps are essential for every age group and profession. Through these listed apps for maths students, you can train yourself each day and observe your progress by unlocking the subsequent achievement.
List: Android Apps For Maths Students
Now, have a look at this list of 10 best and must-have Android apps for maths students to strengthen their mathematics in a very funny way:
Photomath is a free math app for not only students but also different aged groups of people. It lets you easily scan printed text AND handwritten math problems using your device's camera or type and edit equations with their scientific calculator.
It is an easy-to-understand Android app for math students in which there're lots of math topics are covered such as Basic Math/Pre-Algebra, Algebra, Trigonometry/Precalculus, Calculus, Statistics, etc.
Where there is math there is a trick. So here is a very awesome free app and trust me, with this app, you are going to kill different mathematical problems in a very simple and fast way. The most lovable thing related to the app is that it even works offline.
Math tricks have risen up with different tricks for addition, subtraction, multiplication table, division, multiply a two-digit number by 11, square numbers ending in 5, multiply by 5, multiply by 9, and a lot more.
Math Expert app runs with a motto that says" Tell me what you know, and I will check which calculations are possible." From this motto, it is very clear that here you are going to get the solution to most of your numerical problems.
This free app provides a wide range of collections of formulas to solve mathematics and physics problems. This app is going to help both teachers and students in solving a number of problems.
All Maths Formulas is one of the best free applications in the list of apps for maths students and in the market as well. As the name suggests, it offers all the useful maths formulas for Android users.
Now no need to make paper notes to remember mathematics formulas, just keep this app on your phone and get all the formulas at your fingertips.
If you are going to sit for a competitive examination of science and engineering then this is the best app that I will recommend. From basic algebra to complex calculus, Mathway instantly solves your most difficult math problems.
This app covers almost all levels of math problems including algebra, geometry, trigonometry, linear algebra, series & sequences, derivatives, integration, table of Integrals, vector calculus, differential equations, discrete, probability and statistics, etc.
This is one of the best educational free apps among the list of apps for maths students which helps you solve math problems on the go.
All you need to enter a problem from your math homework and let Cymath solve it for you step-by-step! You can also get your problem solved by providing a picture of the problem.
This maths problem-solving app is provided by Microsoft Corporation. It helps you solve different maths problems that include algebra, trigonometry, arithmetic, calculus, statistics, and other topics.
This app allows you to simply write the maths problem on the screen or scan your handwritten problem using your phone's camera. The app support multiple languages such as Hindi, French, Japanese, German, Chinese, Italian, Russian, Spanish, and many more.
This is yet another popular Android app for free math solutions. Whether you're doing math assignments, tricky homework, or studying for an exam like ACT/SAT, this app will help you find solutions for your math problems easily.
You can just capture a picture of your problem and upload that in the app to find solutions. The app also provides a feature of web search for more possible solutions. You can also use the app's built-in smart calculator to solve algebra, calculus, or other equation problems in less time.
This app also helps you solve your math problems by capturing photos of the problems. As you'll open the app, you will be able to scan any maths problem using your phone camera. All you need to point your camera to the problem and the app will show you a detailed step-by-step solution to the problem.
Another good thing about this app is that it doesn't require an internet connection to scan math problems and get the solutions. It supports algebra, fractions, decimal numbers, roots, linear equations, trigonometry, addition, subtraction, multiplication, division, percentage, EMI, interest, and many other kinds of problems.
With this app, you can solve complex Math problems and plot multiple functions with accuracy and speed. It is a free app and is very helpful for high school students and teachers.
Math Solver contains a full-featured scientific calculator that helps you to solve basic calculations related to calculus, basic algebra, polynomial, solve equations and systems of linear equations, roots, trigonometry,  derivative, indefinite and definite integration, limits, and many more.
Wrap up
Among the above-listed must-have apps for math students, most of them are free and few of them can be purchased. The details related to the cost of the apps are already mentioned in the paragraphs. So now install the app you need and liked the most and start enjoying math from today!
Further Reading: