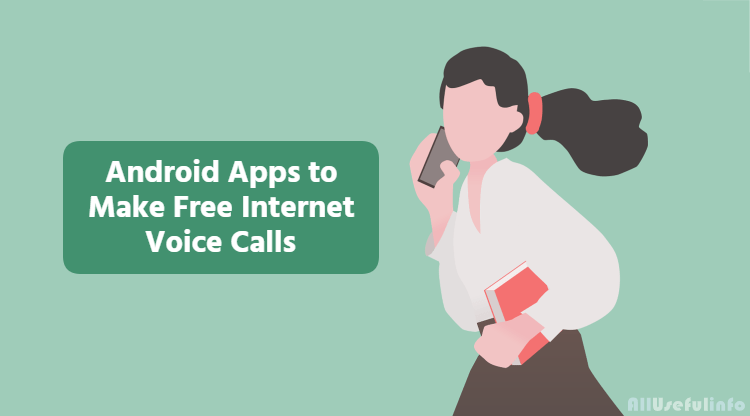 The main reason for the high sale of smartphones is amazing apps for different purposes. From chatting to online learning, there are hundreds of apps available on different app stores and making life easier. As I always write about different apps, so today in this section I'm going to hand over 6 best Android apps to make free Internet voice calls through your smartphone.
Yes, friends, just like online chatting, now you will also be able to online call without affecting your carrier's main balance, but only your Internet data pack will be affected. The following mentioned different apps will definitely help you make free voice calls from your smartphone with active internet data.
The Best and Free Internet Voice Calling Android Apps
Numerous similar apps are there but, as you know, not all of them are usable. After comparing all the available apps, I have listed some of the best apps for making free Internet voice calls. Now, without waiting even for a moment, just know about the following Android apps and install them from Google Play Store.
WhatsApp is one of the most popular messaging apps. It allows you to send and receive photos, videos, documents, and voice messages. Along with being one of the biggest messaging apps, WhatsApp is used to make free Internet voice calls. All you need to have is a WhatsApp account on your smartphone with an Internet connection.
WhatsApp is the best option to make free voice as well as video calls to your friends and family members. Even if you're making international calls, WhatsApp doesn't charge an extra fee. Moreover, WhatsApp allows you to have a group voice call.
First of all, to make a voice call using WhatsApp, you have to save the contact number of the person. Now, go to the WhatsApp app, tap on the 'Calls' option, and press the add call button. Here, you will see the list of contact numbers. To call anyone from the list, tap on the voice call button, which is given just in front of the contact name.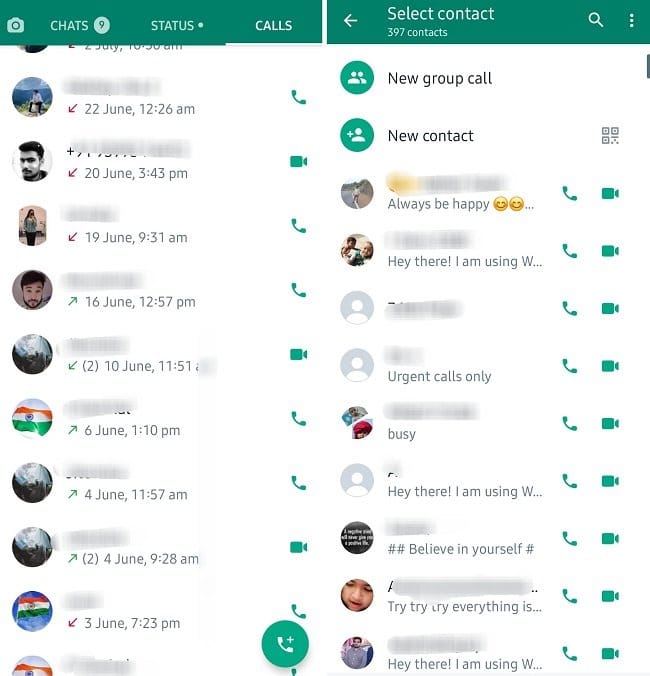 Remember, the person you want to call must have a WhatsApp account with his contact number. Otherwise, you can't make a voice call to the person. But, don't worry, further apps to make free Internet voice calls will help you.
LINE allows you to make free Internet voice calls as well as text messages absolutely free of cost. LINE is not only popular for making voice calls but also allows you to make video calls with your friends and family.
LINE has been ranked as the #1 most downloaded app in 52 countries including Japan, Thailand, Taiwan, Spain, China, Indonesia, Singapore, Hong Kong, Malaysia, India, Switzerland, Saudi Arabia, Mexico, Russia, Macau, United Arab Emirates and more!
You can make free voice calls to your friends on the Line app only if they are on the Line app. Otherwise, you have to pay for voice calling on the Line app. One thing that you can do is you can invite your friends on Line app to make free internet voice call with them.
To make a voice call to your friend using the Line app, you have to log in on the app with your contact numbers. After opening the app, you will see a section at the bottom of the home screen. Click on the 'Calls' button there. You will see here all the contacts who use the Line app. If your friend is already there, you can directly call him. Otherwise, you have to search for his name and invite him to be on the Line app.
Viber is another mobile communication app available for different operating systems, including Android. With Viber, you can not only make voice calls but also video calls and unlimited text messages.
One of the very interesting features of this app that will attract you to download it is that this app can also be helpful to make calls to non-Viber mobile and landline numbers at low rates.
As same as the Line app, Viber provides a free voice call service if both users are using the Viber app. If you want to make a voice call to your friend who is not using Viber, you have to pay 520 INR per month or bring him on the Viber app.
To make a voice call on the Viber app, you have to be signed up on the app. After that, go to the app and click on the 'Calls' button from the bottom of the screen. Here, you will see the list with two sections; All and Viber. Click on Viber, here you will see all your contacts using the Viber app. You can call all these contacts for free. And, if your friend is not here, go to the All section and invite him to join the app.
People across the world use Facebook's Messenger. So, you don't need any introduction to the app. Although it is a social media platform, you can use it for internet voice calling. And the best part is you will not need any SIM or contact number to make internet voice calls on Facebook Messenger.
All you need is an active internet connection and a Facebook account to make voice calls for absolutely free. And not only voice calls, but you also can make video calls here.
If the person whom you want to call is already on your Facebook friend list, you can directly call him by opening his chat section on Messenger. But, if the person is not on your friend list, you have to find him on Facebook, open his profile, and then tap on Send Message Option. Now, you will be redirected to Messenger, here you can see the voice calling option.
KakaoTalk is a fast & multifaceted messaging app. It allows you to send messages, photos, videos, voice notes, and your location for free.
It also allows you to make high-quality voice calls absolutely free of cost by using an Internet connection. Other than voice calling, it makes your chatting experience very funny and amazing with very creative cartoon character stickers and emoticons collections.
The app allows you to make a call only to your friends. This means that if you want to call anyone on KakaoTalk, you have to add that person to your friend list. Also, you can't make a call to your friend who has not sent you any message yet. The app says that it is necessary to have a conversation before calling anyone on the app. Nevertheless, the call button to make a voice call on KakaoTalk is given on the app's home screen.
Google itself provides an internet calling app. With the only help of your Gmail account, here you can make completely free internet voice calls. Along with voice calls, Google Duo allows you to make video calls.
Google Duo is one of the best options to make Internet voice calls without any mobile number. Along with one-to-one calling, you can create multiple groups and call them with one tap.
To make calls on Google Duo, you just have to open the app, click on New, select the contact whom you want to call, or you can simply dial the phone number. In any case, if someone is not on Google Duo, you can send him a direct invitation to join it.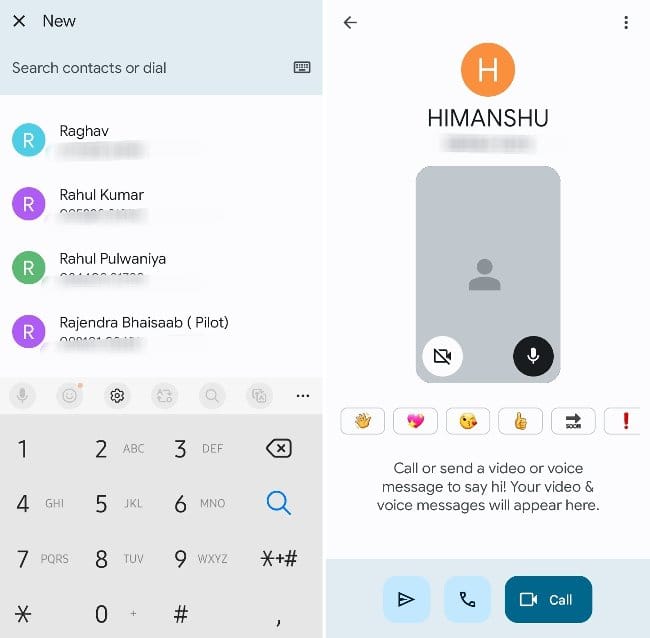 These are the best Android apps I found on Google Play for making free Internet voice calls over Wi-Fi or mobile data. Found any other app for the same? Don't forget to mention it in the comments.