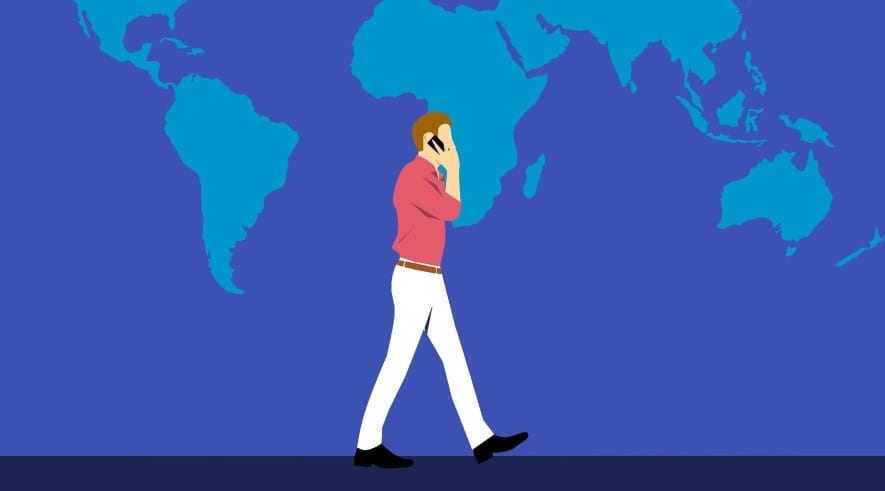 Many powerful and feature-rich apps have emerged these days that allow users not only to chat but make free national and international calls. So, if any of your friend or family member lives abroad and you don't want to pay high tariff rates for international voice calling, then the apps mentioned in this article will be proven helpful for you.
Below in this post, I listed the 10 best and most popular Android apps to make free national and international calls from your Android phone. So, have a look at these outstanding apps.
Best Android Apps To Make Free International & National Calls
Hey guys, here's the list of Android apps to make free national and international calls from your smartphone.
Who doesn't know WhatsApp? It's the most popular instant messaging app in the world. And, periodically WhatsApp launched many features such as voice calling, video calling, etc. So, I hope you would know that WhatsApp allows you to make voice calls through its interface nationally and internationally without any additional charge.
All you need to make sure you and the person you are calling to should have WhatsApp installed on their phone. Once you both are having WhatsApp, you can make free national and international calls from your Android phone.
WePhone is another Android app that allows you to make free calls to national and international phones. It lets you make free international calls to over 200 countries worldwide.
WePhone delivers other superb features too like caller ID display, call recorder, easy to use, uses the contact list of your mobile and many more. One of the best things about WePhone is that it is compatible with almost all Android Versions.
With WePhone, you can make calls to any landline or mobile phone in different countries like India, Argentina, Brazil, Bulgaria, Cambodia, Canada, China, and others.
Libon gives you an amazing offer to get 30 free minutes per month for 3 months. With this Android app, you can make calls to more than 40 countries like India, China, Europe, the USA, and many more.
After ending this offer, you can buy as many Libon Out minutes as you want to make national and international calls and reach landlines and mobiles in more than 100 destinations around the world
Fastnet Call is another free national and international calling Android app that allows you to make free calls around the globe using WiFi or your cellular data. It only requires you to have an internet connection. It works even if the friend you're calling doesn't have network access.
As soon as you first install this app, it will give you 2000 free credits to make calls. And you can get more credits by inviting people to this app; it offers 5000 credits per invite. Not only this, the app allows you to earn credits by performing some simple and funny tasks.
It is free to use Android app that allows you to message, audio call, and video call all over the world. Along with messages and calls, it offers you many other interesting features.
'Groups' and 'Chatroom' are two key features of IMO. You can join or create groups with many other known or unknown people. The chatroom feature is there, where you meet random persons from your country and make them friends. Moreover, you can post your story and customize your profile with amazing filters and themes.
It is my personal favorite Android app for international calling and messaging. You can make unlimited calls or messages to anyone in 40+ countries for absolutely free. It is accessible for phones, tablets, and the web.
With the help of TextMe, you can create your own international phone number instantly and use them to make calls to anyone. It allows you to get and add multiple phone numbers to one account. And the best thing part is, you can also call or text someone who doesn't use TextMe.
The app offers lets you text, call, send photos, and make video messages for free over WiFi and 3G. Viber can also be used to make calls to non-Viber mobile and landline numbers at low rates. It provides you with different and amazing features like making free calls with HD sound quality, texting with your friends, downloading stickers from the sticker market, and many more.
The app is localized to Arabic, Catalan, Chinese (SP), Chinese (TR), Croatian, Czech, Danish, Dutch, Finnish, French, German, Greek, Hebrew, Hindi, and more
Now enjoy international calls freely, easily with no worries with OTO Free International Call but it is available in Korea and Japan only. You can make free calls to 91 countries from Korea and Japan. It has been proven that OTO is No.1 in customer satisfaction with free international call applications because it offers crystal clear voice quality, the easiest way to call abroad, and more.
Mostly, Skype is used by professionals for meetings and conferences. But, you can use it for personal purposes as well. You can make national or international calls using it. Skype is one of the best free Android apps for national and international calls.
Skype offers you plenty of features like; background visuals, video call themes, live subtitles, reacting emojis, etc. Meanwhile, you can get a local phone number in any country and make a call to a landline and mobile.
Remember that Skype is not a completely free app to use. You have to pay for some of the features, but no need to pay for messages and calls.
How can you forget Facebook Messenger? It is a worldwide famous app, which can easily connect you with anyone from the world. You can use it to call and message your abroad friend or family. I don't think that I have to explain about Facebook Messenger.
Any Other App in your Mind?
If any other Android app you've in your mind for making free international as well as national calls via your Android smartphone, then mention that in our comment box with enthusiasm. I will appreciate you.
Conclusion
I've enlisted the best Android apps for making free international and national calls from your mobile. As I know that all of them are popular and beloved apps by people to make free calls from smartphones. Now, it's on you how excellent and useful an app you select. It may also happen that an individual app is not working on your device, so be patient and install the app according to your Android phone's version.
Further Reading:
Enjoyed The Article!
Have you enjoyed the article? If so, then don't forget to share it with your loved ones, relatives, and friends as well to make them aware of such incredible apps. To share this post on your social networks, move down the page and find the social profile links.