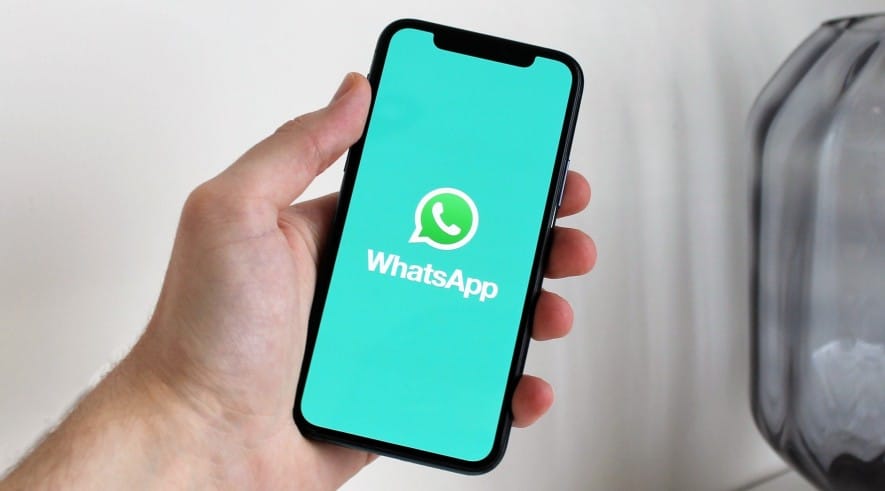 It's hard to say what caused WhatsApp's privacy policy change. Some have speculated the company wanted to monetize the service while others argued it was simply for security reasons. Whatever the motivation, the messaging service is suffering a major public backlash as a result and people started looking at many WhatsApp alternatives available in the market.
The company has implemented numerous security measures to make sure terrorists and criminals can't use their service to spread their messages in the past. This is clearly understandable, but it seems users want to retain some control over their conversations on WhatsApp.
We all know how hard it is to even think of leaving WhatsApp. It's not that you don't have any reason to do so. You might be tired of all the drama happening in your friends' chats, or you may be fed up with their childish acts.
Whatever may be the case, there are many reasons for you to look beyond WhatsApp. And it is not impossible to move on from this messaging app in the future. All you need to do is find a good alternative for this social platform.
Here is a list of the top 10 WhatsApp alternatives to try this year that offers almost all the features that WhatsApp offers to its users.
1. Telegram Messenger
These days, apps are life. We get our news, music, and other entertainment from our phones. Telegram Messenger is a prime example.
This app lets you chat across devices and with friends with ease.
With its supergroups that can hold a whopping 100,000 people, you can stay connected with your audience very easily.
Telegram has become an excellent platform to share documents, create communities and groups, and maintain openness in long-distance relationships.
Another best feature is telegram boots – a Telegram bot is server-side software that has an API to interact with the main Telegram app. Bots can be used for different functions such as news updates, weather reports, language translation, etc.
2. Discord
Discord is all over the news lately. The social chat application, created in 2015 by Hammer & CHTN, is touted as "the next generation of text and voice chat." It has several messaging features, allowing people to text and voice call each other for free.
Discord's biggest strength lies in its versatility. It supports text, images, GIFs, and also video/voice calls between people.
It works as a text chat room even if you're not using Discord's services for that but it requires an account to use its apps named "Discord".
Discord has created a way for users to join servers, create text channels, and video chat. The best part is that this can all be done on the same platform which means you don't have to leave it open when doing work or speaking to customers.
Discord increased security by giving users two different modes for their calls, either an open or closed call.
Discord also allows users to set a status message which will be visible as long as they're online.
All these features enable users to feel safer knowing that they are talking with who they think they are.
3. Snapchat
First, let's be clear about the fact that Snapchat isn't just a messaging app. While it was originally designed to be that, it is evolving into an entire social media platform. The idea of Snapchat is that the receiver of the message only gets to view it once and then it's gone forever.
So let's see how Snapchat features are quite different from others;
You can only chat with someone and you will get notified if the other one takes a screenshot of your conversation.
This apparently puts those who send you snaps in fear that you will take a screenshot of their snap, and save it forever for future use.
Similar to WhatsApp, you can create a list of contacts that you will regularly communicate with. Once you message any of them, the app will automatically add all the people in this group chat. This is a very nifty feature because it allows you to include more people without adding them individually.
The bottom line is, Snapchat is a huge market where every other message is either an ad or a business trying to reach you.
There's likely no better way to build a brand for your company. And even if it's for personal use, building a following on Snapchat will make you feel more confident and be able to show off to all of your friends.
4. Skype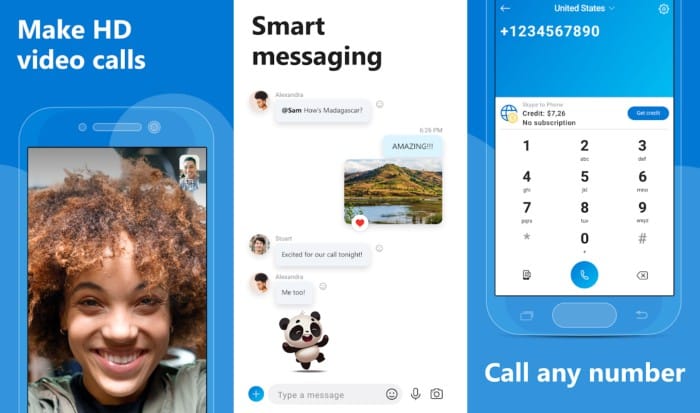 No matter what time zone you are in, Skype helps you stay connected with your client and team. It is available on all the major OS platforms – be it Windows, Mac, iOS, or Android.
Also, unlike other applications that have become obsolete over time, Skype is still at the top of its game. The reason for its popularity is its ability to offer free video and text calls over the internet even between users who do not have Skype IDs.
Skype was designed from the ground up as a group video calling app. The same can't be said about WhatsApp. On top of that, Skype's calls are usually pretty good in terms of audio and video quality and don't lag too much even with more than five or six people on board.
You'll also get basic screen sharing functionality which allows you to see what others are doing on your screen and vice versa.
The latest Skype version has brought new exciting features to it that improve users' experience with Skype and also make communication easier and more secure without downloading additional applications or plug-ins.
The voice call record function is a really useful feature that gives users an opportunity to record Skype voice calls without installing extra applications. This way, all calls are automatically saved in the recorded_calls folder.
The "SightSpeed" feature allows you to view the other user's online status and when they were last online, so you don't have to go searching for them, while instant messaging pop-ups containing Skype contacts' profile pictures reduce unnecessarily.
5. Signal Private Messenger
Signal Private Messenger is a more secure version of WhatsApp. It's designed to be as simple as possible, so that it's available to as many people as possible, regardless of their technical level.
It is completely open-source, with this app you can chat with anyone who uses signal.
Signal also provides end-to-end encryption for all your chat messages, voice calls, video calls, and file transfers.
Their desktop app is also very good because the control interface is more than the average messaging app.
Signal Private Messenger is free and open-source software that you can trust.
Signal´s also bringing encryption to its backups, calls, group calls, and every other data in the app. On the other hand, it will also give you an option to set up a timer to delete-+the messages.
The Signal app is said to be one of the best alternatives to WhatsApp and popular tech personalities like Elon Musk suggested people rely on the Signal app. I think you will love to see some of the interesting Signal app features that WhatsApp lacks.
6. Google Hangouts
Google Hangouts is a relatively new app from Google. Google+ Hangouts are a different way of communicating.
You can start a hangout by just sending an email to your friends.
Google Hangouts is perfect for collaborating with groups on projects.
Whenever you join a hangout, you can see all your friends who are online. You can just start talking to your friends. It is so simple that even our grandmothers could use this app.
Google Drive integration lets you upload pictures with your comments and reply to any comment right from the picture if someone asks you a question.
7. Slack
Slack is a free, powerful planning tool that lets you track your tasks. It divides conversations into two categories: channels and private messages. Channels are used for division between teams and projects, while private messages are used for communications.
Unlike WhatsApp interfaces, Slack has got the left sidebar customizable in different colors.
You can have more than one-to-one or group conversations.
You can also customize the color of search results, attachments, and message links.
To give your application a new look and feel, you can change the theme.
8. Kik
Kik is an alternative messaging app that requires no phone number and limits sharing users' personal information like their number.
This helps keep users safe and keeps them feeling comfortable while chatting and sharing content within the application.
Kik also has a smarter chatting platform that makes it easy for users to find new people to chat with, make plans with, and see who is in a chat room with them.
The party mode allows users to interact using different themes and chats in real-time.
You can also have group discussions with your friends and family on Kik Messenger.
9. Keybase
Unlike other chat applications, Keybase is more of a messaging solution than a messenger. The application is built around permanent 'identities' which users can verify through the app and the company's website. This helps users trust each other without any issue.
App users can't take screenshots of the chats.
Keybase is a platform that allows you to communicate with other people over the internet without sharing your personal information like email ID, phone number, or name.
10. Viber
Viber is an Android, iOS, and desktop messaging app with a focus on encryption. It supports placing free voice and video calls, sending encrypted texts, exchanging files of up to 300MB in size, and group conversations.
Viber's security and privacy features are amazing and widely appreciated by ordinary users and geeks.
The best thing about Viber is that it has a lock screen feature. This feature of this app will allow you to only make your contacts able to see your availability status and locked chats.
That's all. These 10 are the best WhatsApp alternatives you can try in 2022. After the most recent privacy policy update of WhatsApp, many users are looking for WhatsApp alternatives. But, in your case, for any reason, if you were searching for a good WhatsApp alternative to try this year, this list of the best WhatsApp alternatives will finish your search.