Today for sending messages and communicating with each other locally or overseas, what's our first choice? Whatsapp, right? What if I tell you there are many other social messaging apps in the market that are more interesting than Whatsapp. The huge popularity of Whatsapp has covered other potential apps in the market that provide many interesting features that Whatsapp lacks. However, I'm going to cover 10 interesting Signal app features in the article that Whatsapp lacks.
You must have heard of Signal as it is a much-talked topic from some past months. However, the news about Signal fueled more when Elon Musk tweeted "use Signal" on his Twitter account. So, I also decided to explore Signal for a few days. Meanwhile exploring the same I just came across a few interesting features of the Signal app that Whatsapp lacks and thought to share with you. But using Signal was very much fun.
However, if you too are thinking of trying any new instant messaging app for fun or want to switch from WhatsApp to any other communicating app. Then there are lots of interesting options in the market that offer you different fun and useful features and it is high to take this decision due to the growing popularity and developments of these apps. I just thought to give it a try on Signal but I ended up loving it more than Whatsapp due to its interesting and funny features.
What is a Signal?
A signal is a free messaging app that is privacy-focused. It perfectly fits your android, apple, and desktop. It is also an end-to-end encrypted communicating app. However, both WhatsApp and Signal are social messaging apps. And you might feel Signal is very similar to WhatsApp while using it initially but gradually you will notice some major differences between both of them.
10 Interesting Signal App Features That WhatsApp Lacks
Here are 10 interesting Signal app features that WhatsApp lacks that I have explored while using it.
1. Screen Security
Screen security is an awesome feature by Signal. It blocks the other apps on your phone or yourself to take screenshots of your chats. You will get this option in the privacy setting. However, through this, you can interrupt other apps in case they are tracking your activities, which is very much common in today's digital world. For enabling the screen security option, go to the profile settings and click on the Privacy option. Enable this Screen Security option there.
2. Use Signal as Your Default Messaging App
You can make Signal your default messaging app for regular conversation too. However, Whatsapp lacks this feature. You can do this in profile settings, by clicking the SMS and MMS option present on the top to turn Signal as your default messaging app.
3. Optional Typing Indicators Setting
I personally like this feature a lot. You can enable or disable typing indicators in the app setting. The signal app lets you hide your typing status from another person. By disabling the typing indicators, you will not be shown 'typing' in the chatbox of another person even while typing. It is a great distinction between WhatsApp and Signal.
To enable this option, go to your profile settings and navigate to Privacy > Communication > Typing indicators. Disable the Typing indicators option if you don't want to show your typing status to anyone. But, also remember that after disabling this feature, you too won't be able to see typing indicators from others.
4. You Can't Add Anyone to any Group Without their Permission
You might be annoyed when someone adds you to the unwanted group, sometimes it's also called a family group, however, jokes apart. But Signal requires permission from you before letting anyone add you into the group. It saves you from unsolicited practices of the cyber world.
5. PIN Setting
The PIN system in the Signal app supports non-phone number-based unique identifiers features. It means if anytime you lost your data, you can recover it using this PIN. It is a kind of registration lock that unlocks your signal account.
Whereas Whatsapp does not use such settings for account recovery. It makes use of a phone number and a one-time password sent on your phone number to recover the account. And hence it is quite risky as anyone can recover your data with this technique.
The Signal app asks you to set this pin during the first time you install the app. However, you can also change this pin later in the profile setting under the privacy option.
6. Open Source
A signal is a free open source platform which means its code can be used and checked by anyone for validation. On the other hand, WhatsApp is free but not an open-source platform, and you can never validate the Whatsapp app code. So, Signal gathers the confidence of people through these dedicated techniques.
7. Group Link
It is a unique feature of Signal, you can invite people to join your group using this link itself. In WhatsApp, the admin adds a particular member manually by itself, but in Signal you can share this group link with anyone and they can join with it.
However, you are supposed to approve their joining request into the group. You can get the group link by tapping on the Group Settings on the top of the group chatbox. There, you will see the Group Link option, turn it on, and share the link by clicking it.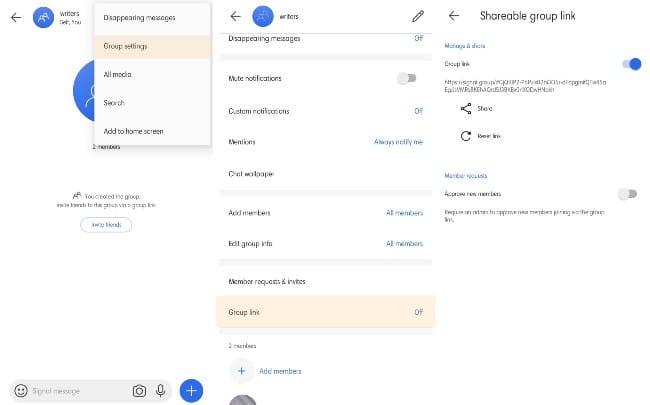 8. Note to Self
Note to self is a special feature that assists you in sending a message to yourself. You can jot down the messages here that you can review and send later. Moreover, you can transfer or copy the important disappearing messages too.
This feature is not available on WhatsApp. You can also make a note to yourself by clicking on the new chat option. On clicking the new chat, you will see the list of contacts and in between that you will get the "Note To Self" option or you can search for 'note to self' in the search box too.
9. View Once Media
You can use this feature in Signal for sending videos and photos that are removed automatically from the chat once they are viewed. It is a great feature in case you need to send some private media to anyone. The photos and videos are removed automatically once the receiver has seen the message.
However, WhatsApp lacks this feature.
To enable View Once Media for the photos and videos you're sending to someone, you just need to select the photos in the chatbox and then tap on an infinity icon at the bottom of your phone screen. After you do this, the media files will automatically remove once the receiver will view them.
10. Message Reactions
It is a really entertaining and fun way of chatting. You can react to the person's message in emoji right below the message bubble. Try this one, it's fun. It feels different than sending an emoji to a person's convo directly. Just tap and long hold the message, a small emoji box will appear on the screen. Now select an emoji and send it.
Are You Gonna Try Signal?
The Signal app is less potent for malicious vulnerabilities than WhatsApp due to the lesser storage of information of its servers. If you are annoyed with your present app in any way then I will advise you to give it a try to any other app for a few days to explore it.
You can also try Signal.
Signal has many more interesting features than Whatsapp and is a highly reliable instant messaging app. I will advise you to try it for once, maybe you're gonna like it more than your present instant messaging app.
Read Next: Should I Stop Using WhatsApp Due To New Policy Update?