However, WhatsApp is such popular instant messaging app that reduced the usage of default text messaging of smartphones, but in case of Android phones there are many text message replacement apps available on Google Play that give a new look to the default SMS app of your Android phone.
So, if your Android phone's standard messaging app is not that cool and maybe you think it's bit outdated or clunky, then you don't need to be sad because luckily you can replace it with other feature rich text messaging apps.
These apps will work exactly as your default does but with some additional functionality to fulfill your texting and multimedia messaging needs.
So, now have a look on these Android text messaging replacement apps:
Go SMS Pro can be a great alternative to the default SMS app of your Android phone. It contains hundreds of personalized themes and lovely stickers that you can send in your conversation.
Another best thing of this app is that it has a Private box to encrypt messages & protect your privacy. Isn't it a great app! Other than thing it has many more feature such as group messaging, pop up new messages for quick view, and more.
Read Also: Android Launchers to Feel Lollipop Interface in Older Versions
I think you will never remember your default SMS system after install it from Google Play. So, everybody who is looking for a much better SMS/MMS experience on Android, check out GO SMS Pro.
Textra SMS is another pretty cool text messaging replacement for Android. It turns your boring Android SMS environment into the intuitive and delightful place. Textra features the new Lollipop Material Design.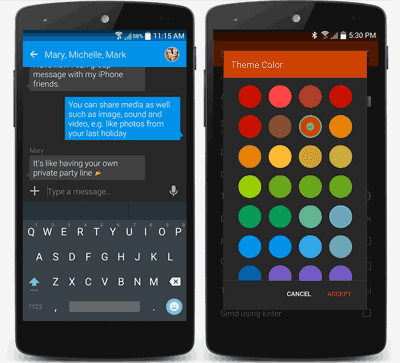 It comes with a bunch of great extra features like 800+ emoji's, heaps of theme colors, dark mode, floating Lollipop style notifications, scheduled SMS & MMS, delayed sending (stop while sending), slide to delete/call, quick snap camera, multi-select picture gallery, quick reply popup, better MMS GROUP messaging, audio messages and SMS blocker/blacklisting.
It's seriously a beautiful way to text and will make you completely forget your default text messaging system.
3. Handcent SMS
It is highly customizable and a beautiful replacement for your Android's default SMS app. Handcent SMS can do more than just texting, it comes with plenty of beautiful skins and useful features.
It makes texting simple, powerful and colorful. With Handcent SMS app you can set unique notification sound, style, icon and vibrate pattern and so on for each contact.
One of the best thing of this text messaging app is its Private Box by which you can protect your personal information by hiding and viewing anytime you need with a password. The app has many more features such as group chat, lots of emoji, auto split, and some tools like spell checking and message composition.
chomp SMS is the best messaging replacement or a souped-up alternative to your boring default SMS & MMS messaging app, with a heap more features and customization options.
It has lots of cool features like 800+ emoji's, passcode app lock, privacy options, scheduled SMS sender (reminders, birthday wishes), stop a text while sending, pin to top, backup, blacklisting/SMS blocker, signatures, text snippets, quick reply popup (even on lock screen), multi-select picture gallery, dual SIM, better MMS and GROUP messaging and much more.
5. Hello SMS
Hellow SMS is something different from all of the above listed messaging replacement apps and the thing that makes it different is its tab feature. In fact, the app comes with different tabs which make it the fastest text messaging apps.
Hello replaces your default SMS and MMS app by creating a deep integration with your phone that makes tabbed texting a seamless experience.
With this text messaging app you can group chat easily, send and receive photos quickly, and switch between chats with a single touch using tabs. Moreover, it also lets you send free SMS when your friends also use Hello. Isn't it awesome!
6. Zero Communication
Zero Communication is another Android app for the same. It replaces your Android phone's default SMS or MMS app. It is the smallest, fastest, most private messaging app for best SMS/MMS experience.
It supports dual SIM, private box and MMS Group messaging. Also support popup new messages and block spam messages. Messaging has never been so fast and secure! You can even set individual SMS ringtone for someone. It has matched close in 50 languages.
Zero Communication provides the best messaging experience and will be proven a best replacement for your Android's default text messaging environment.
Further Reading:
That's all guys. These messaging replacement apps received the good reviews and ratings on Google Play as compared to others. So, I think you will find them very useful and cool.