As I seen most of my friends saying that their iPhone's built-in data usage tracker is not working properly or giving inaccurate results, here are a few external data usage tracker apps for your iPhone/iPad that you can install from iTunes app store.
The following mentioned Internet data usage trackers may be helpful for you to track accurate usage of data. These data usage trackers may also provide some additional features that your default iPhone tracker miss.
Best Data Usage Trackers for iPhone/iPad
However, there are lots of data usage trackers available on iTunes app store but here I've listed only few of them that have been tested by my colleagues.
1. Onavo Count [Free]
Onavo Count is a popular data usage tracker app available for different operating systems. As previously I've published an article on data usage tracker apps for Android and listed this Onavo Count their also. So, iPhone users can also install this app from iTunes app store to track the data usage.
It's a great mobile data usage tracker app that not only tracks your data usage but also lets you compare how much data you use in specific apps to other people. This app also tell you that how you use your data in categories that matter to you like music, maps and videos.
With this amazing mobile data usage tracker app, you  can get the real time alerts and know when you're approaching your data limit and get an indication of where you stand in your current data cycle with notifications on your phone.
My Data Manager is a popular app that will help you take control of your mobile data usage and save your money on your monthly phone bill.
You can use My Data Manager iPhone app every day to track your data usage and ensure that you don't go over your monthly data bill and incur unnecessary charges.
There are lots of features of this app such as Monitor your data usage on mobile, WiFi and roaming, Set up a shared plan or family plan and track usage across all members of your plan, Track individual data consumption on single or multiple devices etc.
Data Usage is another great Internet data usage tracker for iPhone and iPad. However it's not free as the both of the above but it works like a charm.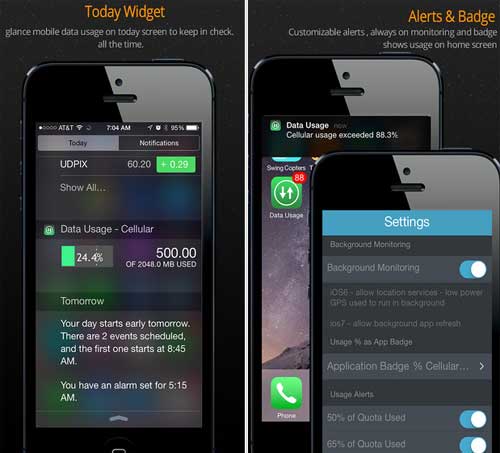 Data Usage is the best iPhone app for those who always have risk of exceeding their data limit. It shows the monitor usage % as app badge without ever opening app again.
It has many more interesting features that make this app worth buying such as Monitor Mobile Data and WiFi in real time, Predictive forecast tells when you will go over and sets daily quotas, Visual Monitoring, Accurate History, Export, Charts, Today widget and more.
DataMan Next is another premium iPhone app to track the Internet data usage in real time. In just a glance DataMan tells you if you're safe from busting your data cap.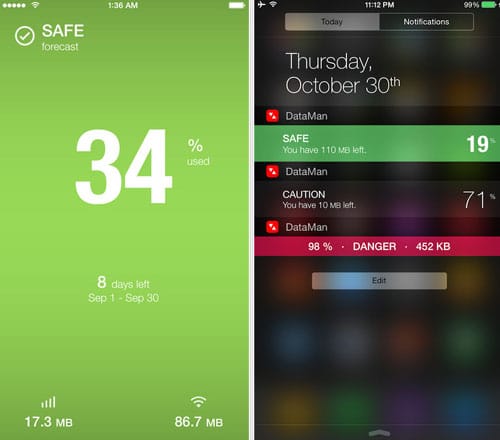 Its New Widget Designed for iOS 8, lets you instantly check your usage from any screen using the Notification Center.
Its Beautiful design simply gives the key statistics you need most in an incredibly clean interface. It's so easy to track your data usage. Moreover it provides the facility of smart forecast predictions and real-time tracking.
READ ALSO: Best Android Apps to Track Internet/WiFi Usage
So, these are the best and popular data usage trackers for iPhone and iPad. If you find anyone more that can be added in the list, feel free to mention in the comments.