Are you interested in weather forecasting or wanna stay updated with weather effects around you? Then these Google Chrome extensions will be proven very helpful for you. I'm going to tell you about 5 best Chrome extensions for weather forecast. These Google Chrome extensions will really make you aware of the future weather forecasting.
This was the short description about all of these extensions, but you'll understand their working and features after reading them individually and carefully.
Best Chrome Extensions For Weather Forecast
So now, have a look on these awesome Google Chrome extensions for weather forecasting:
World Weather Forecast is Google Chrome extension which lets you check the weather temperature worldwide in Fahrenheit or Celsius.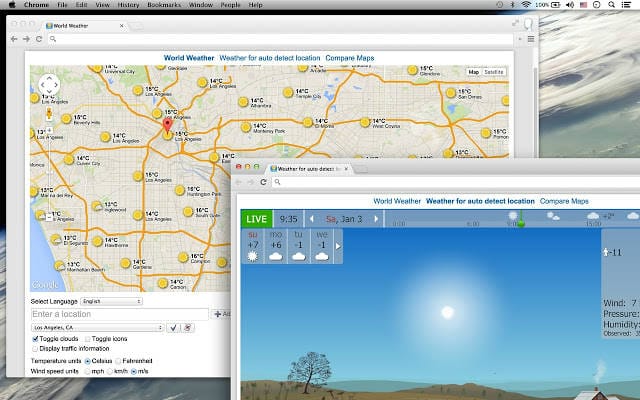 This extension has several features such as it displays weather forecast according to your current Geolocation, You can see weather forecasts for all saved places etc. It also lets you enter the city name to get forecasts for cities around the world.
This is the official extension of World Weather Online. This extension shows you Weather condition in your city together with 7 day forecast wrapped in elegant and simple design.
Right after the installation the extension will automatically know where are you now and it will set the location you are at as a default. You can also change the default location in the settings.
3. Weather Forecast
This Google Chrome extension enables you to see accurate 10 day weather forecast for thousands of places Worldwide with an interactive weather map.
You can get the latest weather forecasts from WeatherWW.com.
Weather Europe Extension provides free weather forecasts throughout Europe (France, Belgium, Italy, Germany, Switzerland, Austria, Spain, Portugal, Scotland, England, Great Britain, Sweden, Norway, Poland, …)
Weather Europe Extension will automatically geolocate you and display weather forecast of your city.
5. Weather Aware
Weather Aware delivers informative, compact and customization weather forecasts worldwide from YR. No. It provides you the detailed forecasts up to per hour.
It provides the forecast for several upcoming days such as Today/tomorrow forecast, Next 48 hour's meteogram, Next weekend forecast, Long term forecast etc.
Further Reading:
Conclusion
It's a good thing to be aware of your surroundings, that's why you should add any of the above listed chrome extensions to your browser. After reading the details of each extension, select one for you that suites your requirement and start forecasting the weather around you.