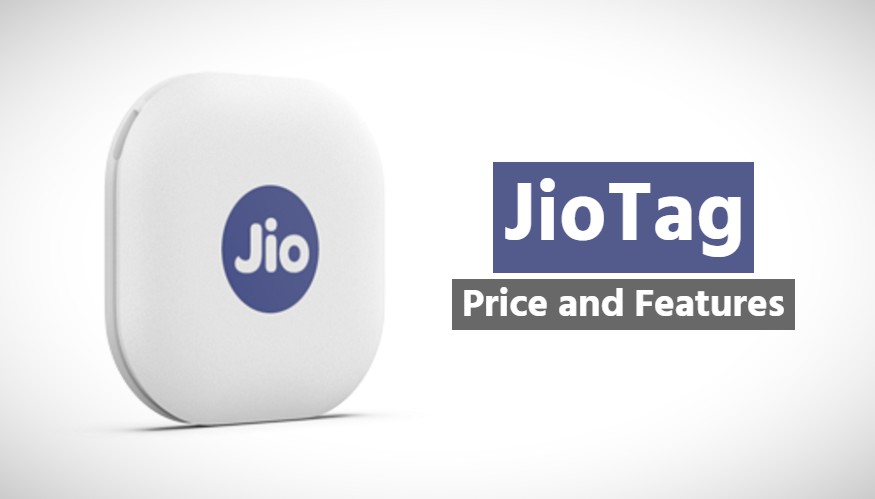 Can you imagine an Apple AirTag-like tag under the price range of 1000 INR? It sounds unrealistic, but Reliance Group made it possible and launched an affordable AirTag alternative, JioTag. Get to know everything about the newly launched JioTag, including its Price and Features.
Well, it all started last year, when many YouTubers and bloggers were talking about JioTag, however, it was not official. Because of these rumours on the Internet, people were expecting an affordable AirTag alternative from Jio. And, almost after one year, Reliance finally started the sale of JioTag at a very affordable price point.
Along with the affordable price of JioTag, there are many other useful and interesting features to know. Let's start with its price and then go to the features.
Availability & Price of JioTag
As Jio is known to launch any expensive product at a low price for Indian customers, in the same way, this time also, Jio has launched a tracking device for Indian customers at a very affordable price. In India, the JioTag is available to buy at the price of 749 INR.
Talking about the availability of JioTag, the sales are live all over India. You can buy them online from the official website of Jio. As of now, it is not available in the offline stores. Hopefully, it will be in the offline stores soon.
Features of JioTag
When it comes to Jio, a low price doesn't mean a lack of features. Let it be clear that JioTag has all the essential features that a tracking device should have, like Bluetooth connectivity, alert sound, disconnect alert, lost device location tracking, etc.
JioTag comes with Bluetooth 5.1 connectivity and can be operated with its app, Jio Things. It has a built-in speaker, which is quite louder than average. And there is a button on the Tag with multiple uses, like switching on & off and sound on & off. Moreover, its dimensions are; 3.82×3.82×0.72 cm with a 9.5g weight.
Once you connect it to your smartphone, you can track it within the range of 20 metres (indoor) and 50 metres (outdoor). If you go out of the range of JioTag, its sounds will alert you again and again till you turn off the sound or get back in range. But, if you lost your device and the device is not in the connectivity range, Jio Community will help you track that lost device.
Whenever your lost JioTag gets in touch with any Jio network, it will automatically send the live location of that time on your device in which you have connected Tag with the JioThings app. And if it doesn't connect to any network, you can find the device with the help of its Disconnect Location feature. With the help of this feature, you can get the location where you exactly lost the connection.
One more interesting feature that comes in JioTag is you can find your connected smartphone with the help of JioTag. If you have JioTag and misplace your smartphone, you just have to double-tap the button on the Tag, and your smartphone will start ringing.
Colour, Warranty, and Compatibility
JioTag comes with one extra battery, a keychain hook, and a double side cap to stick the Tag. As of now, the JioTag is available in one colour, white. Notably, the company gives you a one-year warranty on the JioTag, which is quite impressive. And the Tag is compatible with all smartphones, Android and iOS.
How is JioTag Different From Apple's AirTag and Other Competitors?
In comparison to other competitors, including AirTag of Apple, JioTag is much cheaper. While Apple Airtag comes at a price of 3499 INR, JioTag is available at a price of only 749 INR. And not only AirTag, but many other Bluetooth tags are also much more expensive than the JioTag like the Samsung Smart Tag, which costs around 7,500 INR.
AirTag has only 10 metres range, which is quite less than the JioTag, as JioTag has 20 metres (Indoor) and 50 metres (outdoor) range. Although the range of the Samsung Smart Tag is probably the highest at 120 metres.
JioTag is compatible with Android and iOS both, but the AirTag is only for iOS. Moreover, JioTag uses Bluetooth and GPS as tracking technology, and AirTag uses Bluetooth and Ultra-Wideband for tracking. And most probably all other gadgets use Bluetooth and GPS as tracking technology.
Another major difference that you can notice in the JioTag is its plastic body material, rectangular shape, and bigger size because AirTag has a Mattel body material, round and lightweight. Meanwhile, the Samsung Smart Tag is heavier than the JioTag.