Photoshop is one of the most powerful tools for photo editing. So, if you are searching for the way to remove boring background from your photo and adding an interesting background, Photoshop is ever with you. Yes guys, you can do it using Photoshop. So, learn here how to remove background from an image using Photoshop.
Photoshop enables you to remove image background very easily and gives the picture a best finishing. As their are various online tools to remove image background but these tools may destroy your picture size and quality. So, in my opinion, Photoshop is the best choice for removing the image background.
Remove Image Background Using Photoshop
I made all these steps very easy by attaching the relevant screenshot with each steps for your ease. Now, have a look on the steps to learn, how to remove image background using Photoshop?
STEP 1: Make sure that Photoshop is installed on your PC because the whole article is about Photoshop. Now, open Photoshop program.
STEP 2: Now, it's time to open your image into Photoshop and select Magic Eraser by clicking on Eraser tool. For more ease, see the screenshot below.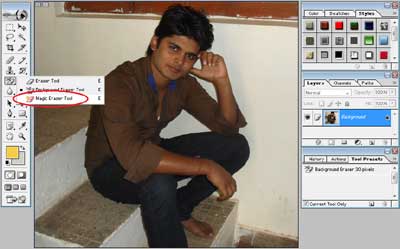 STEP 3: Now Start using the Eraser tool to remove the background automatically and very cleverly. After some time, the background will be removed and you can place another background to your image.
[su_note note_color="#fff4f2″ text_color="#000000″ radius="1″]READ ALSO: Easy To Use Alternatives Of Adobe Photoshop[/su_note]
That's all guys! Now, you can save your photo. So, isn't it the easy way! If you really think that it is very easy then any online tools, please share it on your social networks. On having any query or problem, you can speak your mind in our comment box. Our comment box is ever waiting for your responses and feedback.