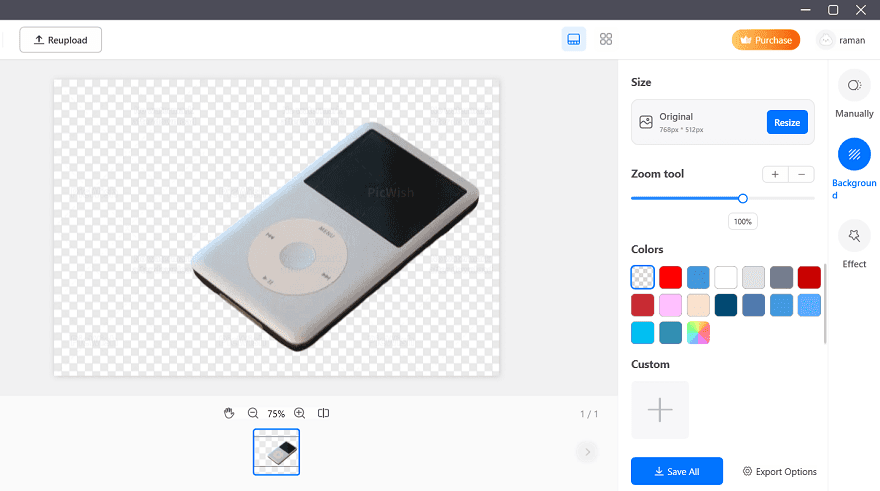 Artificial intelligence is a fantastic technology to complete tasks easily. Its integration to various platforms is delivering never seen before results. One of the big implementations of AI can be seen in photo editing and image enhancer tools. These applications can process photos with high quality and better clarity without any effort.
In this article, I am going to review an advanced application, PicWish, which enhances and removes the background from photos with the help of AI. After editing, your photos look so natural and appealing, just like professional editing. We have already seen the magic of AI technology in several fields, like the autodetection of images, voice commands, and face detection. In image and photo editing, its implementation is remarkable.
The best part of AI-powered photo editing, you don't need to spend a long time on photo editing to superfine quality and effects in your image. It allows us to complete tasks in seconds with amazing quality.
What is PicWish?
PicWish is an AI-powered tool to enhance your images, remove blur, remove background, and more exciting features. It allows you to change the color of the images, cut out, batch edit, resize, and retouch. PicWish makes image processing easy with the help of AI.
This PicWish tool is available as software and a web app. It is completely free for online use whereas, for the desktop version that comes with some additional features like batch editing, you will get a 3-day free trial of this app. It offers multiple options to enhance your image for business and personal use. You can also create your product images and sell them on the e-commerce platform. This application is highly recommended for creators and those working on image data.
With this app, you can change the background, enhance your photo, retouch, colorize, remove, and do image compression. Its batch editing feature is fantastic. It saves time and edits several pictures in a go. PicWish can remove unwanted backgrounds from your images within a few seconds.
What are the Features and Usecases of PicWish?
PicWish features are perfect for editing all kinds of images, whether landscape, commercial products, personal photographs, adventure, or travel memories. You will get awesome finishing in less time. Here are its main AI-powered editing features for your photo editing, and it takes a few seconds to make changes.
AI-Powered Features
The photo Retouch feature makes your picture more clear, appealing, and attractive. It automatically removes scars or dullness from faces and also enhances your product images.
Portrait and photo enhancement is another incredible feature to improve your portrait images. This feature makes your portrait more transparent and attractive. Photo enhancement enhances the quality and clarity of your photo. It makes your photo more beautiful.
Improve the colors and tone in your images by using the Photo Colorization feature. Its unblur feature will fix your blurred images. Sometimes pictures get blur sides while clicking. This feature will unblur your photographs and make them smooth and visible to everyone.
PicWish Background removal/replacement is the most fantastic feature by which you can remove unwanted objects and unwanted backgrounds from your picture. Moreover, you can also replace your picture background using this application.
Photo Editing Features
It allows you to enlarge, compress and crop your images. You can enlarge or compress without compromising the quality of the image. With the batch editing feature, you can edit multiple pictures in a single click.
Usecases
You can use these features for generating ID photos, marketing images including logo and product images, e-commerce products, personal photo editing, photo lab, and content creation. For example, if you are marketing a vehicle, you can select the image and change the background to make it more attractive and visually appealing.
Brands can create a logo or transparent background images in one click. Besides, influencers or content creators can show their creativity with enhanced and edited pictures.
What is PicWish Background Remover?
PicWish background remover gives you exceptional benefits like one-click automatic background removal; you can include or exclude objects manually and add a particular image or color as the background. You can resize your image and export it in different formats. It also allows you to add effects like blur, shadow, etc.
Sometimes, it happens while taking a picture that the background does not look decent, or you forget to remove some unwanted articles from the background. This kind of small mistake ruins the overall grace of your photos. Most people decide to take the picture again or try to hide by applying some effects or stickers, but still, it doesn't look sober.
You can use this fantastic feature of PicWish and change your background. You can fill a solid color or image or make it transparent in one click. This is easy to use, and even a school-going kid can use it without guidance.
How To Remove Photo Background Using PicWish?
There are two ways to remove the background from images using PicWish. Using the online web app version and using the desktop version. The online web application allows you to remove background for free, but you need to download the application for batch photo editing. Batch editing allows you to edit up to 100 images at once.
Remove the Background using Web App?
Consider these simple steps for removing the background from your image using the online PicWish tool.
Open the browser and open the official website of PicWish. On the website homepage, click on the Remove Background button, and then click the Upload Image button. All you need to select a photo whose background you want to remove and the rest will be done by PicWish AI background remover. It will process the picture and remove its background automatically.
In case you wish to remove any specific object from the background. You can use Erase function to erase that object. There is another function called the Keep function; if you want to restore anything, you can use the Keep function.
Once you finish the cutout, you can download your image in the desired format.
Select the background option if you want to add a background to your image. Click the environment and decide on a color tab to fill it out. You can also set any image as your background by using the + button.
Remove Background using Downloaded App?
As we already discussed earlier that you could change or remove your background using the downloaded app; here are points to remove your background in seconds.
Download PicWish application from the website's download page. Go to the main window and select Remove BG. Click upload image or upload folder using File Explorer, and select the uploaded image to upload. You can use drag and drop.
After uploading your image, hit the Start button to initiate the process of removing the background. And then the AI shows its power and removes the background of the picture automatically in just 2 to 3 seconds.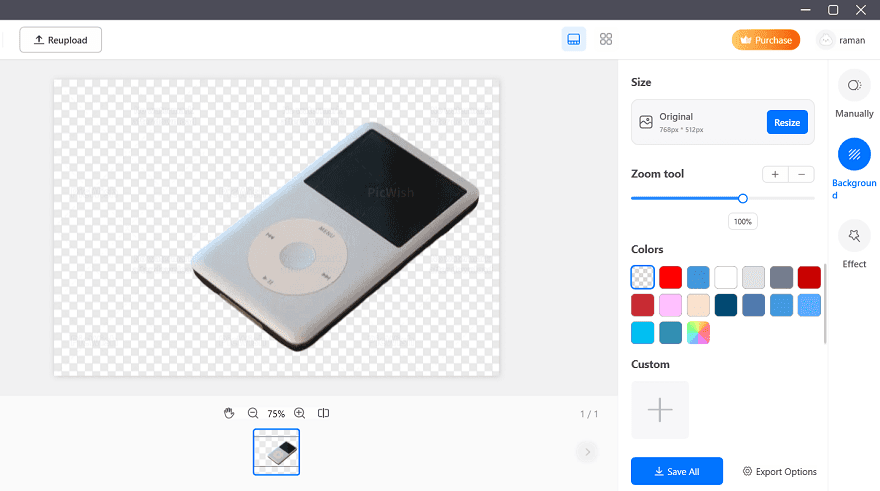 Similarly, as in the previous method, you can use Erase and Keep buttons to remove or restore background objects. After cutouts, save your image by clicking the save all option and download in a desirable format. You can add another color as your image's background by clicking the + button or choosing any image to set as a background.
PicWish Plan and Pricing
PicWish pricing and plan are affordable. The desktop app offers access to many features. Its pricing starts from $4.99, providing 50 images/month. $9.99 for 200 images/month, $15.99 for 500 images/month, $24.99 for 1000 images/month, and $59.99 for 5000/month.
You can opt for a nominal lifetime subscription if you don't wish to take the monthly plan. It is $4.99 for 20 images/month, $15.99 for 300 images/month, $29.99 for 1000 images/month, and $129.99 for 5000 images/month. There is also an offer that you can claim a refund within 7 days of purchase if you are not satisfied with the paid services.
Conclusion
PicWish is an excellent application for image editing. It can make essential changes in a blink, which might take hours from professional editing tools. This application saves time and delivers the best quality at a budget-friendly price.
Thanks to the AI, no training or manpower is required for editing if you are using PicWish. This is a must-have tool for editors and creators. Download this app and enjoy the best editing experience and influence the world.