Are you tired of manually typing text on your Android phone for SMS and other tasks? Then don't worry because I brought a list of top 5 free voice recognition apps for Android smartphone. So, if you're on the road or busy with something then these voice recognition apps will help you to enter text by just speaking to your Android device.
If you're searching for free voice recognition Android apps, then this article is made for you! Following are 5 FREE voice recognition apps for your Android phone. Select the best one for you!
Best & Free Voice Recognition Android Apps
So, now have a look on these useful voice recognition Android apps and install any one that you like the most.
Speech To Text is a free Android app that actually uses the Android's built in speech recognition software to turn speech into text. But still it provides several important facilities that the built in speech recognition doesn't.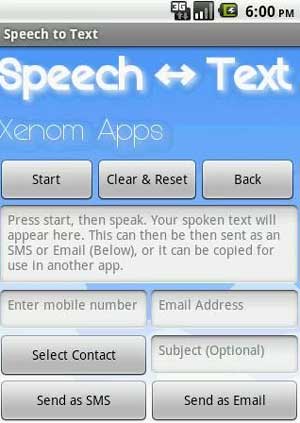 It provides several facilities such as send your spoken text as SMS and Email etc. It also enables you to turn your text into a speech.
Voice Access is a user friendly speech recognition Android app by Google LLC which allows you to control your device with your voice.
You can access on-screen help by saying "What can I say?" within Voice Access. You can also see the full list of voice commands by going to Voice Access Settings and selecting "Show all commands."
Take notes even when you don't feel like typing! Just speak your note, and it will be saved as text. This notepad app was designed to quickly jot down your ideas, with minimal hassle. And it makes it easy to keep those ideas organized.
This free Android app various features such as Hands-free speech recognition, searchable notes, password protection for notes, etc. The most special facility is that you can share your notes with SMS, email, Twitter, and any other app that accepts plain text.
This is a free Android to write SMS by voice as its name suggests. This fantastic voice recognition Android app provides the powerful and easy to use system to write your SMS by voice.
It has several interesting features such as Create SMS by voice and comfortably edit them, Dictionary parsing, You can edit dictionary parsing and more.
Speechnotes is another free voice recognition Android app helps bloggers, writers, thinkers, busy people and anyone who prefers fast & easy typing. Speechnotes has a powerful speech-enabled notepad and a built-in keyboard, so you can enjoy the ease of dictation for words and ease of tapping for punctuation & symbols.
Speechnotes also supports offline though performs better when online. It has fun emojis, auto capitalization & spacing. Speechnotes auto saves on every change and also back-ups your data to drive so you will never lose your work.
YOU MUST READ:
So guys, these are the best voice recognition Android apps that I loved the most. You can select any one of them after reading their description that I wrote with all of them.