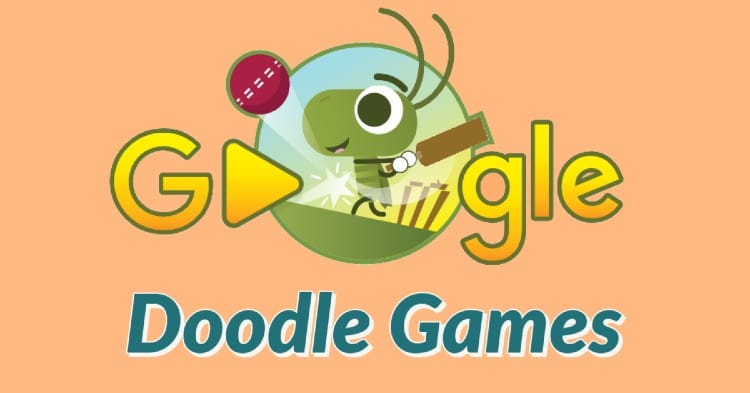 Everybody knows how hard the last year was and how we managed all the sudden changes to our lifestyle. It is obvious that games always helped us pass some more time and peacefully stay at home during the lockdown. To help everyone stay at home and make it happy staying, generous folks at Google showcased many popular doodle games. In this article, I'm listing the 10 most popular Google Doodle games that you can enjoy playing online in 2022.
Doodles are the entertaining, remarkable, and sometimes inevitable changes that are given to the Google logo to commemorate holidays, anniversaries, and the biographies of popular artists, pioneers, and scientists, the research giant pictures.
Especially in these timing when group play or street play is not possible, the doodle game is an exceptional way to keep kids occupied.
So let's explore the famous 10 Doodle games that can make your stay at home is a happy stay.
There is a light-hearted human touch in the Google Doodle game Pac-Man.
This emerging game shows that the 2nd O in Google is directing into Pac man; on the other hand, the first "O" turns into a grid of dots, which eventually the Pac-Man eats.
Amid the pandemic, Pac Man has taken the limelight, if you want to play the game, all you've to do is to click on the play button, and tada you can swoop in.
Arrow keys on your keyword will give you access to the titular character. Or if you are playing on your phone, you can use swipe gestures to take command over the game. To play the game, you have to eat all the flashing dots without falling into the ghosts.
This game is only meant for children; firstly, it was introduced in 2017 to celebrate 50 years of children coding language Logo. In this game, you have to collect all the carrots for the rabbit by building instructions that will be delivered to the rabbit to catch all the carrots.
The game is essentially based on a programming language for children. But not only children but adults can also play this game. With this Google Doodle game, kids can easily have coding experience. So, if you know kids having fun with coding, you can refer this game to them.
In this doodle, you can formulate your own music with various instruments. With the 'Fischinger' doodle, you create your identified sound and even it allows you to share it with your family and friends.
So, you need to choose from 4 different types of sounds or if you want then tapping can change the sounds. It's up to your call which song you like to prefer, and the notes will remain the same. This doodle game can give serious stimulation to your creativity.
This gesture-controlled game is a fun, and interesting game that allows you to create your own music utilizing the entire range. The instrument contains two metal antennas that can sense the relativistic position of the performer's hands.
Thereminist has proper controls over the oscillators to check the frequencies with one hand, and with another hand, it controls the amplitude.
This game may seem tough that's why it usually starts with a three-lesson tutorial on how to play the music, which is followed by a chance to create your own music utilizing the entire range.
Although every doddle game is full of excitement and fun garden gnome catapult game is super fun and quite similar to Angry Birds. So, the purpose is to throw gnomes over a field, assuring that a specific number of flowers must be planted in the field.
The keyboard spacebar controls the whole activity and players are supposed to assemble as many points as feasible by addressing their gnomes hopping through the air whilst decorating the garden with flowers.
Scoville scale is a spicy fun game that includes ice-cream and pepper fighting where you can control the heat of the peppers by firing balls of ice cream.
In this game, the player is supposed to crush ice-cream scoops at the hot chili pepper, and a Scoville scale at the bottom estimate the standard bell pepper at 0 with the given Scoville heat units.
Missing the three bullet ice creams without killing the enemy determines the game over.
This is how this doodle series helps people to stay at home and play games. Apart from the fun, you will also learn some interesting facts about various types of peppers, such as cayenne pepper, ghost peppers, etc.
If you are looking for a game that can be played with friends, then this is the one. Whether you want to play Loteria with random players or you want private friends; this game must be your pick.
Let me make this simple for you if you've played bingo; then you can understand the rules simply.
In this game, players point spots on a tabla, or board, with a symbol and strive to fulfill it before other players.
So every player receives a card with 16 images on them, and everyone has to match four images in a row on the "tabula". A Player with 4 matching cards in an itemized pattern wins the game.
This doddle game will actually bring charm and spookiness to your life. This spell-casting game has uncanny music in the background and highlights a black cat that destroys ghosts with its baton. It is a five-level set game in a wizarding school environment that's why named Magic Cat Academy. Simply you are a cat wizard who has to protect your friends at the Magic Cat Academy.
Five levels include a library, cafeteria, classroom, gym, and the building's rooftop. If you want to experience Halloween night, this Doodle game is perfect. First, it looks easier, but with every next level, more ghosts will appear in his path quite faster, and with more than one symbol.
Google's latest Doodle game emphasizes astounding appealing musical activity to encourage you to run a few beats and score at home throughout the lockdown. The game will transform you into a DJ and enables you to present classic Hip-Hop tracks with a tick of a mouse.
So basically, you have to unlock the 10 goals, and at each level, you will receive information about a Hip-Hop legend.
In order to play the game, you have to choose the wanted pair of records from the given stock and put them on the turntable. You can use the cursor to mark the records. This game allows you to mix up the tapes from classic tracks, and a feeling of Hip-Hop history with a specific focus on its originating pioneers.
This fun game is featured with an amazing match between the snails and crickets. You will start this game as a cricketer, and continue to play by clicking on the yellow button whenever a snail throws the ball. This is an interesting way for cricket enthusiasts to keep their self-occupied.
Google's initiative will definitely cheer up and encourage people to stay at home while enjoying this time with their loved ones.