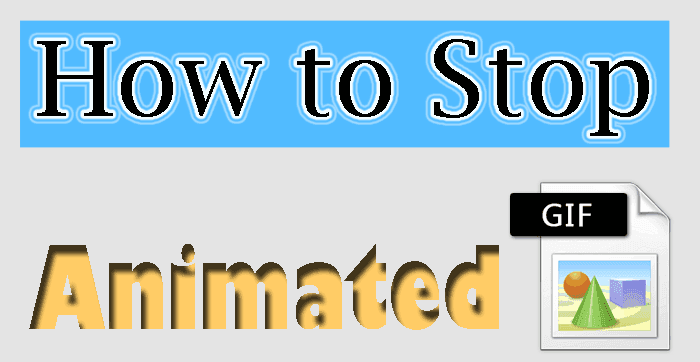 Nowadays the use of GIFs is increased a lot. Website owners and bloggers are using them to explain things more effectively. We all love animated GIFs but sometimes they might hurt too, though. I mean while reading some important stuff on the web, GIFs may distract your mind but it becomes very difficult to stop them.
Once the GIF file loads on a webpage it works in an infinite loop and instead of simply leaving the page there seems no other way to stop them.
But, honestly there's a simplest way to stop the animated GIFs on any webpage so that you can keep on reading with full concentration. Wanna know how? Let me show you below in this post.
Here's How to Stop GIFs on Any Webpage
GIFs on any webpage can easily be stopped by using a Google Chrome extension known as Stop Animations. This is a wonderful Chrome extension which lets you easily stop the animated GIFs on webpage.
Installing & Using Stop Animations Chrome Extension
The Stop Animations extension can easily be installed from Chrome Web Store by clicking on Add to Chrome button. It's as simple as it seems!
There are many extensions available on Chrome Web Store to stop GIFs animated infinitely on webpages but this one is very easy to use as compared to others.
Once it's added in your Chrome browser, all you need to press the escape key (ESC button) from your keyboard, and all the GIF images will automatically stop running. And to resume them again, just press the same button again. It's that simple! 🙂
What Mechanism Works Behind this Chrome Extension
A very simple mechanism works behind this Stop Animations Chrome extension. As soon as you press the ESC button, it will take a screenshot of the webpage and layer it over the page.
So it not only stops the GIF images but everything over the page such as JavaScript, Flash etc. When you scroll the webpage or resize the window, it will re-update automatically.
Best Alternatives to "Stop Animations" Extension
Stop Animations is not the alone extension to stop the animated GIFs but there are many more available on the web store. Following are a few more alternatives to Stop Animations extension to stop GIFs on webpages.
Gif Jam. It's a good alternative to Stop Animations extension. Once it's installed in your chrome browser, only the first frame of GIF images will be loaded every time you browse a webpage with GIF images. The drawback of this extension is that you can't resume the GIF images.
GIF Blocker. This Chrome extension really blocks all the GIF images on the webpage and shows a default GIF icon instead of original GIF. Once, you click this GIF icon, the original GIF will start playing.
Stop Gif. This Chrome extensions just ads the play icon over the GIFs on the webpage and only when you click on the play icon GIFs will start playing. You can anytime play and resume GIFs anytime just by clicking over them.
Read Next:
That's all! By using any of these Google Chrome extensions you can easily stop animated GIFs on any webpage. Let me know via comments if you've any doubt about these extensions or something doesn't work!