Many car drivers mount their Android smartphone on dashboard or windscreen for making the call receiving and music playing easier.
However it's a good habit to keep the phone away while driving but in case of Android smartphone, there are various apps available on Google Play for car safety and safe driving. Of course friends, by keeping your phone away these apps can help you keep awake and concentrated while car driving.
So, in this post I'm going to disclose such 5 Android apps for safe car driving. I hope all the car drivers will love to use these apps, and truly they should.
Best Android Apps for Car Drivers for Safe Driving
Can you guess that for what cases these Android apps may help you? If you're a driver, you would know how dangerous it is to doze off while driving. So, I think now you can understand that how these apps are useful for you. It's true friends, these apps can save your life so don't ignore them and be careful about car safety with these Android apps.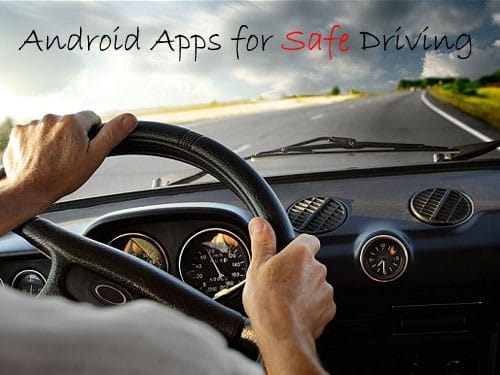 1. utter! Voice Commands
It is very lightweight Android app to run your device on voice commands without Internet connection. So, it may be proven a very useful app when you wanna control your phone without touching it while driving.
utter! runs in the background of your device and it does not have a user-interface, so its functions are available anywhere on the device, at any time, to interact with any application.
2. Stay Awake While Driving
Stay Awake While Driving is a simple Android app to keep you awake while you're driving your car. But, you would be thinking that how this app can keep you awake while car driving? So, let me tell you that you will be needed to press the RESET button on your smartphone screen again and again after a few seconds. You can choose seconds according to you.
If you miss pressing the button before the desired seconds, it will sound an alarm to make you remind about that. So, this app may be very useful for those who often go for long drives and in the night.
3. Car Mode
This Car Mode Android app can also be proven very useful for those don't love to use Bluetooth for attending calls in the car. So, for your safety this app turns your phone speakers on automatically when you receive the calls so that you won't need to pick up the phone in your hand while driving.
4. No Texting While Driving App
It is very useful Android app for those drivers who neither wanna receive calls nor text while driving. This free app blocks all incoming apps and puts an auto reply to all texts coming in.
While in use, the app silences text messages and incoming calls and sends the caller a text letting them know that you're on the road. So, it can be a better application for safe driving.
5. BAZZ
The one word for this app – Awesome! Really this app has all the features that are available in above 4 apps. It's the great Android app for car safety and secure driving.
BAZZ allows drivers, to listen to the content of a written message (SMS & WhatsApp) and reply to it, using voice commands in a convenient, intuitive and legal way, all without taking your eyes off the road or your hands off the wheel.
Further Reading:
I Request You…
So, friends I request you to use these Android apps in your smartphone while driving car. In all the above mentioned apps I truly loved a lot the two – BAZZ and Stay Awake While Driving. So, I think you should at least install these two apps in your smartphone for safe car driving as these apps help you keep the full concentration only on driving.