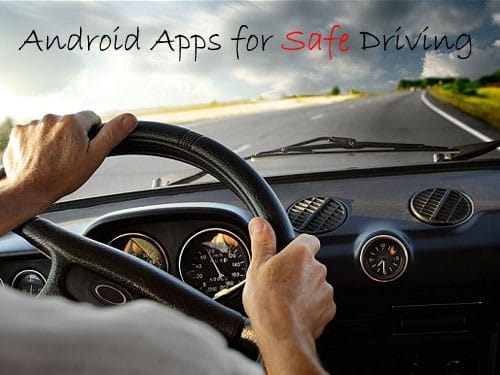 Many car drivers mount their Android smartphone on the dashboard or windscreen to make call receiving and music playing easier. However it's a good habit to keep the phone away while driving but in the case of Android smartphones, there are various apps available on Google Play for car safety and safe driving. Of course friends, by keeping your phone away these apps can help you keep awake and concentrated while car driving.
So, in this post, I'm going to disclose such 5 Android apps for safe car driving. I hope all car drivers will love to use these apps, and truly they should.
Best Android Apps for Car Drivers for Safe Driving
If you're a driver, you would know how dangerous it is to doze off while driving. Most of these apps can save your life so don't ignore them and be careful about car safety with these Android apps.
Android Auto is Google's own smart driving application which helps you stay focused, connected, and entertained with Google Assistant. It has very powerful voice actions and a simplified interface which makes it easier to control your phone while you're driving.
You just need to say "OK Google" to find a route, check your calendar, set reminders, avoid distractions, make calls, send and receive messages through WhatsApp, Skype, Telegram, WeChat, and many more messaging apps, manage your favorite media apps including Amazon Music, Google Play Music, Spotify and more.
Drivemode is another important Android application for safe car driving. It lets you manage calls and messages easily while driving without even touching your phone. Drivemode's voice-enabled commands and large buttons let you safely answer calls and send or hear messages while driving.
Drivemode's interface can integrate many of your favorite apps including navigation apps, music apps, messaging apps, voice assistant apps, etc. In addition to this, you can overlay your favorite music player on top of a navigation app, set up auto-replies for text messages, and much more.
Google Maps is one of the most common and important Android apps which must be installed on every device. It not only provides faster routes and navigation but also helps you to drive safely and comfortably in many ways.
If you're using an app like Android Auto or Drivemode which works on your voice commands, you will love to integrate Google Maps so that you can use it through your voice commands while driving.
And this is the app that allows your phone to work hands-free. If you're using a voice commands application like Android Auto while driving, you need Google Assistant application for your voice commands to work.
You just need to start with "Hey Google" and ask your phone to play your favorite music, playlists, podcasts, and music videos. You can make use of your phone safely while driving even without touching it.
The one word for this app – Awesome! Really this app has all the features that are available in the above 4 apps. It's a great Android app for safe car driving.
Waze allows drivers to listen to their favorite music and podcasts right from the Waze. It provides alerts about traffic, police, and hazards on your drive, and much more. If you're using Android Auto, you can use Waze to your car display for easier operations.
That's All
You should use these Android apps on your smartphone while driving the car. Among all the above-mentioned apps, two of them must be on your smartphone; Google Maps and Android Auto.
If you are finding it difficult to choose one between Google Assistant, Drivemode, and Waze, I would suggest you use Google Assistant as your first preference and then you can choose anyone among Drivemode and Waze depending upon your choice.