As we all know Google is now king of the world of the Internet and still tries to gladden its users. Google always tries to surprise you by revealing new charming and engaging Funny Tricks. These Funny Google Tactics are not any service instead it's just a way to make your mood funny by playing with these Google Funny tricks. So, in this article, I'm going to compile a list of the top 10 Google Funny Tricks that will surprise you.
The Top 10 Funny Google Tips and Tricks
So, be ready to convert your mood into fun and take another experience with Google. Have a look at these 10 Funny Google Tricks –

Google Gravity is the most popular and interesting Funny trick of Google that will shock you instantly. As the name suggests, Google Gravity is such a funny tick that applies the gravitational effect on Google Home Page. It means as you apply this trick, Google along with its menu material like Gmail, Images, YouTube, etc., and all the items on Google's home page will fall down instantly.
So, to apply this trick Type Google Gravity on your Google Search Bar and Click on I'm Feeling Lucky Button. OR you can simply click on the above link to directly go inside the world of Google Gravity.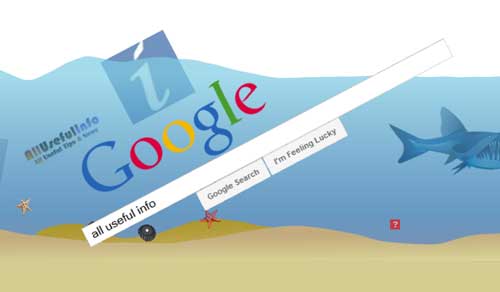 This is another interesting and cool Google trick for all Google lovers and users. It enables you to search Google under the water. It means all the Google home page will be inundated and you can experience a new underwater Google search. If you search anything on underwater Google, all the results will also drown into the water. So, have fun with this Google funny trick.

elgooG isn't any meaningful word or any name of trick but it is just the inverse of Google. Read elgooG from right to left. Isn't it Google! So, this Funny Google trick shows you something like that. In this trick, the whole Google home page will show you the Mirror image of Google i.e, just the inverse of Google home page. Each of your search items and results also shows the inverse of the original. Try it your own by following the above link.
It's another most interesting and Funny Google trick for you. So, just type Google Sphere in Google Search bar and click on I'm Feeling Lucky Button and see the magic. You'll see all the items of Google will start moving around Google and create a Google Sphere. Not only that, but your search content will also start rounding Google (as shown in the above picture). You can click on different links and search for any content you want in a new and amazing Google. This trick will definitely shock you and you'll gain a new and great experience with Google.
Google Loco is a place where you can see your Google in dancing form. This Google trick will make your mood funny and creative. To apply this trick just type Google Loco and Click the I'm Feeling Lucky Button. For more ease, just click on the above link for Google Loco. To see more Doodles of Google, Click on I'm Feeling Loco.
It is not only a Funny trick, it is one of the most helpful tools for all the users of Google. Lmgtfy means Let Me Google That For You. This is a web tool that shows you the preview of whatever your query performs on Google. To do so, you need to visit the above link and enter your Google query and these tools will create a link for you. Now, you need to open that link in your browser and see the magic. For example, see here the preview for All Useful Info Query on Google.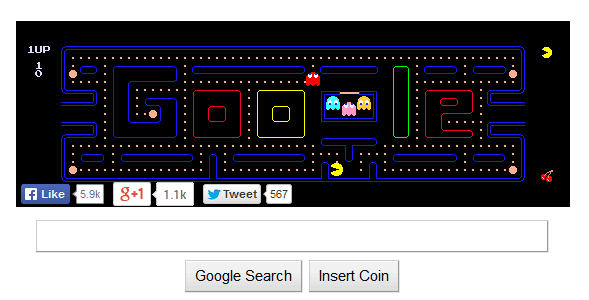 Google Pac-Man is a Funny game trick. You can play the Pac-Man game around the Google logo. This trick is used for playing this game very simply. It enables you to play Pac-Man around Google with the help of your mouse clicks. So, visit the link to enjoy this trick.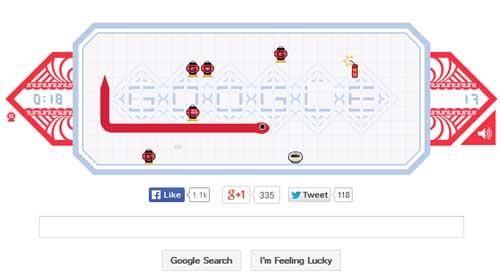 Snake is one of the most popular and most played games because it exists on almost every mobile from simple phones to smartphones. So, this trick enables you to take a new and amazing experience of playing the Snake Game at the place of your Google logo. You can turn the Snake with the help of your Keyboard up-down/left-right buttons.
9. Askew
You can impress your friends with this Google trick. Upon searching Askew on Google, it doesn't only tell you the meaning of this word but also acts like that. As soon as you will search Askew on Google, the search page will be tilted a bit.
10. Annoying Google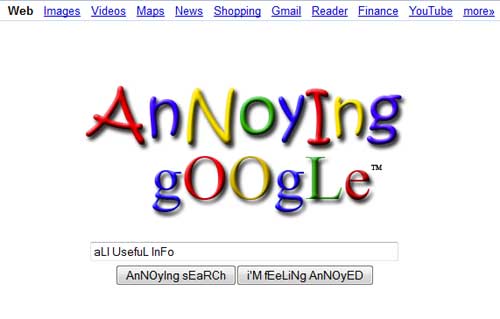 Annoying Google is another Funny Google trick that will really annoy you whatever you type on the search bar. It is named Annoying Google because of its instantly changing letter cases while typing. Its URL Name is Don't Type Like This (Dot Com) which tells you to not type letters like this. To reach the Annoying Google page, type Annoying Google in the Google Search bar and hit the I'm Feeling Lucky button or just click on the above link.
MUST READ: 10 Interesting Facts You Didn't Know About Google
Aren't they interesting Google tricks? Do you know any other funny tricks of Google? Don't forget to share it with us via comments.