Have you bored out from the old download manager of your Google Chrome web browser? Don't worry guys, I brought to you best download managers for your Chrome browser.
You'll definitely forget your old download manager of your browser and will have a lots of fun with new one. So, don't wait friends just have a look on these awesome download mangers which will make you able to download the whole Internet.
Best Download Manager Extensions For Chrome
Now, have a look on these top 5 free download manager extensions for your Google Chrome browser to get rid of your old Chrome download manager.
1. Downloadr – Download Manager
This is the high rated Google Chrome download manager extension on chrome web store and you can get it free of cost. This extension gives you a fast and easy access to your latest downloads from the top right corner of your window.
You can open downloaded files, open their containing folder, cancel an ongoing operation or retry a canceled item with a click of the mouse. So, start downloading the whole Internet today!
2. SABdrop Download Manager
SABdrop is a SABnzbd download manager for your Google Chrome browser. It provides a browser action which permits management (pause, resume, delete, move) of SABnzbd downloads. SABdrop also adds a "Send to" option to the context menu of web links for immediate transmission of NZB files to a SABnzbd instance.
You can also adjust the download speed limit by using the slider. It provides context menu to send NZB weblinks to SABnzbd for immediate download.
3. Fruumo Download Manager
Fruumo Download Manager (BETA) is the first real download manager for Google Chrome & Chromium Based browsers. It aims to replace the default browser download manager with something easier, and more beautiful to use.
It provides the multiple download functionality to access multiple downloads on a multi-download page. Filter Downloads using the "Create Filter" setting in the settings page. This will allow you to automagically categorize all new downloads into folders that meet the criteria for the filter. To use its uninterrupted features, search it on Chrome Web store and Add it to your browser.
4. DownloadAll Manager
DownloadAll is also a free download manager for your Google Chrome browser. It is a simple and elegant extension to download files from the internet. This extension does not require any other application installed in your system ans supports in Windows, Mac and Linux OS.
With the help of DownloadAll Chrome extension, you'll be able to download multiple files simultaneously. You can also anytime pause and resume the existing downloads which is the most important feature of this download manager.
5. Downloads Manager Beta
This is an open source Extension originally extended from chrome downloads API sample. If you use Firefox and like its built in download manager then this Download Manager Beta extension is made for you! Because it is just similar to Firefox download manager.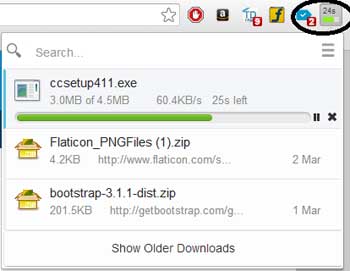 So, it provides nice, clean interface to easily access and view info of your downloads in a popup. One of its most useful feature is that you can search your downloads as soon as you start typing. So, add it for free in your Google Chrome web browser if you like the Firefox built in download manager.
MORE CHROME EXTENSIONS:
Google Chrome download manager is just very simple and seems in very old manner. That's why you can make change in its functionality by adding any of the above listed download manager chrome extensions.